Guilin Travel Guide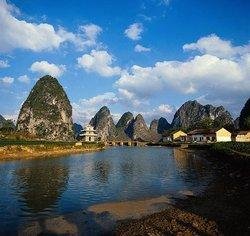 the Li River
Guilin's idyllic scenery draws tourists from near and far by their hundreds of thousands every year. The primary industry of Guilin is tourism, so travelers feel well-catered-for and immediately relaxed in this small and quiet, but hugely popular city. It is never far to the next colorfully named karst hill or charming vista in Guilin's countryside. You will find a paradise to relax in, and plenty of rural/minority culture to enjoy.
Accolades
Guilin's reputation as one of the world's most beautiful places has been established over hundreds of years and ranks second on China's list of the 10 best tourist destinations, after Beijing.
The popular Chinese saying 桂林山水甲天下, Guilin shanshui jia tian xia means 'Guilin's mountain and water scenery is the best under heaven'. The Li River, Guilin's most popular scenic area, was selected by National Geographic Magazine as one of the world's top ten watery wonders.
"I have visited more than 80 countries and over a hundred cities. I have found that no city can surpass the beauty of Guilin. Guilin is really a bright pearl in China."
- Former US President Nixon
History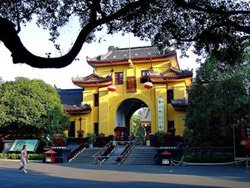 Jingjiang Palace
Guilin was named after the fragrance of the osmanthus tree (Gui means osmanthus and lin means forest). Its first recorded inhabitants lived in the Qin Dynasty (221-206 BC). Guilin prospered and flourished during the Tang (618-907), Song (960-1279), Ming (1368-1644) and Qing (1644-1911) dynasties under patronage from successive emperors. It is currently home to 12 ethnic minorities.
Features
Guilin Prefecture is an area of 28,000 square kilometers (11,000 square miles) located in the northeast of Guangxi Zhuang Autonomous Region, South China. See Guilin Maps. Guilin City is small by Chinese standards, with about 700,000 people, located about 500 km (300 mi) northwest from Hong Kong, about one hour away by air.
Guilin is in a subtropical (bordering temperate) monsoon zone with a warm and moist climate. See Guilin Weather. Altitude ranges from about 100 meters in the lower reaches of the Li River to 2,141 meters at Kitten Mountain, the tallest peak in South China and source of the beautiful Li River. The Li River flows through Guilin from north to south. The center of Guilin city lies on the western bank of the Li River.
Attractions in the City
See How to Plan a Day in Guilin for some typical ways to combine Guilin's best sights.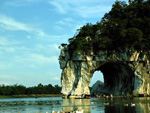 Elephant Trunk Hill
Elephant Trunk Hill is the symbol of Guilin and its karst landscape. It looks like a huge elephant stretching its trunk and drinking water, hence the name.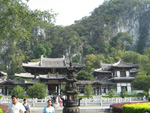 Seven Star Park
Seven Star Park is named after the seven larger karst hills in it. There is plenty to see here with peaks to ascend, a zoo, free roaming monkeys, Seven Star Cave, Camel Hill, beautiful gardens and stele, and locals dancing.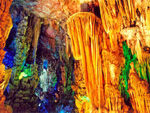 Reed Flute Cave
Reed Flute Cave is a fascinating gallery of limestone cave formations, now enhanced by multicolored lighting, which has been one of Guilin's attractions for over 1200 years.
Attractions Near the City
The Li River, particularly between Guilin and Yangshuo, is one of the most beautiful sights on the planet. It is best experienced with a cruise or a leisurely hike along its banks.
Get "up close and personal" with the beauty that you have seen in the pictures as you venture out into the countryside of Yangshuo by bicycle or bus, through the rice paddies to experience rural China at its most charming.
Longsheng County boasts fantastic natural scenery with spiraling rice terraced fields that were built about 700 years ago. It is famous for its ethnic villages in mountainous areas.
Photograph in Guilin
Everyone knows the beauty of Guilin scenery, but not all photographers are aware of the difficulty of taking photographs of it. As a center for tourism, Guilin's sights are well documented. However little information is available for photographers. Check out Guilin Photography Tips: Where and When to Photograph in Guilin.
Guilin is a popular destination for second trip to China. Continue to read other popular destinations in China.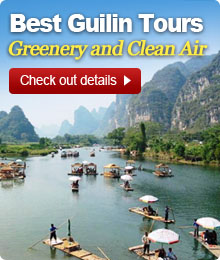 Planning a trip? Ask us here 800-2682918 (USA & CA)
86-773-2831999 (Int'l)
Q:
Joshua J
Asked on 2013-05-11
Reply
My wife and I wish to visit Guilin any time soon. We plan to spend 1 week free and easy. We need ground arrangements only as we will fly in on our own. Please advise including costs. Thanks
Hi Joshua, how many people and what places you would like to visit, please?
Whitney Liao Replied on 2013-05-13
Q:
Banita
Asked on 2013-04-29
Reply
hi , me and my mom dad planning to visit guilin and beijing in july 2nd. would you please help me to know tour package cost for this visit ?
Hi Banita, it would be our great pleasure to help plan your Guilin and Beijing tour. In order to quote the exact price, could you please let me know what kind of hotel you would like to stay in: 3/4/5 star?
Whitney Liao Replied on 2013-05-05
Q:
Faizah
Asked on 2013-03-08
Reply
Hi, My trip to Guilin on 3/12/13 to 7/12/13. I am looking accommodation that furnish with kitchen. I am also looking for local tourist guide which can translate Chinese to English.Thank
Hi Faizah, we are based in Guilin. We can arrange all of these for you. Please let me know the number of people in your group. Then we will send you a quotation.
Whitney Liao Replied on 2013-03-11
Q:
Royhaini
Asked on 2013-03-04
Reply
Hi Whitney, My friends and i are going to Guilin this 22-30 March 2013. So how is the weather at that time? We are Muslims so is there halal food in Guilin? Tq.
Hi Royhaini, the weather in Guilin during 22-30 March 2013 would be good, with a temperature of 12-18°C. A light coat and a long sleeve shirt or T-shirt would cope with it.
Yes, there are Muslim restaurants in Guilin. Our tour guide will show you there.
Whitney Liao Replied on 2013-03-07
Q:
Dominick
Asked on 2013-02-23
Reply
Can someone tell me the best time to travel to Guilin? I am a university student in Beijing and would like to go there with a bunch of my local Chinese friends, but we want to go during a time where the sights are not packed with too many tourists, but hopefully when the weather is still nice. Thanks!
Hi Dominick, the best time for scenery in Guilin is Sep.-Nov. Just avoid the public holiday such as the National Day Holiday(Oct.1-7), Mid-Autumn Day and the weekends. Then it won't be too crowded.
Whitney Liao Replied on 2013-02-25
Guilin Facts
Chinese Name:桂林
Chinese Pinyin: Guìlín
Location:South China
Latitude: 25° 16' N
Longitude: 110° 17' E
Elevation:150 M (492 FT)
Area Code: 0773
Population: 5 million
Time Zone: (UTC+8)