Kaili Travel Guide
The city of Kaili, about 195 kilometers from Guiyang, the capital of Guizhou Province, is the cultural hub of China's Miao and Dong ethnic minorities.
Kaili is a city of music, as its well-deserved nicknames bear witness. Kaili is alternately referred to as "The Homeland of Music", "An Ocean of Song and Dance", and "The City of Festivals", all of which reflects the city's role as the center of Miao culture.
Sisters' Meal Festival
Kaili is a city of festivals. The Miao and Dong ethnic people celebrate a seemingly endless number of festivals during the course of a year- itself a tribute to this optimistic, positively-oriented folk, where song and dance are the major components. These festivals all take place on important dates in the age-old Miao calendar. If you are fond of colorful local pageantry, then you should definitely check to see whether your visiting date coincides with any of the festivals. See Guizhou Festival Calendar.
Kaili is the gateway to the surrounding area's many ethnic villages that are scattered about the nearby mountains. Around Kaili, visitors will find Xijiang Miao Village: the largest Miao village in Asian, which is well-known for Miao silver ornaments and Miao embroidery; Datang Short Skirt Miao Village, a place for visitors to enjoy the distinctive style of dress worn by the Miao females, and Langdeshang Miao Village , where the ancient Miao culture is well-preserved.
Kaili is in the middle of the popular ethnic culture tour route, stretching from Sanjiang to Dali and Lijiang in Yunnan Province, and is a must-see place for travelers who wish to explore China's ancient ethnic culture. Check out our tours to explore China's ethnic culture
Food and Restaurants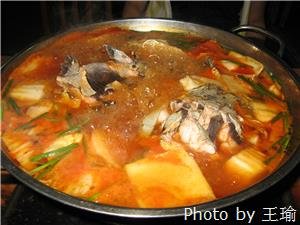 Miao ethnic people are fond of savory taste and they pickle a great variety of vegetables and meats all year round. Most of the dishes served in the region feature savory flavoring. The reprehensive dishes are Sour Fish Soup and Pickled Fish.
Sour Fish Soup
Sour Fish Soup is a very popular dish among the Miao population. It features hot and sour flavoring, which is believed to help enhance the appetite and keep you warm in winter. The exact method of making this dish varies but the main ingredients are almost as below: chili, tomatoes, soybean sprout, and fresh fish.
Pickled Fish
It is a traditional dish of the Dong Ethnic People. The fish is pickled in a clay jar with tomatoes, pepper power for half a year. When the pickled fish has done, the appearance looks as black as the carbon but the flesh of the fish is soft and tasty.
Except for the local dishes, restaurants in Kaili also serve food from other parts of the country.
Weather
Kaili belongs to the subtropical humid monsoon climate, which is humid through all the year. Half of the year is the rainy season, especially in the late spring and early summer, when the area sees almost daily drizzle.
Travel Tips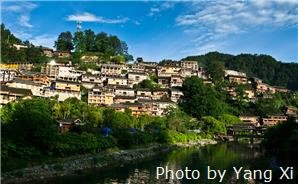 Xijiang Miao Village in Kaili
Regardless of the weather, the best time to visit Kaili and the around villages is the first lunar month (late January to February) as most of the local festivals take place during this period. Be forewarned though, the weather during this time of the year is freezing. Another period when the region celebrates a lot of festivals is after fall harvest mainly from later August to early November. See Guizhou Festival Calendar.
Traveling in winter, it can be quite cold, so travelers are advised to take good warm clothing, including a hat and gloves.
It's a good idea to ensure you have a pair of good walking shoes. Tours to Kaili and the surrounding villages can involve plenty of walking, usually on uneven surfaces, as well as steps.
Bring an umbrella with you as almost half of the year is rainy season there.
Be aware of the most crowded times for attractions, and allow enough time to deal with this: the first week in May and October, weekends and during July and August.
Post office: You don't have any problem to find a post office in Kaili city. The ethnic villages of Xijiang Miao Ethnic Village and Zhaoxing Dong ethnic village also have set up post office. In the other ethnic villages, there is no post office.
Accomodation: Hotels in Kaili are able to provide comfortable accomodation. Although there are lodging options in these ethnic villages, there mainly cater for the Chinese tourists and the facilities are very simple.
Questions and Answers About Kaili Travel Guide
April Offer $25 Coupon
Send your inquiry before Apr. 30, 2014, and we will email you a $25 coupon.
The coupon is valid till Dec. 31, 2014, for paying tour packages worth $250 or up.
The coupon cannot be used for paying flight tickets, train tickets, hotel rooms and day trips.
Travel Advice or Question? Ask us here
Kaili Travel Guide
Kaili Facts
Chinese Name: 凯里
Chinese Pinyin: kǎi lǐ
English Name: Kaili
Province: Guizhou
Location: Southeast of China
Area: 1,306 sq. km. (504 sq. mi.)
Latitude: 26° 59' N
Longitude: 107° 97' E
Area Code: 0855
Population: 425,000
Time Zone: (UTC+8)