Beijing Terminus: Beijing South Railway Station
Shanghai Terminus: Shanghai Hongqiao Railway Station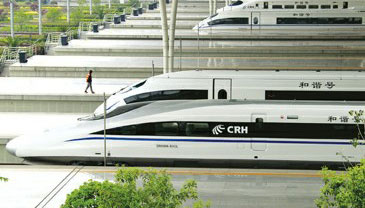 The Platform of Shanghai Hongqiao Railway Station
Beijing–Shanghai High-Speed Railway, or Jinghu High-Speed Railway (京沪高速铁路), connects Beijing and Shanghai, China's two largest cities. Completed in 2010 and put into use in 2011, the rail line is 1,318 kilometers (820 miles) long, shortening the train ride between Beijing and Shanghai from 10 hours to 5½ hours. That's an average speed of 240 kph (150 mph).
Beijing–Shanghai bullet (G) trains link Beijing, Tianjin, Shanghai and the provinces of Hebei, Shandong, Anhui and Jiangsu, and facilitate the transportation between cities while lowering costs (compared to flights). The line makes access from Beijing/Shanghai to tourist locations like Nanjing, Mt. Tai, and the Yellow Mountains very convenient.
China Highlights' train ticket on-line booking service can save you time, hassle, and money. All inquiries will be handled by China Highlights' travel experts to ensure you get the best service. (See right.)
Beijing–Shanghai: Bullet Train vs Flight
The following comparison shows that Beijing–Shanghai bullet trains (G-trains), while an hour or two slower, are more economical for cheaper seats while more comfortable for expensive seats, and more convenient and relaxing.
Time
The Taxi Leg in Beijing
Beijing South is about 6 km from the center of Beijing, about 15 minutes by taxi, costing about 16 yuan (2.50 USD).
Beijing Capital International Airport is 30 km from the center of Beijing, about 40 minutes by taxi (depending on traffic), costing about 80 yuan (13 USD).
G-Trains and Planes
There are 33 G-trains daily on the Beijing–Shanghai High-Speed Line, running 07:00–17:40, average interval 19 minutes: shortest time 4:48, longest 5:58, average duration 5:30. See our China train schedules.
There are 46 Beijing–Shanghai flights from 06:50 to 22:00, average duration 2:10, one flight every 20 minutes. (Shanghai–Beijing flights are similar in times.)
A train station journey generally requires half an hour less to get in/out of than an airport, for internal flights (more with luggage to wait for). That's an hour total extra for the journey.
The Shanghai Leg
Over 80% of Beijing–Shanghai flights go to Hongqiao Airport (near Hongqiao Station), so those flights are directly comparable with G-trains.
If landing at Pudong (Shanghai's other airport) the time to the city center is similar if using the Maglev (an extra 80 yuan or 13 USD of cost). So the Shanghai end of the journey is not a big time consideration.
Time Comparison
So a bullet train journey from Beijing to Shanghai works out at about an hour or two longer than a journey by air (city center to city center: 6½ vs 4½ hours approx.).
Cost vs Comfort
Costs (USD)
Beijing–Shanghai G-trains seat prices: second class $92, first class $154, superior $174, business class $289.
Beijing–Shanghai flight seats: from $75 to 439, average $157; first class from $500 to 700.
So a second class G train journey works out about $70 cheaper than an average economy flight from Beijing to Shanghai, adding the extra airport taxi fare — a 60% saving.
Comfort
As far as comfort goes second class G-train seats are less roomy than economy plane seats, but first class G-train seats are similar in space and cost. Superior G-train seats are similar in room to first class plane seats, but about one third the cost.
G-train business seats exceed anything on an ordinary Beijing–Shanghai flight for comfort, with 2 meters (6½ feet) between rows and three seats per row (two one side of the aisle, one the other), and are only half the cost of a first class plane seat. Most G-trains have business class seats, with only four per day fitted with superior seats instead.
Convenience
A flight is less convenient and relaxing than a bullet train, with the extra hassles of getting through airports (checking in and collecting baggage), a longer taxi ride, and more walking and standing waiting. A flight will probably leave you tireder than a G-train trip.
There is also not much opportunity to make use of the journey time when taking a flight. There is only about 1½ hours to use electronic devices in the air, with the rest of the journey spent walking, waiting, or in a taxi. Whereas on the bullet train you could work/relax the whole 5½ hours, without interruptions for turbulence, taking off, or landing.
Stations on the Beijing–Shanghai High-Speed Line
There are 22 stations on this line: Beijing South (北京南), Tianjin West (天津西), Tianjin South (天津南), Cangzhou (沧州), Dezhou (德州), Jinan (济南), Tai'an (泰安), Qufu (曲阜), Tengzhou (滕州), Zaozhuang (枣庄), Xuzhou (徐州), Suzhou in Anhui (宿州), Bengbu (蚌埠), Chuzhou (滁州), Nanjing (南京), Zhenjiang (镇江), Danyang (丹阳), Changzhou (常州), Wuxi (无锡), Suzhou in Jiangsu (苏州), Kunshan (昆山), and Shanghai Hongqiao (上海虹桥火车站).
Bullet Train Schedules
Destinations
Stations
Train Number
Beijing - Shanghai
Beijing South Station -
Shanghai Hongqiao Station
D301 D31 D33 D35 G1 G101 G103 G105 G107 G109 G11 G111 G113 G115 G117 G119 G121 G123 G125 G127 G129 G13 G131 G133 G137 G139 G141 G143 G145 G147 G149 G15 G151 G153 G155 G157 G159 G161 G163 G165 G17 G19 G21 G3 G31 G33 G35 G37 G39
Beijing Station -
Shanghai Station
1461 T109
Shanghai - Beijing
Shanghai Station -
Beijing Station
1462 T110
Shanghai Hongqiao Station -
Beijing South Station
D302 D32 D34 D36 G102 G104 G106 G108 G110 G112 G114 G116 G118 G12 G120 G122 G124 G126 G128 G130 G132 G134 G138 G14 G140 G142 G144 G146 G148 G150 G152 G154 G156 G158 G16 G160 G162 G164 G166 G18 G2 G20 G22 G32 G34 G36 G38 G4 G40
Beijing - Nanjing
Beijing South Station -
Nanjing South Station
D215 D301 D31 D33 D35 G1 G101 G103 G105 G107 G109 G11 G111 G113 G115 G117 G119 G121 G123 G125 G127 G129 G13 G131 G133 G137 G139 G141 G143 G145 G147 G149 G15 G151 G153 G155 G157 G159 G161 G163 G165 G17 G19 G201 G21 G3 G31 G33 G35 G37 G39
Beijing Station -
Nanjing Station
1461 K101/K104 K45 T109 T65
Nanjing - Beijing
Nanjing Station -
Beijing Station
1462 K102 K46 T110 T66
Nanjing South Station -
Beijing South Station
D216 D302 D32 D34 D36 G102 G104 G106 G108 G110 G112 G114 G116 G118 G12 G120 G122 G124 G126 G128 G130 G132 G134 G138 G14 G140 G142 G144 G146 G148 G150 G152 G154 G156 G158 G16 G160 G162 G164 G166 G18 G2 G20 G202 G22 G32 G34 G36 G38 G4 G40
Beijing - Suzhou
Beijing South Station -
Suzhou North Station
D31 G103 G109 G111 G117 G121 G125 G133 G137 G145 G153 G161 G31 G37
Beijing Station -
Suzhou Station
1461 T109
Suzhou - Beijing
Suzhou North Station -
Beijing South Station
D302 D36 G106 G110 G118 G120 G122 G132 G142 G144 G150 G152 G156 G160 G36 G38 G40
Suzhou Station -
Beijing Station
1462 T110
Beijing - Wuxi
Beijing South Station -
Wuxi East Station
D301 D31 D33 D35 G101 G107 G113 G115 G117 G119 G127 G129 G141 G143 G155 G159 G165 G33 G35
Beijing Station -
Wuxi Station
1461 T109
Wuxi - Beijing
Wuxi East Station -
Beijing South Station
D302 D32 D34 G106 G108 G114 G128 G134 G140 G144 G146 G148 G152 G154 G160 G162 G164 G34
Wuxi Station -
Beijing Station
1462 T110
Beijing - Jinan
Beijing South Station -
Jinan Statiion
D211 D215 D231 D233 D235 D237 D301 D31 D33 D35 G101 G103 G105 G107 G109 G11 G111 G113 G115 G117 G119 G121 G123 G125 G127 G129 G13 G131 G133 G137 G139 G141 G143 G145 G147 G149 G15 G151 G153 G155 G157 G159 G161 G163 G165 G17 G181 G19 G201 G21 G31 G33 G35 G37 G39
Beijing South Station -
Jinan West Station
D211 D215 D231 D233 D235 D237 D301 D31 D33 D35 G101 G103 G105 G107 G109 G11 G111 G113 G115 G117 G119 G121 G123 G125 G127 G129 G13 G131 G133 G137 G139 G141 G143 G145 G147 G149 G15 G151 G153 G155 G157 G159 G161 G163 G165 G17 G181 G19 G201 G21 G31 G33 G35 G37 G39
Beijing Station -
Jinan Station
1461 K101/K104 K45 K51 K747
Jinan - Beijing
Jinan West Station - Beijing South Station
D212 D216 D232 D234 D236 D238 D302 D32 D34 D36 G102 G104 G106 G108 G110 G112 G114 G116 G118 G12 G120 G122 G124 G126 G128 G130 G132 G134 G138 G14 G140 G142 G144 G146 G148 G152 G154 G156 G158 G16 G160 G162 G164 G166 G18 G182 G20 G202 G22 G32 G34 G36 G38 G40
Jinan West Station -
Beijing South Station
D212 D216 D232 D234 D236 D238 D302 D32 D34 D36 G102 G104 G106 G108 G110 G112 G114 G116 G118 G12 G120 G122 G124 G126 G128 G130 G132 G134 G138 G14 G140 G142 G144 G146 G148 G152 G154 G156 G158 G16 G160 G162 G164 G166 G18 G182 G20 G202 G22 G32 G34 G36 G38 G40
Jinan Station -
Beijing Station
1462 K102 K46 K52 K748
Beijing - Bangbu
Beijing South Station -
Bangbu South Station
D215 D301 D31 D33 G105 G109 G125 G131 G139 G149 G155
Beijing Station -
Beijing Station
1461 K101/K104 K45 K747 T63 T65 Z73
Bangbu - Beijing
Bangbu South Station -
Beijing South Statiion
D216 D302 D32 D36 G120 G124 G130 G134 G138 G146 G162 G166
Bangbu Station -
Beijing Station
1462 K102 K46 K748 T64 T66 Z74
Beijing - Xuzhou
Beijing South Station -
Xuzhou East Station
D211 D215 D301 D31 D33 D35 G111 G119 G121 G127 G129 G133 G141 G145 G147 G149 G153 G155 G157 G159 G165 G201 G31 G33 G35 G37 G39
Beijing West Station - Xuzhou Station
1503/1502 T284/T281
Xuzhou - Beijing
Xuzhou East Station -
Beijing South Station
D212 D216 D302 D32 D34 D36 G104 G106 G112 G120 G122 G126 G128 G130 G132 G134 G140 G152 G156 G158 G164 G166 G202 G32 G36 G38 G40
Xuzhou Station - Beijing West Station
1504/1501 T282/T283
Beijing - Taishan
Beijing South Statiion -
Taian Station
D211 D215 D301 D31 D35 G103 G105 G109 G117 G121 G133 G137 G141 G151 G155 G161 G201
Beijing Station -
Taishan Station
1461 K101/K104 K45 K51 K747 T31
Taishan - Beijing
Taian Station - Beijing South Station
D212 D216 D302 D36 G102 G108 G116 G128 G132 G138 G142 G146 G150 G154
Taishan Station -
Beijing Station
1462 K102 K46 K52 K748
Jinan - Shanghai
Jinan Station -
Shanghai Station
1230/1227 1461 4310 K374/K371 K518/K515 K58/K55 T131/T134

Jinan West Station -

Shanghai Hongqiao Station

D251 D301 D31 D33 D35 D41 G101 G103 G105 G107 G109 G11 G111 G113 G115 G117 G119 G121 G123 G125 G127 G129 G13 G131 G133 G137 G139 G141 G143 G145 G147 G149 G15 G151 G153 G155 G157 G159 G161 G163 G165 G17 G19 G21 G211 G213 G215 G31 G33 G35 G37 G39 G41 G43 G51
Shanghai - Jinan
Shanghai Hongqiao Station -
Jinan West Statiion
D254 D302 D32 D34 D36 D42 G102 G104 G106 G108 G110 G112 G114 G116 G118 G12 G120 G122 G124 G126 G128 G130 G132 G134 G138 G14 G140 G142 G144 G146 G148 G152 G154 G156 G158 G16 G160 G162 G164 G166 G18 G20 G212 G214 G216 G22 G32 G34 G36 G38 G40 G42 G44 G52
Shanghai Station -
Jinan Station
1228/1229 1462 K372/K373 K516/K517 K56/K57 T132/T133
Xuzhou - Shanghai
Xuzhou Station -
Shanghai Station
1230/1227 1461 4310 K1101/K1104 K190/K187 K233/K236 K284/K281 K292/K289 K359/K362 K374/K371 K378/K375B K518/K515 K559/K558 K58/K55 K736/K737 K8358/K8355 T109 T118/T115 T131/T134 T140/T137 T166/T163 T54/T51
Xuzhou East Station -
Shanghai Hongqiao Station
D184/D181 D251 D301 D31 D33 D35 D41 D5431 D84/D81 D88/D85 G111 G119 G121 G127 G129 G133 G141 G145 G147 G149 G153 G155 G157 G159 G165 G211 G213 G224/G221 G228/G225 G232/G229 G236/G233 G31 G33 G35 G37 G39 G41 G43 G51
Shanghai - Xuzhou
Shanghai Hongqiao Station -
Xuzhou East Station
D182/D183 D254 D302 D32 D34 D36 D42 D5432 D82/D83 D86/D87 G104 G106 G112 G120 G122 G126 G128 G130 G132 G134 G140 G152 G156 G158 G164 G166 G214 G216 G222/G223 G226/G227 G230/G231 G234/G235 G32 G36 G38 G40 G42 G44 G52
Shanghai Station -
Xuzhou Station
1228/1229 1462 K1102/K1103 K188/K189 K234/K235 K282/K283 K290/K291 K360/K361 K372/K373 K376/K377 K516/K517 K56/K57 K560/K557 K738/K735 K8356/K8357 T110 T116/T117 T132/T133 T138/T139 T164/T165 T52/T53
Bangbu - Shanghai
Bangbu Station - Shanghai Station
1230/1227 1461 4310 K1101/K1104 K154/K151 K190/K187 K233/K236 K284/K281 K292/K289 K359/K362 K374/K371 K378/K375B K518/K515 K559/K558 K58/K55 K736/K737 K8358/K8355 K8377 K8431 K8484/K8481 T118/T115 T131/T134 T140/T137 T166/T163 T54/T51
Bangbu South Station -
Shanghai Hongqiao Station
D251 D301 D31 D33 D5431 D84/D81 G105 G109 G125 G131 G139 G149 G155
Shanghai - Bangbu
Shanghai Hongqiao Station -
Bangbu South Station
D182/D183 D254 D302 D32 D36 D42 D5432 D82/D83 D86/D87 G120 G124 G130 G134 G138 G146 G162 G166 G212 G222/G223 G52
Shanghai Station -
Bangbu Station
1228/1229 1462 K1102/K1103 K152/K153 K188/K189 K234/K235 K282/K283 K290/K291 K360/K361 K372/K373 K376/K377 K516/K517 K56/K57 K560/K557 K738/K735 K8356/K8357 K8378/K8375 K8432 K8482/K8483 T116/T117 T132/T133 T138/T139 T164/T165 T52/T53
Jinan - Nanjing
Jinan West Station -
Nanjing South Station
D215 D251 D301 D31 D33 D35 D41 G101 G103 G105 G107 G109 G11 G111 G113 G115 G117 G119 G121 G123 G125 G127 G129 G13 G131 G133 G137 G139 G141 G143 G145 G147 G149 G15 G151 G153 G155 G157 G159 G161 G163 G165 G17 G19 G201 G21 G211 G213 G215 G31 G33 G35 G37 G39 G41 G43 G51
Nanjing - Jinan
Nanjing South Station -
Jinan West Station
D216 D254 D302 D32 D34 D36 D42 G102 G104 G106 G108 G110 G112 G114 G116 G118 G12 G120 G122 G124 G126 G128 G130 G132 G134 G138 G14 G140 G142 G144 G146 G148 G152 G154 G156 G158 G16 G160 G162 G164 G166 G18 G20 G202 G212 G214 G216 G22 G32 G34 G36 G38 G40 G42 G44 G52
Jinan - Suzhou
Jinan West Station -
Suzhou North Station
D251 D31 D41 G103 G109 G111 G117 G121 G125 G133 G137 G145 G153 G161 G211 G213 G215 G31 G37 G41 G43 G51
Suzhou - Jinan
Suzhou North Station -
Jinan West Station
D254 D302 D36 D42 G106 G110 G118 G120 G122 G132 G142 G144 G152 G156 G160 G212 G214 G216 G36 G38 G40
Jinan - Wuxi
Jinan West Station -
Wuxi East Station
D251 D301 D31 D33 D35 D41 G101 G107 G113 G115 G117 G119 G127 G129 G141 G143 G155 G159 G165 G33 G35
Wuxi - Jinan
Wuxi East Station -
Jinan West Station
D254 D302 D32 D34 D42 G106 G108 G114 G128 G134 G140 G144 G146 G148 G152 G154 G160 G162 G164 G34 G52
Jinan - Xuzhou
Jinan West Station -
Xuzhou East Station
D211 D215 D251 D301 D31 D33 D35 D41 G111 G119 G121 G127 G129 G133 G141 G145 G147 G149 G153 G155 G157 G159 G165 G201 G211 G213 G31 G33 G35 G37 G39 G41 G43 G51
Xuzhou - Jinan
Xuzhou East Station -
Jinan West Station
D212 D216 D254 D302 D32 D34 D36 D42 G104 G106 G112 G120 G122 G126 G128 G130 G132 G134 G140 G152 G156 G158 G164 G166 G202 G214 G216 G32 G36 G38 G40 G42 G44 G52
Taishan - Shanghai
Taian Station -
Shanghai Hongqiao Station
D251 D301 D31 D35 D41 G103 G105 G109 G117 G121 G133 G137 G141 G151 G155 G161 G211 G224/G221 G51
Shanghai - Taishan
Shanghai Hongqiao Station -
Taian Station
D254 D302 D36 G102 G108 G116 G128 G132 G138 G142 G146 G150 G154 G214 G216 G226/G227 G52
Beijing - Changzhou
Beijing South Station -
Changzhou North Station
D31 D35 G101 G111 G123 G131 G137 G151 G161 G31 G37 G39
Shanghai Hongqiao Station -
Changzhou North Station
D182/D183 D254 D34 D5432 D5654 G104 G110 G112 G116 G124 G126 G132 G150 G216 G222/G223 G36 G38 G40 G44
Changzhou - Beijing
Changzhou North Station -
Beijing South Station
D34 G104 G110 G112 G116 G124 G126 G132 G150 G36 G38 G40
Changzhou North Station -
Shanghai Hongqiao Station
D251 D31 D35 D5431 D5661 D84/D81 G101 G111 G123 G131 G137 G151 G161 G211 G232/G229 G31 G37 G39 G51
Beijing - Zhenjiang
Beijing South Station -
Zhenjiang South Station
D301 D31 D35 G103 G109 G115 G117 G129 G139 G143 G147 G159 G163
Shanghai Hongqiao Station -
Zhenjiang South Station
D182/D183 D302 D36 D5432 D5654 G102 G104 G114 G140 G150 G162 G226/G227 G234/G235 G34 G42
Zhenjiang - Beijing
Zhenjiang South Station -
Beijing South Station
D302 D36 G102 G104 G114 G140 G150 G162 G34
Zhenjiang South Station -
Beijing South Station
D251 D301 D31 D35 D41 D5661 D84/D81 D88/D85 G103 G109 G115 G117 G129 G139 G143 G147 G159 G163 G224/G221
From Shanghai Hongqiao to Beijing South
| Train Number | Departing Time | Arrival Time |
| --- | --- | --- |
| G114 | 13:46 | 19:15 |
| G148 | 14:46 | 20:16 |
| G152 | 15:20 | 21:46 |
| G154 | 15:53 | 21:21 |
| G156 | 16:05 | 21:29 |
| G160 | 17:05 | 22:28 |
| G162 | 17:17 | 22:45 |
| G166 | 17:55 | 23:25 |
From Beijing South to Shanghai Hongqiao
| Train Number | Departing Time | Arrival Time |
| --- | --- | --- |
| G103 | 7:39 | 13:07 |
| G109 | 8:43 | 14:12 |
| G13 | 10:00 | 14:55 |
| G115 | 10:05 | 15:29 |
| G117 | 10:10 | 15:34 |
| G123 | 11:15 | 16:45 |
| G125 | 11:20 | 16:50 |
| G127 | 11:45 | 17:09 |
From Beijing South to Nanjing South
| Train Number | Departing Time | Arrival Time |
| --- | --- | --- |
| G205 | 18:40 | 23:05 |
From Nanjing South to Beijing South
| Train Number | Departing Time | Arrival Time |
| --- | --- | --- |
| G204 | 7:23 | 11:50 |