Shanghai Railway Station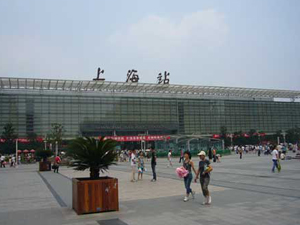 Outside the Shanghai Railway Station are two plazas in the north and in the south. The north square is under reconstruction. Passengers can check out and reach the exchange hub through a passage at the southeast exit of Shanghai Metro Line 1. Due to its excellent connection with the Shanghai local bus network, the station can also easily be reached by scores of bus lines. Night buses are available to every district.
Transportation to Shanghai Railway Station
Shanghai Metro Line 1, Line 3 and Line 4 all pass next to the station, so there is an adjacent interchange station of the same name. The location of the stop for Line 1 differs from the location of the stop for Line 3 and Line 4. There is discount with Shanghai Public Transportation Cards. Since June 2008, passengers can enjoy 30 minutes of continuous billing with the Shanghai Public Transportation Card.
Taxi Fares:A taxi fare in Shanghai starts at 12 yuan within 3 kilometers. For 3–10 kilometers it is 2.4 yuan per kilometer. Over 10 kilometers it increases to 3.6 yuan per kilometer.
Shanghai Railway Station Special Tips
Services in the Shanghai Railway Station
The pre-sale period for high-speed EMU train tickets is 20 days. Tickets are available for purchase at the EMU ticket office, at ticket windows and other special ticket offices and at ticket outlets. Notices for EMU train ticket sales are posted at special ticket offices and ticket outlets
Ticket sales will be stopped 10 minutes before the departure of EMU trains.
Refunds of tickets are required at the train station before the departure of the train, and a 20% refund fee should be charged. Except for passengers with sudden injury and illness, tickets will not be refunded after the departure of the train.
Shanghai Railway Station Overview
Shanghai Railway Station has the heaviest passenger traffic of all railway stations in Shanghai. It is on a stop of the Shanghai Metro Line 3, Line 1 and Line 4 subway lines. It is called "The New Railway Station" by locals. It replaced the old Shanghai Railway Station (the "Old North Railway Station"). Since Shanghai is one of the major hubs in China's rail network, trains departing from the station leave for destinations all over China, including high-speed EMU (Electric Multiple Unit) trains to Beijing, the Express Train to Tianjin, and the Express Coach to Kowloon in Hong Kong. Unlike most stations in China, there is an Immigration Check Point and Customs office at the station for the Shanghai-Kowloon (Hong Kong) Express Train. At present, there are eight regular waiting areas and a soft seat waiting area, as well as a special terminal for the Hong Kong express train, and Immigration and Customs. The ticket hall of the Shanghai Railway Station has a total of more than 80 ticket windows, including 20 at a ticket office in the Beijing East Road Huangpu District.
You May Like
Planning a trip? Ask us here

800-2682918 (USA & CA)

86-773-2831999

1800-764678 (AU)

0800-0327753 (UK)

800-8793-007 (China)
Q:
Leoncio Sau
Asked on 10:09 AM Aug. 28 2012
Reply
HI, I will come from Beijing to Shanghai via train on Sept 17, which station must I take in Shanghai ? Shanghai railway station or Hongqiao Railway station, I will be staying at hotel in Shanghai near the nanjing road, which railing station near the nanjing road ?I will be back to Beijing on Sept 20...
Dear Leoncio Sau,
Beijing railway station is near the airport and Shanghai railway station is near Nanjing Road. But most of D trains and G trains set off at Beijing south station and arrive at Shanghai Hongqiao railway station. There are about three trains from Beijing railway station to Shanghai railway station.
Beijing south station is about 37 km from the ariport, it takes about 50-60minutes by taxi, Beijing railway station is about 27 km from the airport and it takes about 30-40 minutes by taxi. It won't affact your itinerary.
Shanghai Hongqiao station is far from Nanjing Road, you could take line 2 subway to Nanjing Road station directly.
To make sure you could catch your flight, you'd better arrive in Beijing before 10:00am. You need to arrive at the airport 2-3 hours before departure time. Lussie Lu Replied on 02:02 AM Aug. 29 2012
Q:
Sephora Castro
Asked on 7:35 PM Aug. 19 2012
Reply
GreetingsI need to get to Jinhua Rail station from Hong Kong on August 30th 2012 in the morning, what is the easiest and fastest train to take? How far in advance is ticket purchase required? I aslo need to return to Hong Kong on the same day August 30th 2012.Thank youSephora Castro
Q:
Glenys
Asked on 10:52 PM Aug. 13 2012
Reply
Hi Where is the clossest station I can buy Gtrain tickets to Beijing from Riverview hotel in Huangpu district Shanghia and which station does it leave from ?
Hi Glenys, you can buy it at Shanghai Hongqiao Railway Station, which is the G train departs from. You can also ask your hotel to help book it. Regards, Whitney
Whitney Liao Replied on 02:30 AM Aug. 14 2012
Q:
Kim
Asked on 8:36 PM Aug. 09 2012
Reply
Which metro line do I take from Shanghai City Centre to Shanghai Railway Station. Can I then catch a bullet train to Suzhou from this station? If so, which part of the station should I go to purchase a ticket and then catch the train? Many thanks!
you can take line #1 to Shanghai railway station, or you can take line# 2 to Hongqiao train station, you can easily find the tickets office of the train station then you should go to the waiting room to catch the train.
Leon Long Replied on 04:48 AM Aug. 10 2012
Q:
Francesco Palumbo
Asked on 2:59 PM Aug. 02 2012
Reply
Please, i''ll arrive next 08/19 at Pudong airport , i''d like to know the timetable of train from Shanghai railway station to Suzhou in the afternoon ,from 5 pm.
Dear Francesco Palumbo,
There are many train to Suzhou from Shanghai ever day, you could search the timetable on our website. Please click here:http://www.shanghaihighlights.com/shanghai-train-schedule/search-result.asp
Most of the trains set off at Shanghai railway station and Hongqiao railway station. You could take Line 2 subway or Line 1 shuttle bus to get to Hongqiao railway station directly. To get to Shanghai railway station, you could take Line 5 shuttle bus. It also takes about 1.5 hours. Please click this link to realize Shanghai subway:http://www.shmetro.com/EnglishPage/EnglishPage.jsp Lussie Lu Replied on 06:50 AM Aug. 03 2012