Beijing South Railway Station
Overview
Beijing South Railway Station, located in Fengtai District, Beijing City, is the second largest railway station in Asia after Shanghai Hongqiao Railway Station. With the total area of 309,400 square meters, it is one of the main transportation hubs of Beijing and China.
Beijing South Train Station Schedule
Lines and Trains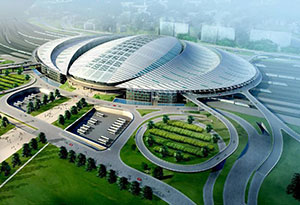 Beijing South Railway Station serves as the terminus of high-speed trains on over 24 tracks, including two CRH railway lines: the Beijing–Tianjin Intercity Railway and the Beijing–Shanghai High-Speed Railway.
It operates C-series (Intercity Railway) trains to Tianjin, and G- (China Railway High-speed) and D-series trains (bullet trains) to Shanghai, Shijiazhuang, Baoding, Beidaihe, Qinhuangdao, Dingzhou, Luanxian, Tangshan, Jinan, Tianggu, Wuqing, Qingdao, Nanjing, Hangzhou, Dezhou, Cangzhou, Taishan, Zaozhuang, Xuzhou, Yanzhou, Bangbu, Zhenjiang, Suzhou, Wuxi, Changzhou, and Jiaxing.
It only takes about 5 hours traveling from Beijing to Shanghai, Qingdao and Suzhou, and about 6 hours to Hangzhou by G trains. Use our Search Tool for Train Prices and Schedules.
Beijing - Tianjin Bullet Trains
Beijing - Shanghai Bullet Trains
Local Transportation
Situated 7.5 km south of the city center of Beijing, Beijing South Railway Station can be easily reached by Beijing's subway, public buses, and taxis.
Beijing Subway Line 4 connects Beijing South Railway Station with Xidan (one of the most popular shopping centers in Beijing), Xizhimen (the main transfer center of Beijing Subway where you can change to Line 2 or Line 13), and many famous attractions in Beijing, including Beijing Zoo, the Old Summer Palace and Zhongguancun.
You also can take Beijing public buses 381 or 458 to Beijing South Railway Station; or 20, 84, 72, 208, 529, 652, 665, 102, 106, 203, or 458 to Beijing South Station North Square.
You May Like