Wenshu Monastery
Summary
Wenshu Monastery is the best-preserved Buddhist temple in Chengdu, and also serves now as the home of the Buddhist Association of both Sichuan Province and Chengdu City.
Overview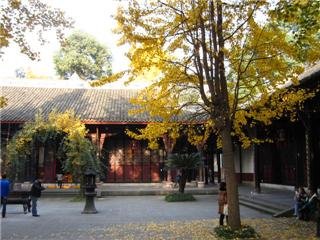 Interior view of the Wenshu Monastery
Initially built in the Southern Dynasty (420–589), Wenshu Monastery, once called Xinxiang Monastery, was the most eminent Buddhist temple in Sichuan Province. Covering an area of 60,000 square meters square meters (14.8 acres), the whole temple faces south with five layers of complex of buildings, Tianwang Hall, Sandashi Hall, Daxiong Baodian Hall, Shuofa Hall, and Cangjing Tower respectively from the gate. The clock tower and the drum tower, the dinning hall and the guest hall were constructed symmetrically, with corridors and columns connecting them.
Culture Relics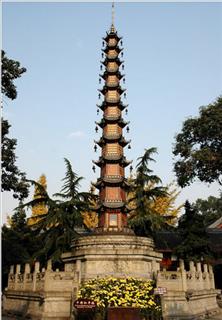 The Thousand Buddha Pagoda
Cultural relics are the highlights of Wenshun Monastery. Since the Tang (618–907) and Song Dynasties (960–1279), over 500 pieces of painting and calligraphy by celebrities have been stored here. In the Sutra-Preservation Pavilion, many famous handwriting exhibits, paintings, and artwork are restored. These precious works of art were created by renowned Chinese painters and calligraphers, including Zhang Daqian, Zheng Banqiao, and Feng Zikai. Besides, among the millions of Buddhist sutra preserved in Cangjing Tower, the Apothecary and Diamond Sutra bestowed by Kangxi Emperor of the Qing Dynasty are of extreme research value.
Of all the precious relics, the monastery houses some 300 Buddha statues of various materials including iron, bronze, stone, wood, and jade, some gloriously painted. These unearthed statues were constructed in different historical periods, Tang Dynasty, Song Dynasty and Qing Dynasty. In particular, Myanmar Jade Buddha statues are of the high cultural and artistic value.
These masterworks of art of both ancient and contemporary China, serve as a testimony to her friendly exchanges with the world.
In addition, inside the monastery preserved some precious Buddhist staff, such as the parietal bone of Master Xuan Zang of Tang Dynasty, India Pattra-leaf scriptures, Japan gold-plated scriptures, Thousand-Buddha cassock, hair embroidery Guanyin, Tiaosha Wenshu. The parietal bone of Master Xuan Zang, in particular, is one of the three pieces only preserved in China.
Travel Essentials
Location: it is located at No. 15 Wenshu Yuan Street, Chengu, Sichuan Province.
How to get there: Travelers can take buses No.1, 16, 18, 55, 62, 64 and 75 and get off at the Wenshu Monastery (文殊院) Stop.
Open time: 9:00–17:00
Related Readings
Questions and Answers About Wenshu Monastery
April Offer $25 Coupon
Send your inquiry before Apr. 30, 2014, and we will email you a $25 coupon.
The coupon is valid till Dec. 31, 2014, for paying tour packages worth $250 or up.
The coupon cannot be used for paying flight tickets, train tickets, hotel rooms and day trips.
Travel Advice or Question? Ask us here

China Highlights
Chengdu Travel Guide