Chengdu Travel Guide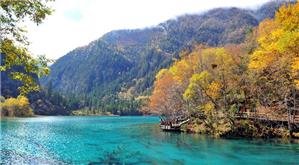 Jiuzhaigou Valley Scenic
Chengdu, in southwest China's Sichuan province, adjoins Tibet to the west. It is the most popular gateway to Tibet. Although there are flights to Tibet from other cities in China, the most frequent and reliable flight service to Lhasa, capital of Tibet, is from Chengdu.
Chengdu is a popular tourist city in China. Most travelers come to Chengdu for the giant panda and the city's old culture. A 5-day trip is enough if you only want to see the pandas, the Giant Buddha in Leshan, and temples in the city. This is the most popular route that most travelers choose. See our 5-Day Chengdu Panda Trip
The areas to the west of Chengdu offer breathtaking natural scenery. Jiuzhaigou National Park and Huanglong National Park are well-known for their clean lakes, waterfalls, colorful ponds, snow-mountains, and gorges. The Chengdu to Jiuzhaigou travel route is one of China's best scenic itineraries. Another off-the-beaten path to cover the stunning scenery in the region is from Chengdu to Daocheng and Yading. This is a popular photography travel route.
Planning a Chengdu Trip
Travelers comes to Chengdu firstly for the giant pandas and the Buddhist temples on Mt. Emei.
Highlights You Should Not Miss:
A giant panda in Chengdu Panda Breeding and Research Base

Cute giant pandas — you can even work as a panda keeper!
Mt. Emei for its Buddhist culture and mountain views
The Giant Buddha in Leshan, the largest Buddha statue in the world
Enjoy a cup of tea in a local teahouse with local people
How to Arrange Your Itinerary
The First Day: Arrive in Chengdu. Have a cup of tea at a riverside tea house; and enjoy local Sichuan opera while having your tea.
The Second Day: Visit the giant panda center and get close to the delightful pandas, then walk along Chengdu's Kuanzhai ('Wide-Narrow') Lane, a old street with lively local life.
The Third Day: Visit the Giant Buddha in Leshan.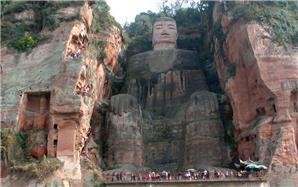 The Giant Buddha
The Fourth Day: Visit Mt. Emei. Take in its Buddhist culture and enjoy the beautiful natural scenery.
See China Highlights' best selling 5-day Chengdu tour, or let's help customize a tour for you.
Planning Your China Tour Including Chengdu
For a first time trip you may not want go to Chengdu as there are more popular places to go, like Beijing, Shanghai, Xi'an, and Guilin. Chengdu is a good second time destination, which is not as popular and crowded as Beijing and Xi'an.
A classic China Chengdu tour is to enter by Shanghai, then fly to Chengdu, and then to Guilin and Yangshuo, exiting via Hong Kong. This is a natural route, combining some of the best natural and manmade sights in China.
Other popular options are combining Chengdu with a Tibet visit or a Yangtze cruise, as Chengdu is the most popular and bookable air gateway to Tibet, and also near Chongqing. The more popular downstream Yangtze cruises start in Chongqing. A Chengdu route with a Yangtze cruise and Tibet is quite expensive, as it combines two relatively expensive options.
See below the most popular China tours including Chengdu.
Chengdu Travel Tips
Post Offices
Zip Code: 610000
Shuwa Street Post Office: 25 Shuwa North Street, Chengdu
Mengzhuiwan Post Office: 346 Shuanglin Road, Chengdu
Shawan Post Office: 71 Shawan New Road, Chengdu
Yiguanmiao Post Office: 6 Yongfeng Road, Chengdu
Currency Exchanges
You'd better exchanges your currency in Bank of China, or the Hotel you stay in. Don't trust any peddler in the street who provides you the service, as they may give you counterfeit currency.
Useful Telephone Numbers
Tourism: 028-96927, 028-86622065, 028-86764621 (Fax)
Public Bus: 028-85073535, 028-85076868
Taxi: 028-86636630
Cyber Cafes
You can find cyber cafes all around the streets and lanes of Chengdu, especially around colleges and universities. The charge is CNY 1.5 to CNY 2 per hour. If you don't bring your laptop to China, these cyber cafes can be one of your choices to get in touch with your friends and families.

Questions and Answers About Chengdu Travel Guide
Praks
2013-04-02
Show Answer
What is the best time to visit Chengdu?
Hi Praks, any time from April to November is good.
Whitney Liao replied on 2013-04-02
Richard Walker
2013-01-31
Show Answer
In 2007 I visited Chegdu, staying at the Yinhe Dynasty Hotel. Whilst there I visited an arts centre scattered througha number of old buildings. WE bought some pottry, paiintings there. Could you tell me if it still exists and its name./ It may have been pulled down as part of the modernisation of the city.
Dear Richard, I regret that I am not familiar with the place you mention. If you would like to buy some painting, you could go to Jinli Old Street or Chengdu Kuan-zhai Lane where is about 3 km from the hotel. Lussie Lu replied on 2013-02-04
Ong Chwee Kong
2013-01-24
Show Answer
What is the best transport from chengdu to jiuzhaigou? Do i need to do a lot of walking or climbing at jiuzhaigou?Any suggestion on a good hotel (about RMB200)?
Dear Sir or Madam, There are some flights from Chengdu to Jiuzhaigou every day, I suggest you take a flight to get there. It takes about one hour.You could book it on our website. Please click: http://www.chinahighlights.com/china-flights/flight-list.asp?QueryID=4589037&fcook=2013012511135956&star=CTU&dest=JZH&rDate=2013-1-30 Here are some cheap hotels for reference. 1. You You Holiday Hotel: http://www.chinahighlights.com/hotel/jiuzhaigou-hotels/you-you-holiday-hotel.htm 2. Caogen Renjia Hotel: http://www.chinahighlights.com/hotel/jiuzhaigou-hotels/caogen-renjia-hotel-building-2.htm Lussie Lu replied on 2013-01-24
florence
2013-01-18
Show Answer
Is the Tulip Festival in early spring in Stone Elephant Lake Ecological Resort, the Chengdu International Rapeseed Flower Festival in Baimiao Village in Jintang County, the Peach Blossoms at Longquan, the Cherry Blossom Tourism and Culture Festival near the Phoenix Lake Holiday Resort in Qingbaijiang district, and the Tianpeng Peony Fair in Pengzhou on in 2013? Please give me the dates for all the flowers festival that are available this year.
Dear Sir or Madam, I didn't got the exact information and these festival will start on the same date and at the same place based on the former data. Here is the information for reference. 1. Chengdu International Rapeseed Flower Festival: from Mar. 8 to Jun. 30 2. Peach Blossoms at Longquan: starting from Mar.25 3. Cherry Blossom Tourism and Culture Festival: from Mar.31 to Apr.22 4. Tianpeng Peony Fair:starting from Apr.12 Lussie Lu replied on 2013-01-21
florence
2013-01-18
Show Answer
Hi,Is the Chengdu International Rapeseed Flower Festival in Baimiao Village in Jintang County on this year.
Dear Sir or Madam, Till now we don't have any news about this festival, so I am not sure when and where this festival will be held. But Yunnan Luoping International Rapeseed Flower Festival will be held from Jan. 31 to Apr. 18, you could have a tour there. Lussie Lu replied on 2013-01-19
April Offer $25 Coupon
Send your inquiry before Apr. 30, 2014, and we will email you a $25 coupon.
The coupon is valid till Dec. 31, 2014, for paying tour packages worth $250 or up.
The coupon cannot be used for paying flight tickets, train tickets, hotel rooms and day trips.
Travel Advice or Question? Ask us here