Jinan Railway Stations
Jinan Railway Stations Taxi Directions
Chinese Name: 济南

Website: http://www.jnhcz.net/

Address: 19 Chezhan Street, Tianqiao District

Chinese Address: 天桥区车站街19号

Telephone: 0531-82424762
Where the Trains Going to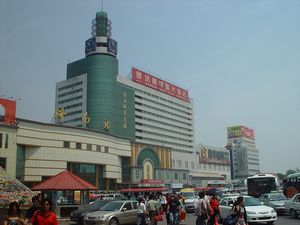 Jinan Railway Station is the largest railway station in Shandong Province. It was built in 1904. Beijing-Shanghai Railway Line and Jinan-Qingdao Railway Line intersect here. Jinan Station is 490 km (304 miles) north of Beijing, 968 km (601 miles) south of Shanghai, and 393 km (244 miles) east of Qingdao. Trains in Jinan depart for China's major cities like Qingdao, Xi'an, Shenyang, Changsha, Urumqi, Yantai, Wuhan, Shanghai, Shenzhen, Nanning, Beijing, Wenzhou, Chengdu, Nanchang, Fuzhou, and Guangzhou.
Transportation to Jinan Railway Stations
Transportation:Passengers can take public buses No. 3, 21, and 83 to get to the train station.
Planning a trip? Ask us here

800-2682918 (USA & CA)

86-773-2831999

1800-764678 (AU)

0800-0327753 (UK)

800-8793-007 (China)
Q:
River
Asked on 05:18 AM Aug. 27 2012
Reply
Hello my name is River and tell me please if there is public transportation between Jinan West Railway and Jinan Railway Station. Thank you and I will be waiting for your advice.River
Hello River, yes, there is a pulic bus No.155 between the two stations. You can take it for the transfer.
Simon Huang Replied on 04:49 AM Aug. 28 2012
Q:
Lau
Asked on 11:23 PM Aug. 13 2012
Reply
Hi! I''m taking the fast train from Beijing to Jinan.I need get to a close hotel near Shandong University so what station in Jinan should I pick as a final destination in Jinan that is closer to the university?Thanks!
Hi Lau, the nearest station to Shandong University  is Jinan Railway Station. It is about 7km, takes 20-25min by taxi and costs CNY 20-30.
Whitney Liao Replied on 03:31 AM Aug. 14 2012
Q:
Oskar
Asked on 03:49 AM Jan. 25 2012
Reply
Hi! I'm taking the fast train to Beijing from Jinan West the 30th of January. How do I get to Jinan West train station from city centre?
Thank you for your question. The public buses No. 156 and 157 pass Jinan West Station. The most convenient way I think is taking taxi. Since we don't know your exact accommodation, may I suggest that you ask the hotel or apartment for the information? Ruby Zhao Replied on 03:33 AM Jan. 27 2012
Q:
matalon
Asked on 05:11 AM Jan. 03 2012
Reply
is exist train from jinan to qinhuangdao
Dear matalon,
There are many train lines from Jinan to Qinhuangdao for you to choose.
Hope it helps. Candice Song Replied on 9:28 PM Jan. 03 2012
Q:
Jan
Asked on 8:30 PM Dec. 12 2011
Reply
Hello I want to go Tai'an from Qingdao via Jinan. My first train would arrive in Jinan trainstation but the second one to Tai'an is supposed to leave from Jinan West. How far are the two stations apart from each other? I would only have about 25 minutes to change the trains.
Hi Jan, The Jinan Train Station is about 12KM away from Jinan Western Station. It's about 30 mins drive. You need at least 1 hr to change the train, because if you are taking a bullet train, you need to check in about 30 mins in advance. Michael Hu Replied on 01:16 AM Dec. 13 2011

Dear Michael,
thank you for your reply. Is there a possibility to take a bus to Tai'an from Jinan Traisntation (or directly from Qingdao)? guest Replied on 02:09 AM Dec. 13 2011