Putuoshan Island and Putuo Mountain
Overview
Putuoshan Island is one of the larger islands belonging to the Zhoushan Archipelago, a group of in all some 1400 islands located at the mouth of Hangzhou Bay, not far from the city of Ningbo, Zhejiang Province.
Putuoshan Island covers an area of some 12 square kilometers, most of which is pristine nature. There are fantastic vistas of the surrounding seascapes from Putuo Mountain, which is one of the Four Sacred Mountains of Chinese Buddhism. It is also home to the most famous Guanyin Temple in all of China (Guanyin is the Goddess of Mercy and the patron saint, as it were, of seafarers).
Features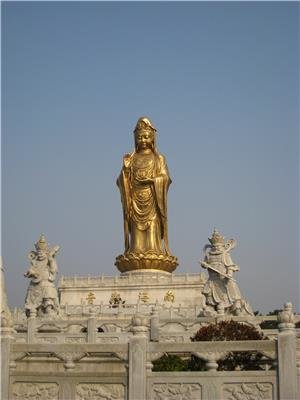 The sculpture of the Buddhist deity Guanyin in Putuo Mountain.
1. It has many beaches among which Hundred Step Beach (600 meters long) and Thousand Step Beach (1700 meters long) are the two major ones with facilities such as deckchairs, parasols and water activities.
2. 33m tall statue of the Guan Yin at Zizhulin
3. Putuo Mountain is located on the island, one of the Four Sacred Mountains of Buddhism. There are a number of temples on Mount Putuo. During it heyday, there were 3 main temples, 88 monasteries, and 128 thatched houses for various other persons engaged in work in support of the temples and monasteries on the island, and more than 4000 monks were in active service on the mountain. Mount Putuo was understandably a place of great reverence, being referred to as the "First Buddhist Kingdom in Zhendan".
4. It is a tourist site for those in search of rare mountain beauty and tranquil walks among historical and religious relics. There are luxuriant trees everywhere on the island - especially a large number of ancient camphor trees - filled with a host of singing birds. The ground below is covered in season with fragrant flowers. Putuoshan Island has been aptly called "A Botanical Garden on a South Sea Island".
Putuo Mountain
Located in the Putuoshan Islands, Mountain Putuo is one of China's four sacred Buddhist mountains, particularly oriented toward the Buddhist deity Guanyin, the goddess of mercy and compassion. Legend has it that Guanyin once showed her bodily presence here and left a number of historical sites. The temples and shrines on the island are full of colorful sculptures depicting the deity in her various forms, from the common-seen South Sea Guanyin at her welcoming perch overlooking the sea, to various depictions of the Thousand-Hand Guanyin, whose tangle of limbs represents her ability to offer a helping hand to anyone in need.
The Mountain was originally called Mountain Meicun for a man named Meifu in the Han Dynasty had once lived here. It got the sacred spirit after a Japanese monk who came to China to seek for help. The monk planned to carry a Guanyin sculpture obtained from Mountain Wutai back to Japan. But unfortunately he was stopped by a storm at this area. he believed that the Guanyin was reluctant to live, so he landed and built the "Unwilling to Leave Nunnery" to host the sculpture. Since ever, the mountain has been heavily visited by pilgrims. View famous mountains in China.
Saturated with the fragrance of incense and strains of Buddhist chants, Mountain Putuo now offers a spiritual sanctuary contrast to the wafting, exhaust fumes and the din of auto horns that haunt many cities we live.
Lianhua Island
Lianhua Island is located opposite Putuo Mountain, separated by the sea. It used to be an abandoned island, till 1996 when artist Zhu Renming bought it and spent 15 years developing it into an artistic paradise. There are about 500 statues of arhat, with vivid postures and expressions. The statues were designed by Zhu Renming based on the look of local fishing men, carved out of granite, and placed alongside an 800-meter-long causeway. Besides the natural sea scenery and arhat statues, on the island there are international art studios and art gallery.
Lianhua Island is open to the public for free. It is 5 hours drive from Shanghai, or 4 hours drive from Hangzhou. You can drop by for a visit to Lianhua Island if you stay one night at Putuo Mountain.
Travel Essentials
Location: It is located about 150 km (100 mi) southeast of Shanghai, in the west of the island prefecture of Zhoushan, Zhejiang province.
Transportation: Putuo Island can be reached by boat from Shanghai and Ningbo.
Ferries from Shanghai:
1) Ferries are available at Wusong Pier in Pudong District: departure at 20:00, arrival at 07:30; return ferry for Shanghai departs at 16:30, and arrives Shanghai at 06:30.
2) Visitors can also take speedboats. Special buses pick up at Nanpu Bridge (take public bus No 65, 43, 868 or 869), and drive to Luchao Pier to board the speedboat. Departure times from Nanpu Bridge are at 07:30 and 08:00. It takes about 2 hours from Nanpu Bridge to Luchao Pier, and another two and a half hours to Putuoshan.
Speedboats from Ningbo:
Reference departure time from Daxie Pier: 07:35, 07:55, 08:15, 09:50, 09:45, 10:45, 11:15, 12:05, 13:50, 14:30, 14:50, 15:50, 16:15. It takes about 70 minutes to Putuoshan.
Questions and Answers About Putuoshan Island and Putuo Mountain
David
2014-04-17
Show Answer
Hi. How much is it for the ticket from Shanghai to Putuoshan? Ferry and speedboat.
Dear David, The ferry sets off at 19:30pm, arriving at Putuoshan at 6:30am the next day. There are seven kinds of rooms. The cost is CNY139/US$22, CNY159/US$26,CNY199/US$32, CNY269/US$43, CNY289/US$46, CNY449/US$73, CNY499/US$80. You could take a speedboat at Xiaoyangshan pier. The ship company will arrange a bus at Nanpu bridge long distance bus station(上海南浦大桥长途客运站). The bus sets off at 8:15am every day and the boat sets off at 10:10am, arriving in Putuoshan at 12:30pm. The cost is CNY258/US$42, CNY302/US$49. Lussie Lu replied on 2014-04-17
Eileen
2014-02-23
Show Answer
Hi, what''''s the weather like in june in Putuoshan ? Is it convenient for travel to Putuoshan ?Thanks
Hi Eileen, it is summer then. It is convenient to travel there and it would be hot. Summer clothes like T-shirts would be ok. Whitney Liao replied on 2014-02-24
Jonathan
2013-01-31
Show Answer
hi..we plan to go to putuo shan,our flight to shanghai in 05 march 2013 and arrive at 01.00 am. can we direct to putuo shan at that time? and is it safe for us to travel at that time? and what transportation can we use? and can you suggest us what hotel in putuo shan? thank you...
Dear Jonathan,
You could go to Wusong port (吴淞客运码头)to take a ship to Putoushan. The ship sets off at 19:30 pm and will arrive in Putuoshan at around 8:00 am in the next day. You could buy the ticket at the port directly.
You also could stay one night in Shanghai, then take a speedboat from Luchao port (芦潮港), it sets off at 9:30 am and it takes about 3 hours.
In March, the time schedule of the ships is steady.
In Putuoshan, you could stay in Putoushan Hotel(4*) or CITIC putuo hotel(3*).
Lussie Lu replied on 2013-01-31
amy
2013-01-17
Show Answer
hi, if i go putuoshan from shanghai by overnight boat. i''ll arrive putuoshan on 08.00 am, right? and i want to back shanghai by overnight boat at that evening day may be 4.00 pm (not sleep at putuoshan). if i want to visit Fayu temple, the quanyin don''t want to leave Temple, purple bamboo, Nanhai guanyin, and Puji temple .Is it possible time to go all? Or i have to cut the program to visit Fayu temple for enough time? Thank you very much.
Dear Amy, Based on my experience, you could have enough time to visit these places. Lussie Lu replied on 2013-01-17
Hoang
2012-12-28
Show Answer
And what''s the weather like in February in Putuoshan ? Is it convenient for travel to Putuoshan ?Thanks
Hi Hoang, February is very cold. The average highest and lowest temperatures are 2 °C (36 °F) and 9 °C (48 °F). It is actually finger numbing early during the month from the dampness. I suggest that you come in April or May.
Whitney Liao replied on 2012-12-30
April Offer $25 Coupon
Send your inquiry before Apr. 30, 2014, and we will email you a $25 coupon.
The coupon is valid till Dec. 31, 2014, for paying tour packages worth $250 or up.
The coupon cannot be used for paying flight tickets, train tickets, hotel rooms and day trips.
Travel Advice or Question? Ask us here
You might like

Free Things to Do in and around Hangzhou

China Highlights
Hangzhou Travel Guide