Luoyang Travel Guide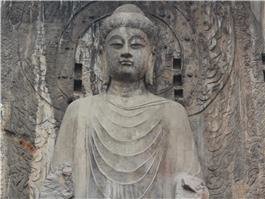 Buddha statue in Longmen Grottoes
Located in the western part of China's central Henan Province, Luoyang is one of China's seven ancient capitals. Comprised of six city districts and eight counties, Luoyang occupies an area of 15,492 square kilometers, with a total population of 6.16 million, 1.4 million urban. Luoyang city proper covers an area of 544 square kilometers.
Luoyang served as the capital for nine dynasties over a period of more than 1,500 years. 96 emperors from the prehistoric Xia Dynasties, through Shang, Western and Eastern Zhous, Cao Wei, Sui, Later Liang, Later Tang and Later Jin Eastern Han established their seat of power there. Luoyang's importance in history means that it has significant influence in China's cultural heritage and has many historical sites. Although the political upheavals in the last century destroyed some of its grand historical heritage, Luoyang still retains many of its significant ancient landmarks which are the main tourist draw cards.
In and around Luoyang, visitors will find the White Horse Temple, the first Buddhism temple in China, Longmen Grottoes, a place renowned as a treasure house of Buddhist culture and art. The natural scenery around this area is also fascinating.

Questions and Answers About Luoyang Travel Guide
Jean Weinfeld
2013-04-30
Show Answer
How to go from Luoyang Longmen Railway Station to Dengfeng (May 11th, around 01:30 pm)? How much does it cost?
Hi Jean, we can arrange a private car and English speaking tour guide for you. Do you need it?
Whitney Liao replied on 2013-05-05
April Offer $25 Coupon
Send your inquiry before Apr. 30, 2014, and we will email you a $25 coupon.
The coupon is valid till Dec. 31, 2014, for paying tour packages worth $250 or up.
The coupon cannot be used for paying flight tickets, train tickets, hotel rooms and day trips.
Travel Advice or Question? Ask us here
Luoyang Facts
Chinese Name: 洛阳
Chinese Pinyin: luò yáng
Location: North of China
Latitude: 34° 39' 41" N
Longitude: 112° 24' 7" E
Elevation: 353 M (1158 FT)
Time Zone: (UTC+8)
Area Code: 0379
Population: 6.54 million