Luoyang Transportation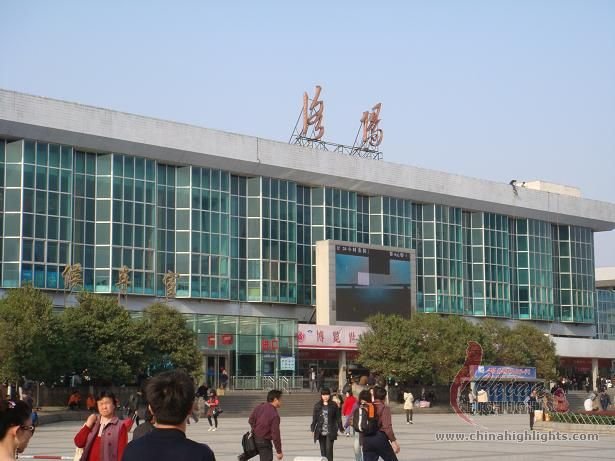 Luoyang is accessible by plane, train and long distance bus.
Air
Luoyang's airport is located some 13 kilometers northwest of the city. There are some flights to and from Chendu in China's southwest Sichuan province, Dalian, the coastal city in north China's Liaoning province, Guangzhou in south China. Flights to China's major tourism cities like Beijing, Shanghai, Xi'an and Guilin are not available. Use of the Zhengzhou Airport is a more convenient option. Tourists from Beijing, Shanghai and some more bigger cities can fly to Zhengzhou, capital city of the region and proceed to Luoyang by highway.
There is no public bus service between the city proper and the airport. CAAC shuttle buses serve passengers from the CAAC building to the airport & vice visa but they are not frequent. Taxi is a much more convenient option. Taxis are plentiful and it's very easy to flag down one or you can call a taxi right in front of your hotel. There is usually stream of taxi stopping in front of hotels for passengers. A ride to the airport via taxi costs about 30 yuan.
Luoyang CAAC office: 196 Daobei Road, (Tel:3935301)
Railway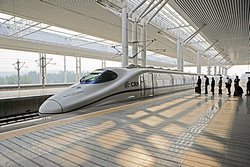 A Bullet Trian Running through Luoyang Railway Station
Luoyang's significant role as a major stop along the Lanzhou - Shanghai rail line makes train travel the most convenient way to reach Luoyang. Most of trains from major cities like Beijing, Shanghai, Zhengzhou, Qingdao, Xiamen along the Lanzhou - Shanghai line stop at Luoyang Railway Station. Direct trains between Luoyang and Beijing, Shanghai, Zhengzhou are available. Luoyang Railway Station is located at the corner of Jingguguan Lu and Daonan Dong Lu in the northern part of the city. Public buses No. 2, 4, 5,11, 66 runs to the railway station.
Highway
Luoyang Long Distance Bus Station is opposite the train station. There are buses from Luoyang to the neighboring areas including Zhengzhou, Kaifeng, Sanmenxia. Long-distance buses going farther to Shijiazhuang, capital of Hebei Province, Baoding and Beijing easily accessible.
Luoyang Long Distance Bus Station: at the corner of Jingguyuan Lu and Daonan Lu, diagonally opposite the train station( Tel:3925857)

China Highlights
Planning a trip? Ask us here 800-2682918 (USA & CA)
86-773-2831999 (Int'l)
Q:
seshikanth turaga
Asked on 2013-02-04
Reply
how to go to shaolin temple from shijiazhuang ?
Hi Seshikanth, you can take high speed train from Shijiazhuang to Luoyan Longmen. Then go to the opposite of the train station. There is a bus station where buses from Longmen to the Shaolin Temple are available.
Whitney Liao Replied on 2013-02-06
Q:
yew fook kuan
Asked on 2012-12-15
Reply
I will be in Luoyang on the 6 & 7 April 2013. Is there any full day tour in Luoyang which I can join to see Baima Temple, Longmen Grottoes etc.
Dear Yew,
It is Christy from China Highlights, a travel advisor. I'm happy here to service for you. I have made a full day tour in Luoyang which includes Baima temple and Longmen Grottoes. Please check your email. But could you please tell me how many people in your group? You could contact me at christyluo@chinahighlights.com
Christy Luo Replied on 2012-12-16
Q:
Ian
Asked on 2012-09-03
Reply
Hello,I want to get to Longtan Valley (龍潭大峽谷) from Luoyang. How do I get there? I''m not sure if the long-distance bus goes there but I was told that long distance rides leave from Luoyang Railway Station.
Hi Ian,yes, there are direct bus from Luoyang Railway Station or Yiyun Bus Station一运汽车站 to the Longtan Valley (龍潭大峽谷), you can take bus there. Whitney Liao Replied on 2012-09-04
Q:
Ellen
Asked on 2012-07-31
Reply
Is there any direct bus from Zhengzhou to Luoyang? If yes, is it safe? I will have 2 lugguges and a little kid.
Hi Ellen, there is no direct bus from Zhengzhou Airport to Luoyang. You can take a taxi to Zhengzhou Railway Station first. It is about 40km, takes around 1 hour, and costs CNY80-100. Then take the High Speed Train to Luoyang. It is quite safe. And the price is CNY 60-90, duration 40-50mins.
If you need any tour service or hotel booking, please feel free to contact me via whitney@chinahighlights.net
Regards, Whitney
Whitney Liao Replied on 2012-08-01
Q:
anna
Asked on 2012-06-23
Reply
How long does it take to get from Louyang to Guilin by train?
Hi Anna, this is Sammi from China highlights. There is only one train from Luoyang to Guilin. The train no is K318/K315 leaving Luoyang at 00:17 on Day 1, and arrives at 22:50 on Day 2, takes totally 22.5 hours. Do you need help on hotel or tour booking? We are a travel agency based in China, if you need any tour service in Luoyang or Guilin, please feel free to let me know. Sammi Dai Replied on 2012-06-25
Luoyang Travel Guide