Luoyang Old Town District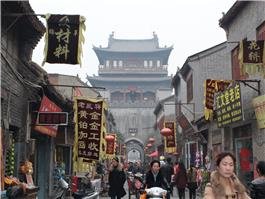 Luoyang Old Town District
Accolades
Area in northeast Luoyang.
Ancient ruins and remains along with old architecture can be seen.
Shopping and dining area in Luoyang.
Muslim quarter.
1,400 year old city gate.
Old narrow streets.
Features
Luoyang that is a little west of Zhengzhou City was the capital of the Eastern Han Empire (25 AD- 220 AD). After that, it remained an important city in various empires. The Luoyang Old Town District measures a few square miles as the main center, but it probably extends out over twenty square miles. It is the best place to find remaining ancient architecture. An example is a very big city gate that is said to date from 600 AD though it looks much younger. It is a big arched gate that was part of a city wall. The area also features a museum for folk art that contains local art such as paper cuttings art, local clothing, and other local artwork. Some of the streets are shopping streets that sell a certain kind of good or article. Others are residential streets with small shops and old apartments lining both sides. The streets are still generally old and narrow. One special feature of the area is a Muslim community. Many of Luoyang's Muslims live here. While there, visit a Muslim restaurant, visit, the shops and see the lives of the people on the streets.
Muslim restaurants are usually called Lanzhou Lamian restaurants. The people make their own noodles, and the spicy flavors with lamb, chicken, or beef toppings are delicious. The food is different from most Chinese food, less oily, and fresher. It is also usually cheaper. They often serve handmade bread as well.
There are a lot of small shops, and you can watch people working on paintings, signs or other things to sell, making food to sell or eat themselves, and eating in the streets. There are a lot of stalls selling food, and the small restaurants set tables on the streets for their customers. You can watch people watching the people go by or playing table games like Mahjong. Luoyang isn't relatively wealthy, so it is where you can buy lots of goods at cheap prices. It looks like a very traditional residential area. Strolling around shopping and eating would be interesting if you haven't seen China before.
Transportation
Travel to the old town from other cities is convenient because it is near the long-distance bus station and the train station. The main part of the old town is two miles east of the Luoyang Bus Station and the Luoyang Train Station. These stations are next to each other. Here is the address in Chinese for the Old Town District: 河南省洛阳老城区. Here is the address for the Luoyang Bus Station that is a long-distance bus station: 1 Jinguyuan Road, Xigong District (河南省洛阳市西工区金谷园路1号).
Related Links
Questions and Answers About Luoyang Old Town District
April Offer $25 Coupon
Send your inquiry before Apr. 30, 2014, and we will email you a $25 coupon.
The coupon is valid till Dec. 31, 2014, for paying tour packages worth $250 or up.
The coupon cannot be used for paying flight tickets, train tickets, hotel rooms and day trips.
Travel Advice or Question? Ask us here

China Highlights
Luoyang Travel Guide