Where to Buy or Tailor Make a Qipao in Shanghai?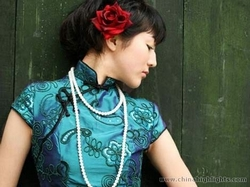 Qipao is a unique Chinese one-piece dress. When buying or tailor-making a Qipao, the formfitting is as important as other factors, such as style, materials, color, and length. About how to choose a right Qipao, you can check out our detailed information for how to choose a Qipao.
When you are tailor-making a Qipao, first of all, the shop assistant will help you to confirm the style, including material, pattern, collar, length of sleeves, where to slit, and fastening buttons (盘扣, pan kou). Tailor-making a simple Qipao might only need several hours, but for a complicated one (especially for a Qipao with complicated embroidery), several days or even half a month is needed. The price of the latter could be much more expensive that the former.
There are a lot of Qipao shops (both for ready-to-wear Qipaos and tailor-making Qipaos) in Shangle Road, Luwan District (卢湾区长乐路). We only list some of them.
Longfeng Qipao (龙凤旗袍)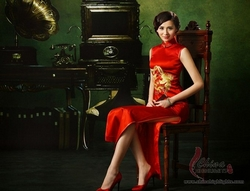 The Qipaos in Longfeng Qipao shop are great dressings as well as artworks, made with many exquisite and complicated programs. Suzhou embroidery is widely used in making a Qipao. The exact messuement, well-designed style, the beautiful and comfortable material, and the elaborate handwork make every Qipao there really artwork, and show the traditional Chinese culture. The fastening buttons (pan kou, 盘扣) symbolize the auspicious, and the time for making the fastening buttons of a Qipao can cost as much as several days.
Address: 942 Nanjing West Road, Jing'an District (静安区南京西路942号)
Tel: 021-5228 1787
Hanyi Qipao Shop (瀚艺旗袍店)
Most the Qipaos there are with gorgeous colors. If you want to buy a simple but elegant one, it might disappoint you. The Qipaos are all made by experienced tailors. Tailor-making a Qipao with exquisite embroidery might cost at least one week.
Price: 800 – 1,500 yuan for a traditional Qipao, and 2,800 – 10,000 for a Qipao with embroidery
Address: 221 Changle Road, Luwan District (卢湾区长乐路221)
Tel: 021-5404 4727
2002 Haishang (2002海上), aka Lao Shanghai Qipao Shop (老上海旗袍店)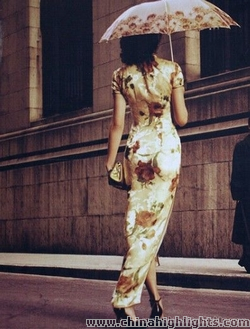 Different from that in Hanyi Qipao Shop, the Qipaos in Lao Shanghai Shop is "simple" but elegant, without pealike colors such as bright red and green. When seeing far away, it seems that some Qipaos are made in pure color. But after you get close to them, you can see that there are exquisite patterns on them. The designer of Lao Shanghai is good at traditional Chinese painting, and the quintessence of traditional Chinese painting has been put into the Qipaos.
Price: 1,800 yuan–5,000 yuan for a Qipao, 1,000–2,500 yuan for a traditional Chinese menswear, and 1,600–3,000 yuan for a traditional Chinese-style women's jacket
Address: 2012 Changle Road, Luwan District (卢湾区长乐路201号)
Tel: 021-5404 9576
There is a branch shop in Tianzi Fang (田子坊), and the address is Tianzi Fang, 258 Taikang Road, Luwan District (卢湾区泰康路258号田子坊).
Xinni Qipao (辛妮旗袍)
Compared with above two shops, the Qipaos in Xinxi Qipao shop is more affordable. Besides tailor-making a Qipao, ready-to-wear Qipaos and tailor-making a Qipao with your own clothing (you can buy it in other places; and the payment for the handwork of a Qipao without hand embroidery is about 500 yuan) are also available.
Price: 580–1,800 yuan for an ordinary Qipao, more than 1,800 yuan for an embroidered Qipao, 30 yuan for a common small unique handbag, and 120 yuan for a small embroidered handbag
Address: 231-233 Changle Road, Luwan District (卢湾区长乐路231-233号)
Tel: 021-5404 1275, 5404 2155
Huayi Qipao Shop (华艺旗袍店)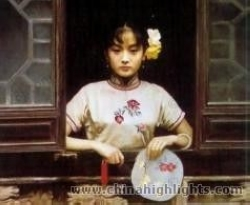 Huayi Qipao Shop had various kinds of ready-to-wear Qipaos, not only for ladies but also for little girls. It also offers tailor-making services for guests. Besides in Jiujiaochang, Huayi Qipao has branch shops in Xin Hua Lian Shopping Mall in Huaihai Road (淮海路新华联) and Tourist Supplies Shop in Nanjing Road (南京路旅游用品店).
Address: 52 Jiujiaochang North Road, Huangpu District (黄浦区旧校场路北52号)
Tel: 021-6336 3448
Heping Qipao Shop (和平旗袍店)
The shop is not very large, only 20 square meters, but it is has many Qipaos for your selection. The price is much more affordable. Of course, the Qipaos are not as exquisite as those expensive ones. Tailor-making Qipaos is available.
Address: 161 Maoming South Road, Luwan District (卢湾区茂名南路161号)
Tel: 021-6473 9043
Related Links

China Highlights
Shanghai Travel Guide