Tipping in China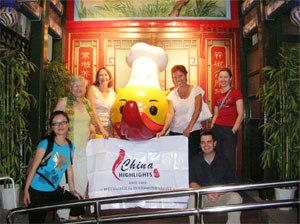 In Mainland China, tipping or gratuities are not common practice in most sectors of life, although it has become the norm to tip the tour guide and driver, hotel bellboy in recognition of their good service. It is not customary to leave tips at local restaurants. Of course you don't have to. However, anything you do give will be much appreciated. While in Hong Kong and Macau, tipping is the way to make things go. Below are some practical tips for tipping in China, including Hong Kong and Macau.
Mainland China
Tipping is not widely expected or required in Mainland China. However, at superior hotels and restaurants catering to western tourists, porters, room service and wait staff may have become used to receiving small tips. You can tip in cash, some small gifts brought from your country would also be appreciated, such as music CDs, books, perfumes, candies, etc.
Hotels
In general, US$ 2 or 3 should be enough for the room attendant if you stay at the same hotel for a couple of days. For the porter, US$ 1 for each piece of luggage carried for you may be appropriate. Tipping at hostels or inns is not expected.
Restaurants
You don't need to tip at fast food restaurants or roadside stands. At fine restaurants in larger cities, if you are satisfied with the service, you can leave small changes to your waiter, or give one or two dollars as a tip. It depends entirely on how you rate the service. Leave more if you are happy with the service or none if you are not.
Taxi
You don't need to tip the taxi driver. However, if the driver helps you with heavy luggage or takes special ways to reach your destination on time, then one or two dollars will be ok.
Tour Guides and Drivers
We pay our guides and drivers a base salary plus a performance bonus however we realize that some people might like to tip guides or drivers for their service. The amount of your tip is your decision. As a guideline 80-150RMB/day would be usual for the guide and half amount to a driver, given separately to each person is preferable. Remember tipping is at your discretion.
Hong Kong and Macau
Tipping in Hong Kong and Macau is very common and important, just like many parts of the world.
For hotel porters, HK$10 for per piece of luggage carried for you is appropriate. 2% of the daily room charge will suffice for the room attendant.
For waiters and waitresses, HK$ 5 – 10 at inexpensive restaurants, and 10 – 15% of the bill at fine restaurants, where deserved.
For taxi drivers, please round the fare up to the next convenient bill size, or you can tip a few extra dollars, if the driver helps with heavy luggages or takes special efforts to get you to your destination on time.
For your tour guides and drivers, US$15 – 20/day for a tour guide and half that amount for a driver when in a private tour, US$8 – 10/day for a tour guide and half that amount for a driver when joining in a seat-in-coach tour.
Tipping in Macau Casinos
Tipping is not mandatory in casinos in Macau. Usually, the croupier keeps 10% of the winning. No entry fee is charged at the casino, however, as a foreigner you must be over 18 years old to get admission.

China Highlights
Questions and Answers About Tipping in China
April Offer $25 Coupon
Send your inquiry before Apr. 30, 2014, and we will email you a $25 coupon.
The coupon is valid till Dec. 31, 2014, for paying tour packages worth $250 or up.
The coupon cannot be used for paying flight tickets, train tickets, hotel rooms and day trips.
Travel Advice or Question? Ask us here