Heavenly Lake
Feature
1. A small mountain lake in a high mountain area reminiscent of the Alps in Tianshan Tianchi National Park.
2. About two hours from Urumqi.
3. Some good scenery, but over-developed.
4. Kazakhs.
5. Economical accommodations in Kazakh yurts and ethnic Kazakh meals.
6. Enjoy hiking and horseback riding.
7. Enjoy the high-protein, meaty Kazakh food.
8. Close to the attractions in Urumqi and the Colorado-like South Pastures south of Urumqi.
Overview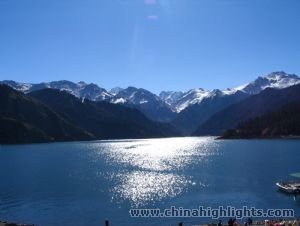 Beautiful natural scenery of Heavenly Lake in Xinjiang
Tianchi Lake in Tianshan Tianchi National Park is a scenic highlight about 1.5 to 2 hours out of Urumqi. It is a small lake in high mountains. The northwestern area is highly developed and even has a mall. But the eastern and southern areas have a trail and beautiful hiking. If you like nature and ethnic culture, it is a place to go, and you can find economical accommodations and meals in the Kazakh yurts. Some of the yurts are beautiful inside with lots of brightly colored and decorated rugs, quilts and wall hangings. They sort of remind me of camping in American Indian wigwams that were probably made similarly. Because of the ready and fairly inexpensive ethnic accommodations in a high-mountain national park, the Tianchi Lake is a great place to camp.
The lake itself is about 3 kilometers long and averages about 600 or 700 meters wide (2 miles by less than half a mile). It is surrounded by many rugged and forested valleys that lead down to the lake from closely surrounding peaks that reach about 2,400 meters (7,800 feet). The surface of the lake itself is at an altitude of about 2,000 meters or about 6,600 feet, and it is about 100 meters at the deepest point. There is a hiking trail that goes around it. The yurt accommodations are on the northwest side near the road and the entrance.
To really enjoy the place, it is best to stay overnight so as to have the time to hike around and to be there when the crowds are gone and the speed boats and tour boats are retired. The tour buses often arrive around noon and leave by three or 4 pm to take groups to restaurants or back to Urumqi. Staying in an authentic Kazakh yurt is a cultural experience. Once the tour buses and crowds leave in the late afternoon, the lake and the valley becomes quiet. People can go for strolls on the mountain paths, and they can hike or ride a horse up to the glacier plains where the scenery is simply stunning. If the sky is clear, you can enjoy the stunning celestial display and maybe campfires or meals with your Kazakh hosts.
The People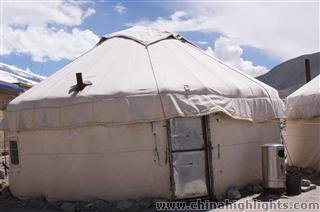 Kazakh people live in Yurts
Kazakh people were nomadic, tribal shepherds and ranchers of cattle, sheep, goats, and horses. Now a lot of the 1.5 million Kazakhs who live in Xinjiang work in the cities or in agriculture. They are a mixed ethnic group with both Asian and Caucasian features. But in the mountains and the mountain valleys around Urumqi, many have combined their horsemanship and ranching with tourism. So there is plenty of meat to eat and trained horses to ride. They put up their yurts in a traditional way, and then they leave when the tourist season is over, and their horses graze in the area.
These Kazakhs are generally uneducated and earn money as shepherds and ranchers and by hosting tourists in yurts. They have a high-protein, dairy-rich diet and are known for serving big portions of boiled or broiled meat with their hard salty bread that is called nan, their hard sour cheese called irimshiq, noodles and milk tea. An economical alternative to hotels and restaurants in Urumqi are the Kazakh yurts and their ethnic meals. A yurt may seem primitive. It is. When it is cold at night, you may have to burn wood or coal in a stove to stay warm.
Touring Activities
1. Hiking, riding horses and staying in yurts.
2. Enjoy the Kazakh food.
3. Hike around the lake or up into the valleys.
4. Save money compared to staying in Urumqi.
5. Learn about Kazakhs.
6. Photography: In the right conditions, the combination of lake, mountains, snow, snowy peaks, blue sky and green trees and vegetation makes the park breath-taking.
Travel Essentials
1. Location: Tianshan Tianchi National Park in the Tianshan range near Urumqi. As a bird flies, it is only about 50 kilometers due west of Urumqi. The S111 Provincial Road goes to it up from Fukang, and it follows the northwest shoreline a short distance.
2. Season: It is best to go in the late spring, summer and early fall when it isn't freezing. Even in the summers however, there might be frost in the early mornings, and the yurts feel cold unless you have an electrically heated bed or something like that. The area is dangerously cold in the winters.
3. Accommodations: During the summers, there are a lot of economical Kazakh-owned yurts. If you find the right Kazakh hosts, inexpensive authentic yurts might be beautifully decorated with expensive rugs and tapestries that will boggle your minds and be worth sending pictures back home about, and they might have electricity and wood or coal stoves, and the food will be wonderful. So check around and get the feel for the accommodations. The yurts are generally away from the park entrance area and a little way up from the lake.
4. What to bring: Bring a heavy coat for cold nights. Temperature is lower than in city area. It might be a good idea to bring clean sheets or your own sleeping bag. You can rent coats and ethnic costumes there. As you go near Mount Tianshan, the altitude rises gradually to 1600 meters. The roads wind along, carsickness pills should be prepared if you suffer from carsickness.
5. Local Transportation: From the parking lot up to the lake area entrance, there are gondolas and small buses. You can also walk up to the lake area on a trail. There are tourist buses at Tourist Center of Heavenly Lake at the foot of Mount Tianshan that go to Urumqi.
Nearby Attractions
The South Pastures are about 2 hours south of Urumqi at a lower altitude than the Tianchi Lake area. It is in the Kelawucheng Mountain range. The scenery is reminiscent of Colorado high-country grassland and evergreen forests. There Kazaks continue to herd sheep, cattle and horses like their ancestors in a landscape of snow-covered peaks and emerald-green grasslands. The Kazakhs will guide you on tours on their horses, and you can have exotic meals and stay in their yurts inexpensively. A highlight in the South Pasture area is a glacier in the higher elevations of Nan Shan that is called Number One Glacier that you can travel to see by automobile. There are many streams and a waterfall on Nan Shan Mountain.
Latest Tips on Heavenly Lake
1. It is cool in the morning. Keep warm. 2. Heavenly Lake is 2000m above sea level. Some people may feel some altitude effects.
Questions and Answers About Heavenly Lake
Astrid Knirsch
2014-03-27
Show Answer
Can you tell me other yurt accommodation beside Rashid''s with better toilet facilities than at Rashid''s.
Dear Astrid, Most of the yurts are provided by the local people, the toilet facilities are very simple. So we usually arrange a hotel for our clients. Lussie Lu replied on 2014-03-27
Dave
2013-08-21
Show Answer
What kind of weather can be expected during early October?
Hi Dave,
Thanks for your question. According to last year data, the average temperature during early October is 9℃(48.2℉) in Heavenly Lake area.
As a travel agency, we glad to arrange tours with going to visit Heavenly Lake if you need. Please feel free contact me for tour arrangement.
Nancy

Nancy Deng replied on 2013-08-21
Apple
2012-07-12
Show Answer
How to go Heavenly lake in urumqi city? Please advice. Tq
April Offer $25 Coupon
Send your inquiry before Apr. 30, 2014, and we will email you a $25 coupon.
The coupon is valid till Dec. 31, 2014, for paying tour packages worth $250 or up.
The coupon cannot be used for paying flight tickets, train tickets, hotel rooms and day trips.
Travel Advice or Question? Ask us here

China Highlights
Urumqi Travel Guide