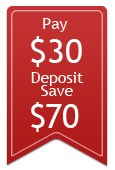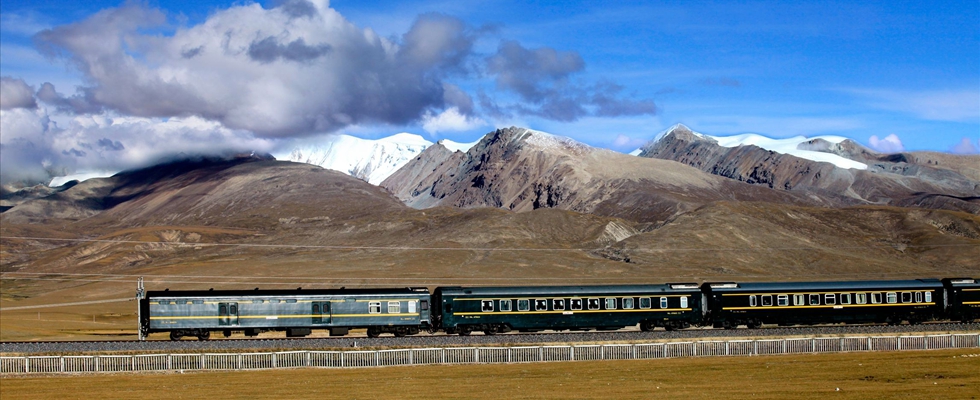 Xi'an to Urumqi Silk Road Adventure by China Orient Express
China Orient Express takes you back to the Silk Road dating back to over 1000 years ago. Beijing, Luoyang, Xi'an, Dunhuang, Turpan, Urumqi and other highlights will delight your way! Departure date in 2017: June 17rd.
Highlights
Spacious compartment on luxury train for maximum comfort during the trip
Special lecture on Dunhuang culture by academic expert
Jiayuguan Pass - Western end of the Great Wall
Precious frescos and relics at Mogao Grottoes
Uygur traditional dance and food in the vineyard
Price Per Person in US Dollars
Note: This route very popular, less than 10 carbins left at present, please contact us to check the availability. Early booking is recommended!
Date
Type of Cabin
Price per person
Option
Single Room in hotel p.p
Single room in China Orient Express
p.p
06.17—06.26

Quad
$2399
$350
——
Triple
$2499
——
Twin
$2699
$910
What's Included
Entrance to attractions listed in the itinerary
Coach transfers between the airport, train station, attractions and hotels
Hotel accommodation with breakfast
Meals mentioned in the itinerary
Local English-speaking tour guide
Specified trains and buses
Suggested Itinerary
Day 1
Xi'an Arrival (Flight not included)
Upon arrival in Xi'an, your tour guide will escort you to hotel. The rest of the day is free on your own.
Accommodation: Sheraton Xian North City Hotel
Day 2
Xi'an: Terra Cotta Warriors and Horses Museum, Huaqing Hot Spring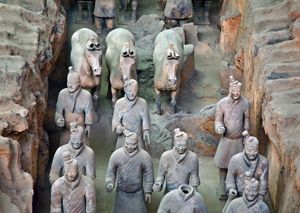 The Terracotta Army
Have breakfast in the hotel, then we drive to the famous Terra Cotta Warriors and Horses Museum, one of the eight wonders of the world. Be excited to observe China's first emperor - Emperor Qin's great army of 8000 life-sized terracotta soldiers and horses in three burial pits. Afterwards, we continue to Huaqing Hot Spring in Mt Lishan. In ancient time, emperors used to come here to bathe and enjoy the scenic beauty. It has become a favorite spa since the Tang Dynasty.
Accommodation: Sheraton Xi'an North City Hotel
Day 3
Xi'an to Tianshui (by China Orient Express)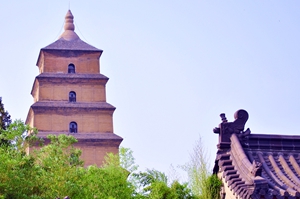 Big Wild Goose Pagoda
Have breakfast in hotel, we visit to the Ancient City Wall of Xi'an, the most intact ancient Chinese wall in existence, that encircles and protects the old part of Xian City. Then proceed to visit Statue of Star Point of Silk Road and Big Wild Goose Pagoda Square, with one of the most famous Buddhist pagodas in China. After a drive of 120km west of Xi'an, we will arrive at Famen Temple which was first set up during East Han Dynasty and is renowned for storing the veritable Finger Bone of the Sakyamuni Buddha. Thereafter we return to Xi'an, the marvelous Tang Dynasty Dinner Show at Tang Dynasty Palace will be prepared for you. The various savory dishes together with the exciting show will be sure to give satisfaction to your appetite, your eyes and your mind. 22:00pm, we onboard the ' China Orient Express ' Train to Tianshui.
Accommodation: China Orient Express
Day 4
Tianshui to Jiayu Guan (by China Orient Express)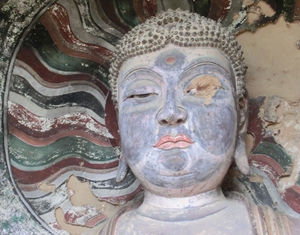 Statue at Maiji Grottoes
Among the most famous grottoes, Mount Maiji Grottoes offers stunning view on the Silk Road. Today, you will arrive in Tianshui and take a visit at this awesome site. At night, you will head for Jiayu Guan on China Orient Express.
Accommodation: China Orient Express
Day 5
Jiayu Guan: Jiayu Guan Watch Tower, OverHanging Ancient Great Wall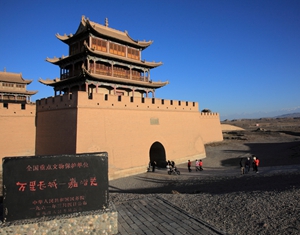 Jiayu Pass of the Great Wall
This morning we visit Jiayuguan (Jiayu Pass), is the most western end of the Great Wall. Also known as 'the First and Greatest Pass under Heaven, and it is the best preserved and most magnificent military building among the passes of the Great Wall.
Next, we move on to Overhanging Ancient Great Wall. It is about 7 mimes away from Jiayu Pass. It's located on a ridge that is 45 degrees from vertical hence the name Overhanging Great Wall.
Accommodation: Holiday Plaza Hotel Jiayuguan
Day 6
Jiayu Guan to Dunhuang (By China Orient Express)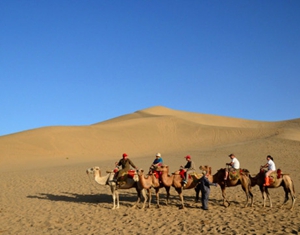 Singing Sand Mountain
On the train, after breakfast, we specially arrange for you on the train institute of Dunhuang experts and professors to explain the history and stories of Dunhuang.
As an important stop on the Silk Road, Dunhuang has been a mystery to outsiders. Today, you will arrive in Dunhuang after 3 hours on the express.In the afternoon, you will visit Dunhuang's highlights: Singing Sand Mountain, Crescent Spring and feel the exotic atmosphere. At night, you will visit the famous Dunhuang Night Market - Shazhou Night Market.
Accommodation: Dunhuang Hotel
Day 7
Dunhuang to Turpan (By China Orient Express); Mogao Grottoes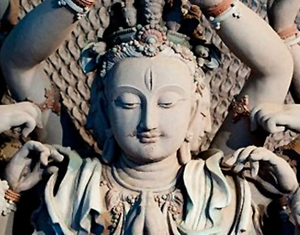 Statue at Mogao Grottoes
After breakfast, we shall visit the world famous – Mogao Grottoes, designate as a world cultural heritage by UNESCO for its 1600 year accumulated cultural, architectural, and art treasures. There remains 492 cave temple and 45000 square meters of frescos. At 17:00hrs, we embark the 'China Orient Express' Charter Luxury Train to Turpan.
Accommodation: China Orient Express
Day 8
Turpan to Urumqi (By Coach); Jiaohe Ancient City, The Karez Wells, Flaming Mountain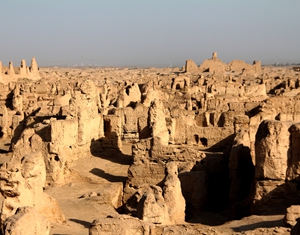 Jiaohe Ancient City
At07:00hrs, we visit Karez irrigation system. Embodying the wisdom of the Xinjiang people, this irrigation system is designed for the desert, comprising surface drains underground canals and reservoirs. Currently there are some 1,258 systems in use, of a total length of over 3,000krn. It is said that the Karez irrigation system, the Great Wall of China and the Jinghang Grand Canal are the engineering miracles of ancient China.
Following this, we visit the Flaming Mountain, immortalized in the classic story 'Journey to the West'. The bright red soil of the mountain glows even more under the glaring sun, and it is no wonder we feel the heat. We drive to Jiaohe Ancient City. Also known as Ya'er City, it is located 10km from Turpan, so named because it lies where two rivers meet. It is also said to be a Han Period Cheshi structure.
Accommodation: Hoi Tak Hotel
Day 9
Urumqi: Heavenly Lake, Xinjiang Museum, International Bazaar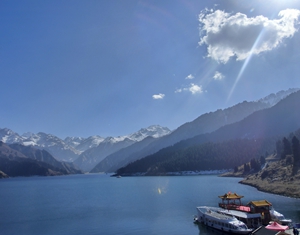 Heavenly Lake
This morning, you will take a boat trip on Heavenly Lake. Later, learn something about beautiful Xinjiang at Xinjiang Museum. In the afternoon, you will get to the International Bazaar, symbolizes the boom of Xinjiang's commerce and tourism. It is the landscape architecture as well as landmark architecture.
Accommodatio: Hoi Tak Hotel
Day 10
Urumqi Departure (Flight not Included)
Your Silk Road adventure has come to an end. After breakfast, free at leisure till the assemble time for the transfer to airport for the flight back to hometown. Thanks for traveling with us. Hope to see you again soon!
Trip Notes
1. Service and facilities on China Orient Express
The accommodation on board the China Orient Express offers passengers comfort with modern facilities and air conditioned cars. A wash basin facility is shared between adjoining compartments for the convenience of our guests and toilet/wash facilities are available at each end of the sleeping carriages. A separate state of the art shower car with individual compartments, each containing a shower and changing area is located centrally on the train. Towels and robes are provided. The train also offers, at extra cost, an on board laundry service.
A western breakfast is available to all guests before embarking upon the day's adventures. A variety of Chinese food is served at lunch and dinner using the finest local ingredients. Quality wines are available with both lunch and dinner, along with beer, soft drinks, tea and coffee. Most meals are taken at hotels and restaurants in the cities visited.
A "China Orient Express VIP certificate" is issued to each passenger as a souvenir of the trip.
2. On the Tour
As the China Orient Express must fit in with the China Rail Authorities' schedule, in the event of an unforeseen delay, the itinerary may need to be altered slightly. The guide will inform you of the train change times.
Each tour group, of about 30 people, will be given a tour escort who will accompany the group, handling all the logistics throughout the whole trip. Local guides will be arranged in each destination.
Large Luggage will be taken to your room every day by porters. You can take a small backpack yourself during the tour for your convenience.