Changsha Railway Station
Changsha Railway Station Taxi Directions
Chinese Name: 长沙

Address: East Five One Road, Changsha City

Chinese Address: 长沙市五一东路

Telephone: 0731-2637122,0731-2634567,0731-2296421

Number of platforms: 8
Where the Trains Going to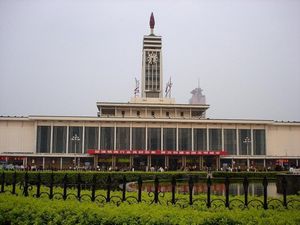 Changsha Railway Station was built in 1912. It is an important large-scale railway station in china with many trains passing, arriving or departing every day. It's very convenient to travel from Changsha to many major cities within China, such as Beijing, Shanghai, Guangzhou, Shenzhen, Harbin, Shenyang, Xi'an, Kunming, Wuhan, Zhengzhou, Fuzhou, Nanning, Jinan, etc.
Intercity buses for Zhuzhou City and Xiangtan City depart every 15 minutes at the south side of the square in front of the railway station.
To travel from Changsha to Beijing, passengers can take train T1/2 or Z17/18, both are express trains with better facilities. To travel from Changsha to Shanghai, visitors can take fast train K 135/136, or the bullet train D107/109. There are also many trains that can reach major China's major cities, like Guangzhou, Shenzhen, and Wuhan.
Take a train to visit Zhangjiajie or other places in West Hunan Province is a good option. Various trains are available for passengers to choose from, such as N569/570 from Changsha to Zhangjiajie, and N565/566 from Changsha to Jishou City.
Transportation to Changsha Railway Station
Transportation: Passengers can take public buses No. 101, 104, 107, 108, 110, 111, 112, 113, 114, 117, 118, 121, 126, 127, 135, 136, 139, 148, 158, 168, 202, 312, 317, 401, 602, and 803 to get to the train station.
Planning a trip? Ask us here

800-2682918 (USA & CA)

86-773-2831999

1800-764678 (AU)

0800-0327753 (UK)

800-8793-007 (China)
Q:
Yinyi
Asked on 08:06 AM Jul. 31 2012
Reply
Hi, I am planning a trip to Zhangjiajie from Guangzhou. Do u recommend a direct 13hrs train to Zhangjiajie, or the high speed to Changsha and train to Zhangjiajie?I also read that if I take a high speed train from Guangzhou, it arrives at Changsha South Station. Is this the same station where the tr...
Dear Yinyi,
There are three trains from Guangzhou to Zhangjiajie every day. It mingt be difficult to buy the ticket. As they are direct trains, it's convinient for you, but you will be tired to spend 13.5 hours at least on the train.
There are many trains from Guangzhou to Changsha and from Changsha to Zhangjiajie. It is easier to buy it than the former one. It takes about 2 hours to take a high speed train from Guangzhou to Changsha and 5 hours from Changsha to Zhangjiajie. Please make sure the train is from Guangzhou south train station to Changsha south station, the train to Zhangjia from Changsha sets off at Changsha train station which is about 12 km from south station. You need to take a taxi to get there. It takes about 30 minute and costs about CNY60(US$9.5) per car. If you select this way, you could buy all trains ticket in Guangzhou.
For checking the timeschedule, please click: http://www.chinahighlights.com/china-trains/
You also can take a flight from Guangzhou to Zhangjiajie. It can save your time. Please click:http://www.chinahighlights.com/china-flights/flight-list.asp?QueryID=4492798&fcook=2012080118372250&star=CAN&dest=DYG&rDate=2012-8-4 Lussie Lu Replied on 05:45 AM Aug. 01 2012
Q:
Lawrence
Asked on 07:59 AM Jul. 31 2012
Reply
Hi Dear,How far from Changsha station to Changsha South Station?
Hi Lawrence, from Changsha Station to Changsha South Station is about 10km, 30-40mins by taxi, costs CNY30-40. You can also take Bus No.148 or No.135 to get there. Regards, Whitney
Whitney Liao Replied on 05:59 AM Aug. 01 2012
Q:
Z.Mohamad
Asked on 3:19 PM Jul. 18 2012
Reply
Hi, I am planning a trip from Hong Kong to Changha (Lushan Nanlu, Yuelu District to be more precise) and would like the travel time to be as less as possible. What route would you advise. Any price/ticket information would also be very appreciated.
Hello Mohamad,
Thanks for your question.
In order to provide an itinerary that best fits your needs; Would you please answer a few questions so that we can construct an itinerary that gives you what you want at the best possible price?
1. How many people in your group?
2. Which city would you like your tour covered? Just HK & Changsha? or any other cities?
3. What kind of hotel do you like? 3 star, 4 star or 5 star?
4. When do you want to start you tour?
As soon as I get your information, I will send you an itinerary with details.
Kind regards, Whitney
Whitney Liao Replied on 04:08 AM Jul. 19 2012
Q:
Choo
Asked on 00:52 AM May. 25 2012
Reply
Hello , This is Choo here. I am planning to travel by rail from Wuhan to Changsha station and then joint to a connecting flight there to fly out to Singapore. Which is the fastest train I can leave from Wuhan to Changsha? Thank you. Choo
Hi Choo, thank you for your inquiry. The fastest way is to take high speed train (G-train) frokm Wuhan to Changsha, which takes about 1.5 hour. You could visit the website below to check train schedule and ticket price:
http://www.chinahighlights.com/china-trains/ Nora Ou Replied on 02:04 AM May. 25 2012
Q:
Claudio
Asked on 03:36 AM May. 13 2012
Reply
Hello Dear Service Provider,I am Claudio Grandi from South-Africa. My questions are:1) How far is Changsha City from Chongqing City in kilometres?2) How long will it take me to travel by train from Changsha to Chongqing in hours?3) Which train station in Changsha is more convenient to use if I live ...

Hi Claudio!
The straight-line distance between Changsha City and Chongqing City is about 650 kilometers.
There are only three trains from Changsha to Chongqing. All of them are from Changsha Railway Station to Chongqing North Railway Station. About the train information and the travel time please search this site:
http://www.chinahighlights.com/china-trains/
About the bullet train route, please search this site:
http://www.chinahighlights.com/travelguide/transportation/china-bullet-train.htm
Peter Replied on 8:14 PM May. 14 2012
Hotels Nearby Changsha Railway Station