Harbin Railway Station
Harbin Railway Station Taxi Directions
Chinese Name: 哈尔滨

Website: http://www.harbinhuochezhan.com/

Address: No. 1 Railway Street, Nangang District, Harbin City

Chinese Address: 哈尔滨市南岗区铁路街1号

Telephone: 0451-86444452

Number of platforms:5
Where the Trains Going to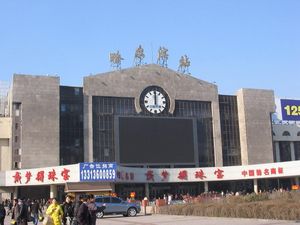 There are trains for major cities in China, including Beijing, Tianjin, Shanghai, Guangzhou, Hankou, Zhengzhou, Jinan, Yantai, Dezhou and Xuzhou.
Bullet trains are available between Harbin and other cities within Heilongjiang Province, such as Qiqihar, Mudanjiang, Suihua, and Jiamusi.
Harbin-Beijing: 10 hours by direct express trains Z2 and Z16, or 8 hours by bullet trains D28 and D26.
Harbin-Guangzhou: 37 hours by train T238/T235.
Harbin-Shanghai: 32 hours by train K58/K55.
Harbin-Zhengzhou: 29 hours by train K928/K925.
Transportation to Harbin Railway Station
Transportation:Passengers can take public buses No. 6, 11, 13, 14, 16, 21, 64, 74, 89, 101, 103, 108, 109, and 115 to get to the train station.
Harbin Railway Station Overview
Harbin Railway Station is located in Harbin city center. It was put to use in 1899. Harbin Railway Station is the second largest railway hub in Northeast China, after Shenyang Railway Station. The five railways, Beijing-Harbin Railway Line, Harbin-Suifenhe Line, Harbin-Manzhouli Railway Line, Harbin-Bei'an Railway Line, and Lafa-Harbin Railway Line intersect here.
Harbin to Yabuli
Yabuli Ski Resort is located 193 km (120 miles) east of Harbin City. Roads in Harbin are iced up in winter, so the safest possible way to travel is by train.
Yabuli South Railway Station is located near the Ski Resort. There are trains traveling between Yabuli and Harbin every day, and a single train ride takes 3 hours..
Harbin-South Yabuli: K7011, 7:46 am - 10:44 am
South Yabuli-Harbin: K7012, 16:20 -19:31
Planning a trip? Ask us here

800-2682918 (USA & CA)

86-773-2831999

1800-764678 (AU)

0800-0327753 (UK)

800-8793-007 (China)
Q:
Leung
Asked on 03:16 AM Apr. 06 2012
Reply
Hi, is there an overnight train from Beijing to Yabuli south station? How long does ithe journey take?
There are 2 trains running each day from Beijng to Yabuli, K295 (11:56/06:40+1) and K265 (15:43/11:54+1). For the train schedule reseach, you can visit http://www.chinahighlights.com/china-trains/. Ruby Zhao Replied on 10:40 PM Apr. 06 2012
Q:
Azlan
Asked on 09:53 AM Feb. 02 2012
Reply
Hi. I intend to take Z16 from Harbin to Beijing on Feb 12. Is it enough time to buy the tickets once I'm there on Feb 10? I will be staying at Ibis hotel. Where is the nearest I can purchase the train tickets? and how do i get to the train station from there? How about the return ticket from Beijing...
Hi Azlan,
Yes, the time is enough if the tickets were still available. Your hotel is quite near the train station, about 2 km. You can take No. 118 bus to the station. You can book the around trip train tickets at the station.
Regards,
Coco Coco Yang Replied on 09:29 AM Feb. 03 2012
Q:
Alexandra Holownia
Asked on 08:39 AM Dec. 16 2011
Reply
please write me Harbins pick-up points for shuttle bus to Harbin airport
Hi Alexandra Holownia,
The airport shuttle bus from Harbin city to airport departs from Harbin Aviation Hotel (address: 99 Zhongshan Road). The bus is available from 6am to 6:30pm, departs every one hour.
Wish you a nice time in Harbin!
Grace Grace Wang Replied on 01:46 AM Dec. 17 2011
Q:
Aleksey
Asked on 09:59 AM Oct. 23 2011
Reply
Hello, which number bus goes from the railway station to the airport? and how far from the railway station is the station where the bus comes from Vladivostok?
Dear Aleksey,
It's about 37km from the railway station to the airport. There are some shuttle buses can be taken. The bus is available about every 30 minutes. It costs about CNY20(US$3) per person. It takes about 1 hour. Lussie Lu Replied on 02:15 AM Oct. 24 2011
Q:
Soh soon Huat
Asked on 9:56 PM Oct. 11 2011
Reply
How long and how much does it cost to make my way from Harbin airport to the harbin train station? After touchdown at the airport , I have 4 hours to catch the next train leaving for Yabuli.
Dear Soh soon Huat,
It's about 38km from the airport to the railway station. You can take a shuttle bus to get the railway station directly. It costs about CNY20(US$3) per person and it takes about 50 minutes at least. Lussie Lu Replied on 10:34 PM Oct. 12 2011