Huangshan Railway Station
Huangshan Railway Station Taxi Directions
Chinese Name: 黄山

Address: East Huangshan Road, Tunxi District, Huangshan City

Chinese Address: 黄山市屯溪区黄山东路

Telephone: 0553-28286222

Number of platforms:4
Where the Trains Going to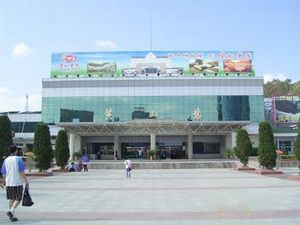 Huangshan Railway Station, formerly known as Tunxi railway station, provides passenger transportation to many major cities in China. There are direct trains reaching Beijing, Shanghai, Qingdao, Nanjing, Hefei, Jingdezhen, Nanchang, Xiamen, Yingtan and Fuzhou. If you want to visit Mt Huangshan (the Yellow Mountains), it is very convenient to transfer from Shanghai, Nanjing, Hangzhou and other cities nearby.
Transportation to Huangshan Railway Station
Travelers heading for the Yellow Mountains Scenic Area can take buses from Tunxi Bus Station near the railway station. Buses depart every 5 minutes. Or you can take a taxi directly from the train station to the Yellow Mountains Scenic Area, and the cost is about 100-120 yuan (15-18 USD).
From the railway station to city center, travelers can take a public bus No. 1, 2, 6 or 12. The price for taking a taxi in Huangshan city starts with 5 yuan (0.7 USD) for distance shorter than 3 km (2 miles) and plus 1.5 yuan (0.3 USD) / km when the distance is longer than 3 km (1.9 miles).
Huangshan Railway Station Special Tips
Huangshan Tangkou Train Ticket Outlet
Tel: 0559-5563234 
Location:the outlet is on the right side of the gate to the Huangshan Scenic Area. ( 汤口镇黄山风景区大门右侧 )
Train Ticket Outlet inside Huangshan City
Tel:0559-2116219
Location:No. 27 Qianyuannan Road. (前圆南路27号 )
Inquiry Phone Number:0553-28286222
Planning a trip? Ask us here

800-2682918 (USA & CA)

86-773-2831999

1800-764678 (AU)

0800-0327753 (UK)

800-8793-007 (China)
Q:
Vanessa
Asked on 07:44 AM May. 10 2012
Reply
Hi. How do you get from Huangshan "Tunxi" Train Station to accomodation near Mount Huangshan, and how much is it for buses and taxi''s? And are there a lot of taxi''s and buses around Mount Huangshan to get us to Hongcun? We plan to spend a night in Hongcun. How would we get back to the train statio...
From train station, you can take taxi to bus station , about 10yuan, then take bus to Tangkou(the town close to the mountain), about 13 yuan.
From Mount Huangshan to Hongcun, bus is available 4 times each day , the price is about 15 yuan, if you take taxi the price is about 150 yuan.
From Hongcun to Tunxi bus station, you can take bus, it is available every one hour, the price is about 18 yuan.then you can take taxi to train station. Leon Long Replied on 10:33 PM May. 10 2012
Q:
Natalia Franco
Asked on 11:38 AM Apr. 03 2012
Reply
What is the best way to get to Huangshan, if I am traveling from Shanghai?
Q:
Natalia Franco
Asked on 11:38 AM Apr. 03 2012
Reply
What is the best way to get to Huangshan, if I am traveling from Shanghai?
You can take either flight or train from Shanghai to Huangshan. There are two trains available between Shanghai and Huangshan, one leaves Shanghai(No.8418) at 21:10, the other one(K782) leaves Shanghai at 12:46. There is about 12 hrs on the train. K782 would be more convenient for the toursit, because you can sleep on the train overnight, and the train arrives in Huangshan at 09:00 in the morning next day. Taking flight is more efficiently, the flight information is as below for your reference: Shanghai Airlines FM9265 (Shanghai Hongqiao Airport T2 - Huangshan Tunxi Airport) Dep 14:20 - Arr 15:25
Do you want to arrange this Huangshan trip on your own arrangement or book it from our agency? Welcome to contact with me(eva@chinahighlights.net) if you need furthe information. Eva Wang Replied on 10:58 PM Apr. 03 2012
Q:
Melissa
Asked on 7:35 PM Mar. 03 2012
Reply
From top hill of Huangshan,we will go to Shanghai.Which one is convenience: go to Shanghai from Tangkou bus station (that take 6hours,wow I can't imagine sitting 6 hours on the bus after walking downhill ) or go to Hangzhou and take bullet train to Shanghai? Give me any suggestion.It's my first ti...
I suggest that you should take bus from from Tangkou. If you take bus to Hangzhou then take bullet train to Shanghai, you'll spend almost 6 hrs, 3 hrs' bus to Hangzhou, then at least 1 hour for the connection from bus station to bullet train station then 1.5 hrs' bullet train to Shanghai. Leon Long Replied on 04:05 AM Mar. 05 2012
Q:
salvatore errico
Asked on 08:36 AM Aug. 11 2011
Reply
good evening, I would like to know if there is a train from Huangshan city and Hangzhou city. thank you
Hi, Salvatore,
There is no direct train fromHuangshan City to Hangzhou City. I recomment you to take a bus as buses are plentiful. Ruru Zhou Replied on 7:14 PM Aug. 11 2011