Sanya Railway Station
Sanya Railway Station Taxi Directions
Chinese Name: 三亚

Address: Sanya Railway Station is situated in Lizhigou Town outside the city

Chinese Address: 市郊荔枝沟镇

Telephone: 0898-2235102
Where the Trains Going to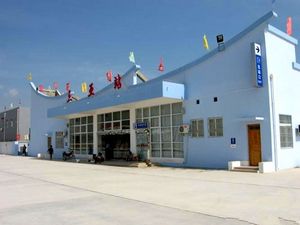 Sanya Railway Station the southernmost train station in China. Currently there are only three trains at Sanya Railway Station, which connect Sanya with Beijing, Shanghai and Guangzhou. When taking the train, travelers can see tropical forests and enjoy the sea view along the ways.
Beijing-Sanya: Train T201/T204. A single trip takes 35 hours. 
Sanya-Beijing: Train T202. A single trip takes 35 hours.
Guangzhou-Sanya: Train K511 and K407 take fifteen and a half hours, , T201/T204 takes fourteen and a half hours.
Sanya-Guangzhou: Train K408 takes 16 hour, T202 takes 14 hours, and train K512 takes 16 hours.
Shanghai-Sanya: Train K511 takes 37 hours.
Sanya-Shanghai: Train K512 takes 37 hours.
Sanya-Haikou: Trains K408,T202,K512 takes 4 hours each
Haikou-Sanya: Trains T201/T204,K407,K511 takes 4 hours each.
Transportation to Sanya Railway Station
Transportation: Travelers take public bus No. 204 or No. 4 to reach the railway station. The ticket costs 1 yuan / person (0.1 USD / person). It costs 10-15 yuan (1.5-2.3 USD) to take a taxi from city center to the railway station. Besides, it costs about 40-50 yuan (6-7 USD) from Sanya railway station to Yalong Bay by taxi.
Planning a trip? Ask us here

800-2682918 (USA & CA)

86-773-2831999

1800-764678 (AU)

0800-0327753 (UK)

800-8793-007 (China)
Q:
Matthew
Asked on 07:41 AM Apr. 23 2012
Reply
I need to know how long a taxi ride will take from yalong bay to sanya train station and also from haikou east train station to haikou airport in order to catch a 1130 flight as the only train leaves sanya at 7amThanks
Thank you for your inquiry.this is Lily Guo at China Highlights.
It is about 27km from Ya long Bay to Sanya railway station, It takes about 1 hour by taxi, It costs about 150RMB (24$).You'd better get the railway station before 6:30AM to catch the train .
It is about 40KM from Haikou railway station to Haikou airport I. It takes around 40miu driving by taxi. It costs about 100 RMB (16$).If you take the D train from San ya to Haikou, It is 9:00AM when you arrive. It is fine but quite rush to catch the 11:30 AM flight. It is impossible to catch international flight if you take that train. please consider to change an earlier train if you don't want to be risky.
Lily Guo Replied on 05:26 AM Apr. 24 2012
Q:
Chris
Asked on 1:02 PM Oct. 11 2011
Reply
I need to know the price of a round trip ticket for two, fron Guangzhou to Sanya. Also, is there a private cabin on the train for passengers.
Dear Chris,
There are three trains every day from Guangzhou to Sanya. It costs about US$90 for the soft sleeper per person and it takes about 14-16 hours. In general, in soft sleeper cabin there are 4 berthes and there are 6 seats or berthes in hard seat cabin or hard sleeper cabin. If you need a private cabin, you should buy 4 or 6 pieces of tickets. It will be expensive.
Here is the time schedule for the train. http://www.chinahighlights.com/china-trains/search-result.asp
In addition, we don't book the train ticket only. I suggest you buy it by yourselves or ask the staff of your hotel in Guangzhou. Maybe they can provide this kind of service.
Good luck! Lussie Lu Replied on 10:23 PM Oct. 11 2011