Suzhou Railway Station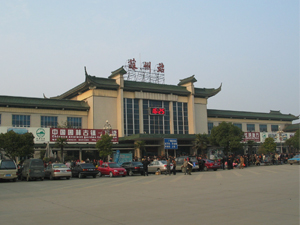 Suzhou Railway Station is under the jurisdiction of the Shanghai Railways Bureau. There are 270 trains passing through it each day. It is an important station servicing both travelers and goods. It was first built in 1908, and first renovated in 1941. After liberation, the main area was expanded. In 1982, it was designated as a first-class railway station. Trains bound for Beijing, Shanghai, Nanjing, Ganzhou, Chengdu, Xian, Qingdao and Xining may be caught at the station. A trip to Shanghai takes about one hour.
Transportation to Suzhou Railway Station
Transportation
23 bus lines reach Suzhou Railway Station: No.178, Tour 5, 316 (long line), 119, 552, 6, 64, Tour 4, Tour 4 (long line), 529, 7 (shuttle), 81, Tour 2, 44, 316, 10, 50, 40, 85, 38, 324, 101.
Suzhou Railway Station Special Tips
Train Ticket Outlets:
Each joint ticket outlet presells one-way tickets nationwide within 9 days and round-trip tickets to Beijing, Nanjing, Shanghai, and Huangshan within 9 days.
No.111, Jingmen Road, Suzhou. Telephone: 65511166
Railway Ticket Agent in SND: No.24, Tayuan Road, High-tech Zone, Suzhou. Telephone: 68250603
Railway Ticket Agent in the Wuzhong South Bus Station: No.10, Guangjian Road, Wuzhong District, Suzhou. Telephone: 65131838
No.2276, Zhongshan North Road, Wujiang. Telephone: 63021766
No.71, Jiuxueqian Lane, Guanqian Street, Suzhou. Telephone: 67701178
Online Ticket Office
The Ticket Booking Center has a home-delivery service, for the service area within the boundaries of Donghuan Road, Xihuan Road, Nanhuan Road and State Highway 312.
Booking time: 8:30-21:00.
Booking Hotline: 11604567 or 67513131.
Service Charge: 5 RMB per ticket.
You May Like
Planning a trip? Ask us here

800-2682918 (USA & CA)

86-773-2831999

1800-764678 (AU)

0800-0327753 (UK)

800-8793-007 (China)
Q:
Ricardo
Asked on 4:40 PM Aug. 16 2012
Reply
Hi,I plan to arrive in the morning from Shanghai, visit the city, and then take a train to Hangzhou at the end of the same day.I wonder if there is a "luggage store" at the train station where I can leave my luggage for 4 hours while I visit the city. How much they charge for the service,please?Tha...
Hello Ricardo, yes, there is. There are lots of "luggage store" nearby the station. The charge depends on the size of your luggage, the bigger the higher. Usually they charge CNY15-20 for one piece. Of course, you can bargin. Whitney Liao Replied on 0:45 PM Aug. 17 2012
Q:
Cheryl Sorenson
Asked on 5:02 PM Sep. 19 2011
Reply
What is the cost of a one-way train ticket from Suzhou to Beijing? Can I buy a ticket for train Z85 right at the station? Are there storage lockers at the train staion for day use only? I don't want to carry my suitcase around town while I take tours.
Hi Chery,
The train Z85 is from Suzhou to Beijing instead of Beijing to Suzhou.
You can find the schedule and price of the train tickets directly at our website.
http://www.chinahighlights.com/china-trains/search-result.asp
I strongly suggest that you book it in advance because you may need to book the soft or hard sleeper.
There are storage lockers at the train station. No worries.
If you need any land services in these places,feel free to contact me. Tiffany Tong Replied on 05:32 AM Sep. 20 2011