Xiamen Railway Station
Xiamen Railway Station Taxi Directions
Chinese Name: 厦门

Website: www.xmhcz.com

Address: the intersection of Xiahe Road and Hudong Road.

Chinese Address: 厦禾路和湖东路交叉口

Telephone: 0592-2038888

Number of platforms:6
Where the Trains Going to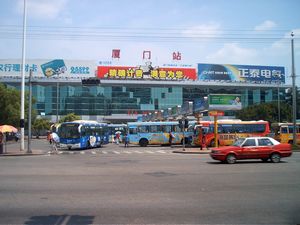 Xiamen Railway Station was built in 1957. A sea channel bridge connecting Xiamen Island and the Chinese Mainland leads the railway to the city area. Currently, there are trains heading for Beijing, Xiamen, Shanghai, Nanjing, Hangzhou, Hefei, Nanchang, Yingtan, Xi'an, Chongqing and other major cities.
The following bullet trains are available at Xiamen Railway Station:
Fuzhou-Xiamen:Several bullet trains run between Fuzhou and Xiamen every day, with a train ride less than two hours.
Shanghai South Railway Station-Xiamen:Travelers can take trains D3202, D3203, or D3204. The train ride takes 8 hours.
Hangzhou-Xiamen: Travelers can take train D3212, which takes 6 and a half hours.
Transportation to Xiamen Railway Station
Transportation: travelers can take public buses No. 16, 18, 21, 26, 28 and 37 to get to the station.
Travel Advice or Question? Ask us here

800-2682918 (USA & CA)

86-773-2831999

1800-764678 (AU)

0800-0327753 (UK)

800-8793-007 (China)
Q:
Nathan
Asked on 9:07 PM Aug. 21 2012
Reply
Hi I am in Xiamen as I speak, looking to get to hongkong asap without flying, I read above there is no train making this connection? any adivce on the best transit train or fast route?


Hi Nathan, you can take bus to Shenzhen first, which takes 8-10hrs, and costs CNY150-200. Then take train to HK from Luohu Station. It is HKD33-77, takes about 1hour.
Whitney Liao Replied on 05:46 AM Aug. 22 2012
Q:
weng manalo
Asked on 05:20 AM Aug. 14 2012
Reply
I will be in xiamen on october 26, 2012 and I plan to go to beijing on the 28, stay for two days and back to xiamen on the 30th.
Dear Weng Manalo,
I suggest you take a flight to get to Beijing, as there is only one overnight train between Beijing and Xiamen. It takes about 33 hours and it will be difficult to buy the ticket. Furthermore you will have limited time for traveling. If you take a flight, you will have 2 days for visit at least. I will send an e-mail to you according to the itinerary and quote for reference.If you have any other questions, please feel free to contact me. My e-mail is lussie@chinahighlights.net Lussie Lu Replied on 02:20 AM Aug. 15 2012
Q:
Solly
Asked on 05:10 AM Aug. 14 2012
Reply
Hi,I would like to travel from Xiamen airport to Jinjiang ( shishi to be precise).Any trains or bus ? If yes, how do I go to bus or train station from Xiamen Airport.Solly


Hi Solly, you can go to Gaoqi Bus Station to take a bus there which is not far from the airport. The bus is available from 7:20 to 20:20, every 30min, costs CNY 30-50.
Whitney Liao Replied on 05:20 AM Aug. 15 2012
Q:
Jerome
Asked on 07:32 AM Apr. 11 2012
Reply
Hi! What is the fastest way to get to Quanzhou from Xiamen? How much is the fare? And until what time is the operation?
Hi Jerome,
The most convenient and fastest way is to take a coach. It takes about an hour and a half and 20~35RMB. The operating hours are 6:05--20:35. Doris Huang Replied on 04:54 AM Apr. 12 2012
Q:
Zarah Dejaresco
Asked on 04:48 AM Apr. 11 2012
Reply
Good Afternoon!, i would like to ask if there is a train that travels from Hongkong to Xiamen. If there is whats the schedule if none how about by bus?
Hi Zarah,

There is no train or bus from Hong Kong to Xiamen. You may need to fly to Xiamen, it is about 1 hour flight trip.

Regards,

Coco Coco Yang Replied on 01:51 AM Apr. 12 2012