Dragon Boat Festival Food
Zongzi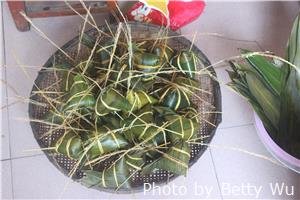 Zongzi is a traditional dish at Dragon Boat Festival.
It is a traditional custom for Chinese to eat zongzi durng the Dragon-boat Festival. Zongzi are made differently in different settings of China. According to historical records, people would use leaves of Zizania caduciflora to wrap millets into the shape of ox horns, and put it into bamboo to cook.
China Highlights' Cuisine Tours provide travelers with a great chance to eat delicious Chinese food.
Mianshanzi
Mianshanzi is a kind of wheat flour food made for fan shape. The custom of eating Mianshanzi on the Dragon Boat Festival mainly prevails in Minqin County in Northwest China's Gansu Province. This fan-shaped food is made up of five layers, with each layers covered with fried sprinkles of pepper powder. The appearance of the food is pinched into a variety of flowers to make it appeal to eyes. This diet custom is said to trace to the tradition of making and selling fans during the festival in ancient times.
Egg with Garlic
In the rural areas in Central China's Henan Province and East China's Zhejiang Province, people eat egg with garlic on the Dragon Boat Festival. Eggs are steamed with garlic and then shared with families as breakfast. Eating eggs with garlic is believed to keep health.
Fried Cake (Jiandui)
Jiandui is a kind of fried round cake made of flours of wheat, rice and sweet photo. In East China's Fujian Province, every family eats Jiandui on the Dragon Boat Festival day. A legend explains this custom. It is said that the area entered its rainy season during the dragon boat festival period and rain hovers. People believed there were holes in the sky which allows rain to continue. Work need be done to fill these holes to stop the rain. Eating Jiandui is said to help mend the sky and fill the holes.
Eel
The custom of eating eel on the Dragon Boat Festival day prevails in central China's Wuhan region. Eels are in season during the festival. They are fat with tender food and rich nutrition. That's probably is the reason why eel is eaten on the festival day.
Thin Pancakes
In East China's Wenzhou area, every family eats a kind of thin pancakes on the Dragon Boat Festival date. The pancake is made of refined white wheat flour fried on an iron frying pan. When the cake becomes very thin and translucent, as thin as a piece of silk as the local describes, it is done. Green bean sprouts, leek, shredded meat and mushrooms are then rolled into the cake as filling.
Eggs Steamed with Tea
It is a custom for people in Central China's Nanchang region to eat eggs boiled with tea on the Dragon Boat Festival day. The shells of the boiled eggs are then dyed in red and put into colorful net bags. The bag will hang in children's necks, which is believed to bring them good luck.
Glutinous Rice Cake
Glutinous rice cakes are eaten for the capital ethnic minority people living in Yanbian area in Northeast China's Jilin Province.
More Information on Dragon Boat Festival
Questions and Answers About Dragon Boat Festival Food
April Offer $25 Coupon
Send your inquiry before Apr. 30, 2014, and we will email you a $25 coupon.
The coupon is valid till Dec. 31, 2014, for paying tour packages worth $250 or up.
The coupon cannot be used for paying flight tickets, train tickets, hotel rooms and day trips.
Travel Advice or Question? Ask us here