Best Time to Visit
Seasonal Scenery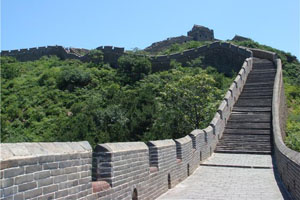 the spring scenery of the Great Wall
The Great Wall offers a timeless charm to tourists, but scenery varies with seasons. Visit it in different time you will get a quite different scene.
For Beijing Sections...
Most of the popular sections of the Great Wall are located around Beijing, so the following is written with Beijing's climate in mind, although temperatures are likely to be colder and rainfall more as the Great Wall is on the mountains.
Spring
In spring, when trees and plants turn green, the wall wanders among the lush vegetation. Every thing looks so fresh. It is a good time to avoid the tourist crowds in summer and autumn. Expect temperatures from 10 to 25ºC (50-77ºF).
Summer
Summer comes and the blooming flowers and colored leaves dot the mountains. The Great Wall snakes its way like a silver necklace, standing out clearly in the strong mountain sunlight.
The Beijing Great Wall usually enjoys blue skies and temperatures over 25ºC (77ºF) in summer. However, July and August are the months when most of the year's rain falls, so bring waterproofs in case.
Fall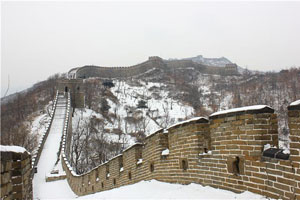 the winter scenery of the Great Wall
When fall comes, the mountains are blanketed by colors of red, golden, yellow and brown, creating an amazing view and the weather during this time is pleasant. ( See best places to see fall colors in Beijing) This season is often recommended as the best season to visit. Expect temperatures from 10 to 20ºC (50-68ºF).
Winter
The mountains and the wall itself are often covered with snow in winter, offering an awesome snowy scene. The weather in this time of the year will be freezing or very cold and tourists are much fewer. Expect temperatures from 0 to 10ºC (32-50ºF). During the Chinese New Year period (uaually takes place in late January and early February), the Badaling Section of the wall is crowded with Chinese tourists.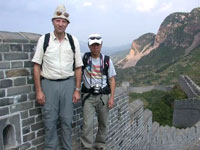 4-Day Jiankou to Simatai West Great Wall Hiking Tour
5-Day Jiankou to Simatai West Great Wall Hiking Tour
6-Day Jiankou to Simatai West Hiking Tour
7-Day Great Wall Hiking from Huangyaguan to Mutianyu
Planning a trip? Ask us here

800-2682918 (USA & CA)

86-773-2831999

1800-764678 (AU)

0800-0327753 (UK)

800-8793-007 (China)
Q:
Kathy Rose
Asked on 0:05 PM Aug. 03 2014
Reply
Is it possible to arrange a couple different walks/hikes on different sections of the wall, while visiting on a different arranged tour (China Spree)?
Dear Kathy Rose,
We specialize in designing a private tour, which can be changed based on your need. We listed three packages for reference on line. Please click: http://www.chinahighlights.com/greatwall/hiking.htm Lussie Lu Replied on 03:40 AM Aug. 04 2014
Q:
Mario DeLisi
Asked on 4:14 PM Jul. 20 2014
Reply
I want a private tour on Oct 8th.
Dear Mario,
May I know some information so that I can give you an exact quote.
1. How many people in your group?
2. Which great wall would you like to visit?Are there any spots would you like to visit?
3. Which hotel will you stay in?
My e-mail is lussie@chinahighlights.net Lussie Lu Replied on 05:20 AM Jul. 21 2014
Q:
Red
Asked on 10:13 PM Feb. 16 2014
Reply
Is there an easy way to get to Mutianyu by bus on March 12? It seems most direct bus routes start on April 1st.
Hi Red, the information I get online is the bus is available from Mar.15 to Nov.15, but I don't know if it is reliable. Whitney Liao Replied on 03:00 AM Feb. 20 2014
Q:
Ryan
Asked on 02:41 AM Dec. 16 2013
Reply
HI, My wife, 2 young children and I will be in Beijing the last week of January. What is your lowest tour price to get to the Great Wall at Mutianyu? I can''t afford $90 per person. Ia the slide operating in the winter?
Dear Ryan,
Thanks for your question. I just send you a quotation of one day group tour to Mutianyu Great Wall for your reference. Please check your mail and feel free let me know your idea.
Nancy
Nancy Deng Replied on 04:32 AM Dec. 17 2013
Q:
nadiah musa
Asked on 10:00 PM Nov. 21 2013
Reply
Hi,we will be in guangzhou this december... planning to go to hong kong and beijing for 7 days. is it posible?
Hi,
We have some Beijing tours. pleaese see http://www.chinahighlights.com/beijing/tours.htm for more details. If you need our service, could you please tell me the details date and how many people in your gourp? We can book hotels, flights and itinerary for you.
Christy Luo Replied on 03:57 AM Nov. 22 2013