Best Time to Visit
Seasonal Scenery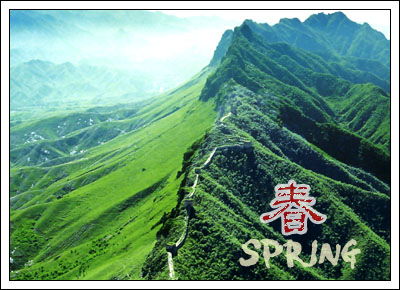 The Great Wall offers a timeless charm to tourists, but scenery varies with seasons. Visit it in different time you will get a quite different scene.
For Beijing Sections...
Most of the popular sections of the Great Wall are located around Beijing, so the following is written with Beijing's climate in mind, although temperatures are likely to be colder and rainfall more as the Great Wall is on the mountains.
Spring
In spring, when trees and plants turn green, the wall wanders among the lush vegetation. Every thing looks so fresh. It is a good time to avoid the tourist crowds in summer and autumn. Expect temperatures from 10 to 25ºC (50-77ºF).
Summer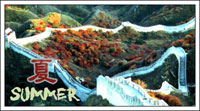 Summer comes and the blooming flowers and colored leaves dot the mountains. The Great Wall snakes its way like a silver necklace, standing out clearly in the strong mountain sunlight.
The Beijing Great Wall usually enjoys blue skies and temperatures over 25ºC (77ºF) in summer. However, July and August are the months when most of the year's rain falls, so bring waterproofs in case.
Fall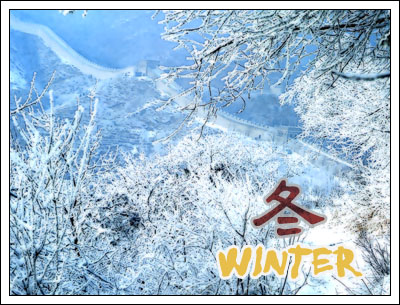 When fall comes, the mountains are blanketed by colors of red, golden, yellow and brown, creating an amazing view and the weather during this time is pleasant. ( See best places to see fall colors in Beijing) This season is often recommended as the best season to visit. Expect temperatures from 10 to 20ºC (50-68ºF).
Winter
The mountains and the wall itself are often covered with snow in winter, offering an awesome snowy scene. The weather in this time of the year will be freezing or very cold and tourists are much fewer. Expect temperatures from 0 to 10ºC (32-50ºF). During the Chinese New Year period (uaually takes place in late January and early February), the Badaling Section of the wall is crowded with Chinese tourists.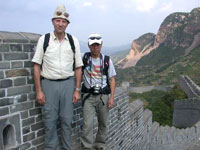 Include transport, entry, tour guide and lunch.
See the top sights of Beijing, including the Great Wall at Mutianyu.
Includes Mutianyu, Gubeikou, Jinshanling, Simatai and Huangya Pass.
See the top sights of China's Golden Triangle, including the Great Wall at Mutianyu.
Planning a trip? Ask us here

800-2682918 (USA & CA)

86-773-2831999

1800-764678 (AU)

0800-0327753 (UK)

800-8793-007 (China)
Q:
nadiah musa
Asked on 10:00 PM Nov. 21 2013
Reply
Hi,we will be in guangzhou this december... planning to go to hong kong and beijing for 7 days. is it posible?
Hi,
We have some Beijing tours. pleaese see http://www.chinahighlights.com/beijing/tours.htm for more details. If you need our service, could you please tell me the details date and how many people in your gourp? We can book hotels, flights and itinerary for you.
Christy Luo Replied on 03:57 AM Nov. 22 2013
Q:
Fernando Montemayor Pantino
Asked on 00:28 AM Oct. 14 2013
Reply
What are the kinds of clothing that I need to bring during my visit to the Great Wall of China?
Dear Fernando,

The best time to visit Great Wall is Spring, Summer and Autumn. In Spring and Autumn, please wear warm sweater and jacket and summer clothes, such as T-shirts, shorts and skirts in Summer. As travel agency, we glad to arrange tours package includes Great Wall if you need. Please feel free contact me if you need any tour arrangement.

Nancy

Nancy Deng Replied on 04:01 AM Oct. 14 2013
Q:
Fernando Montemayor Pantino
Asked on 00:26 AM Oct. 14 2013
Reply
What are the months for the following seasons of the year? Autumn and Fall? Summer? and Spring time in China?
Dear Fernandao,

General speaking, March to May is Spring, June to August is Summer, September to November is Autumn and December to February is Winter in most parts of China.

Nancy

Nancy Deng Replied on 03:49 AM Oct. 14 2013
Q:
peach
Asked on 8:51 PM Oct. 08 2013
Reply
Hi, were planning to visit great wall of china after our Windows of the World tour, what transportation will we avail going to great wall from WOW? and how much? Is there a snow on February?
Dear Peach,
Thank you for the inquiry.
The Great Wall is in Beijing, and you can choose to go to Beijing vie Train and flight.
Depend on the duration and the class of the seat, the price of train from Guangzhou to Beijing vary from CNY260/USD43 to CNY1380/USD226, and the duration vary from 22 hours to 8 hours.
The flight from Guangzhou to Beijing takes about 3 hours and CNY2000/USD328.
There are still some snow on the Great Wall in February. Doris Huang Replied on 10:33 PM Oct. 10 2013
Q:
Dilla
Asked on 05:19 AM Oct. 05 2013
Reply
I m plannning to visit great wall on this december. Will this be a good time to visit the place? Besides i will visit with my kids around 6-15 yrs old
Hi Dilla,December is the winter time in Beijing. It is cold and dry with occasional snow. The temperature is usually well below zero.You can visit the Wall if the weather is good.
Prepare down jackets for your kids, thick jeans and long johns, sweaters, hats and gloves. You might also need a mask to protect your nose on windy days. Michael Hu Replied on 10:51 PM Oct. 05 2013
Top Sections

Show full list