Great Wall Sections
Our Recommendations
Here we introduce five sections which we recommend to see the best and greatest variety of the Great Wall. See "Great Wall Sections by Region" for a full list of Great Wall sections open to the public.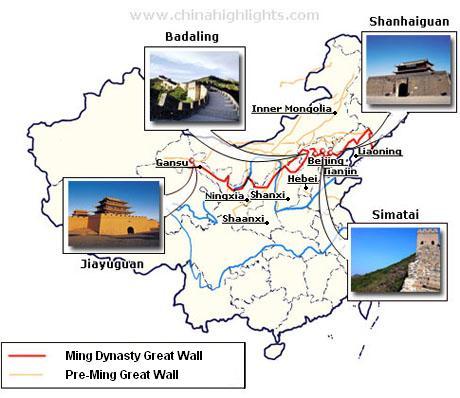 As can be seen above, the Great Wall of China extends 6,400 km (4,000 miles) from Gansu Province east to the seaside town of Shanhaiguan.
Recommended Great Wall Sections
The Great Wall at Mutianyu is fully-restored and characterized by many watchtowers on overlapping mountain ranges. It is less crowded and has better architecture than at Badaling,


View Mutianyu Great Wall Video
Badaling is the site of the best-preserved and most popular section of the Great Wall. 370 foreign leaders and VIPs have climbed the Badaling section. It is one of the closest sections to Beijing (about 1 hour 30 minutes on the Badaling Expressway).
The Simatai Great Wall is a section of unrestored original wall, well-preserved with a good range of architecture. Every part is at least 400 years old. The mountains at Simatai are particularly steep, offering great views, but the hiking is more testing.
Note: Simatai is Currently Closed to the Public. See more at The Simatai Great Wall.
Shanhaiguan is known as "the First Pass Under Heaven". With Old Dragon's Head (Laolongtou), the eastern limit of the Great Wall, only 5 km (3 miles) away, you can see where the Great Wall meets the sea, a section of the wall that was of huge military importance.
Jiayuguan is a very well-preserved pass that has served as a gateway of the Silk Road for centuries. Jiayu Pass, in the Western limits of the Great Wall in Gansu Province, traverses desert and much of the wall has been buried by sandstorms. Experience a very different environment and culture in this part of China.