The Great Wall at Simatai
Summary - Why Visit Simatai (司马台)?
The Great Wall at Simatai sees far less travelers than the crowded Badaling Great Wall. Compared with the Great Wall at Badaling, the wall at Simatai is much steeper with precipitous steps.
The Simatai section of the Great Wall is one of the few sections to retain the original appearance of the Great Wall. Incorporating a variety of characteristics of other sections of the Great Wall, Simatai also displays some unique features of its own. It is often described with the following five words: perilous, dense, diverse, artful, and peculiar.
With densely-dispersed watchtowers snaking along the mountain ridges, Simatai looks spectacular. In 1987, Simatai was acknowledged by UNESCO as one the World Heritage Sites. Visit Simatai Great Wall, witness in person the magnificence and glory of this man-made masterpiece.
Note: Simatai is Currently Closed to the Public
The Great Wall at Simatai has been closed for major renovation from June 2010. The renovation is estimated to last 3 years, and further notice of the reopening time is to be released by the local authority.
Visitors are suggested to visit Jinshanling, Gubeikou or Mutianyu instead.
The hiking from Jinshanling to Simatai can be done only half way.
Features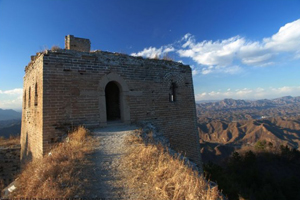 the Simatai Great Wall
Scenery: The scenery at Simatai is great in every season. What is the best time to visit the Great Wall?

Dimensions: Simatai Great Wall is 5.4 km long (3.4 miles) with all together 35 watchtowers. On the east part of Simatai, the elevation goes abruptly up from 295 meters (968 ft) to 986 meters (3235 ft), making a breathtaking scene.

Perilousness: Simatai Great Wall was built along the steep mountain ridges, with Heavenly Ladder and Sky Bridge being the most thrilling parts. Heavenly Ladder is a steep and narrow (about 50cm/1.64ft at its narrowest point) wall that go up 85 degrees to the mountain peak, with cliffs on both sides. At its end is the Sky Bridge, which is not more than 100 meters (328 ft) long, but only 40 cm (1.3 ft) wide. When this part was being constructed, bricks were bundled on goats' back to the mountain top.

Diverse:Visitors can admire Simatai Great Wall by ropeway, pulley, or boat. Simatai Great Wall is separated into two parts by Simatai Reservoir, over which a chain bridge runs through east to west. Another popular way is hiking. A popular hike is to traverse from Jinshanling to Simatai, which takes about 4 hours.

Dense Watchtowers: The average distance between two watchtowers is 100 – 200 meters (328 – 656 ft), with the nearest two only 44 meters (144 ft) from each other. This is very dense because the average distance is 500 meters (0.3 mile) for the Ming Dynasty Great Wall's watchtowers.

Trivia: What is interesting along Simatai is that, visitors can find a section laid with bricks carrying inscriptions that recorded the date on which they were made, and the code number of the armies who made them.

History

of the Simatai Great Wall

Its construction started in the early Hongwu years (1368-1398) of the Ming Dynasty. Like most sections of the Ming Dynasty Great Wall often visited today, this section was also built under the supervision of General Qi Jiguang (1528 - 1588).
Map of the Great Wall at Simatai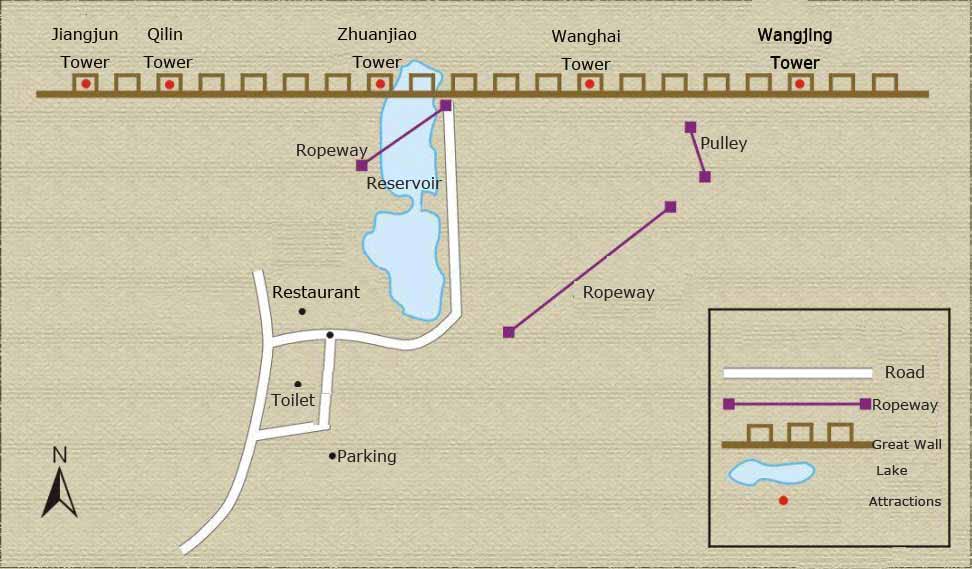 Click here to enlarge the Simatai Great Wall Map.
Nearby Attractions
The Gubeikou and Jinshanling sections are only 20 minutes away.
If you want to see more of the Great Wall near Beijing, see here for a list of the sections.
There are also many attractions to see in Beijing City.
Travel Essentials
When to go
The scenery of the Great Wall varies with the seasons and each season has its pros and cons. Click here for what you can expect on the Great Wall near Beijing.
Our China tours and Beijing tours usually include Mutianyu as the Great Wall visit, but if you would prefer Badaling just let us know.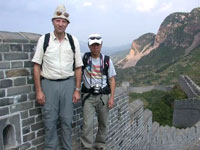 Great Wall Hiking Day Tour from $499*

Many hiking lovers have enjoyed the experience of walking 10km of original Ming Dynasty Great Wall from Jinshanling to Simatai.

5-Day Great Wall Hiking Around Beijing Tour from $679*

Includes Mutianyu, Gubeikou, Jinshanling, Simatai and Huangya Pass.

more Great Wall Tours
Transport
Simatai is located about 120 km (75 miles) northeast of Beijing (a 2 hour 30 minute journey from the city center). China Highlights use high-quality air-conditioned private transport to take the hassle out of getting to the wall.
Walking Conditions
The steps of the Great Wall at Simatai are rather steep and at some points very narrow. Hikers need to be in good physical condition to complete this hike. However, there are options such as pulleys or ropeways to avoid trek up to the wall.
What to Wear
Dress for hiking and dress for the weather. Choose comfortable footwear with good grip and support for the feet. Layers of clothes that can be taken on and off allow for greater comfort and temperature control.
Wear/bring sun protection in the summer and dress for sub zero temperatures in the winter. It can feel much colder on the wall than down in the valleys because of altitude and exposure.
What to Bring
Bring breathable waterproofs for protection from rain and wind. Umbrellas may be used here as the ascents and descents are not difficult, but may be inconvenient in strong winds. Bring snacks and water if you want to walk a long portion of the wall.