Gubeikou Great Wall
Summary – Why Visit Gubeikou (古北口)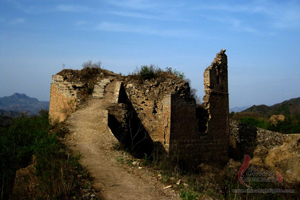 the Gubeikou Great Wall
The Gubeikou Great Wall has long been an important pass of great military significance on the route to the capital city of Beijing. The Gubeikou Great Wall was built along a mountain range, rising and falling along its length.
The Great Wall at Gubeikou retains its original appearance, because it is well-preserved and has not been restored.
Features
The Great Wall at Gubeikou has kept its original appearance. Unlike other "wild" sections of the Great Wall, Gubeikou also has some historical sites like temples and temporary imperial palaces. It is suitable for hiking and photography.
Dimensions:Gubeikou Great Wall stretches about 20 kilometers (12 miles). It has 143 beacon towers, each positioned at an average interval of 156 meters (170 yards), while the nearest two are only 30 meters (33 yards) apart. The largest tower can accommodate a garrison of 100 soldiers, and the smallest one a garrison of 10 soldiers.
Scenery: Tourists experience different scenery in all directions regardless of the season. See "What is the best time to visit the Great Wall?"
History: The earliest construction began in 555 during the Northern Qi Dynasty (550-557). After about 800 years, in the Ming Dynasty (1368-1644), the Gubeikou Great Wall was extended and enhanced with more beacon towers and pass gates. The last reconstruction took place in 1567. No rebuilding or renovation was done since then.
Travel Essentials
When to go
The scenery of the Great Wall varies with the seasons and each season has its pros and cons. Click here for what you can expect on the Great Wall near Beijing.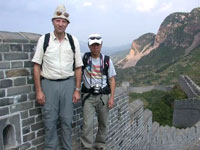 See the top sights of Beijing, including the Great Wall at Mutianyu.
Includes Mutianyu, Gubeikou, Jinshanling, Simatai and Huangya Pass.
See the top sights of China's Golden Triangle, including the Great Wall at Mutianyu.
Transport
Gubeikou is located in Miyun County, 110 kilometers (68 miles) northeast of Central Beijing. China Highlights use high-quality air-conditioned private transport to take the hassle out of getting to the wall.
What to Wear
Dress for hiking and dress for the weather. Choose comfortable footwear with good grip and support for the feet. Layers of clothes that can be taken on and off allow for greater comfort and temperature control.
Wear/bring sun protection in the summer and dress for sub zero temperatures in the winter. It can feel much colder on the wall than down in the valleys because of altitude and exposure.
What to Bring
Bring breathable waterproofs for protection from rain and wind. Umbrellas may be used here as the ascents and descents are not difficult, but may be inconvenient in strong winds. Bring a camera and money for souvenirs and refreshments. Bring snacks and water if you want to walk a long portion of the wall.
Walking Conditions
The hiking level at Gubeikou Great Wall is moderate, with some steep steps and uneven surfaces. There is not any cable car or climbing aid facilities. Hikers should climb with companions, and should avoid climbing under bad weather conditions, such as rain and thunderstorms.
Nearby Attractions: Jinshanling Great Wall, Mutianyu Great Wall.

If you want to see more of the Great Wall near Beijing, see here for a list of the sections.
There are also many attractions to see in Beijing City.