Inner Mongolia Weather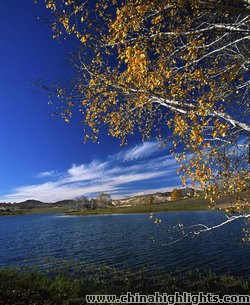 Autumn Scenery of Bashang Grassland
Being far away from ocean with a wide area and a high altitude above sea level, Inner Mongolia has a temperate monsoon climate, which is featured by few and irregular rainfall, drastic shift of temperature. Winter is freezing cold, lasting for a very long time, sometimes even more than half a year. January is the coldest month with temperature from -10 °C (-50 °F) to -32 °C (-89 °F). With a monthly average temperature of 16 °C (60 °F) to 27 °C (80 °F), summer is warm and short, lasting for only one or two month, and there is no summer in some area of Inner Mongolia. The hottest month always comes in July with a highest temperature of 36 °C (96 °F) to 43 °C (109 °F).
Influenced by topography and the distance between oceans and Inner Mongolia, rainfall descends gradually from the east to the west. Sunshine hour is always more than 2700 hours, sometimes reaches 3400 hours. As a result, most of days are sunny days in this region, and cloudy days are quite rare.
Generally Speaking, the weather in Inner Mongolia, autumn is the best time to travel to Inner Mongolia, especially from middle August to late September when the temperature is quite moderate, and it would be the best time to take a desert hiking tour.
Weather Forecasts for Major Cities in Inner Mongolia

China Highlights
Planning a trip? Ask us here 800-2682918 (USA & CA)
86-773-2831999 (Int'l)
Q:
vivek
Asked on 2013-11-12
Reply
I want to visit altai mountain in month of nov - dec. Kindly guide us the right time for visiting altai mountain
It will be quite cold to visit Altai Mountain in Nov- Dec, the best time to visit MT.Altai is between May to Oct.
Lily Guo Replied on 2013-11-13
Q:
maggie
Asked on 2013-04-16
Reply
i plan to go from 4-13 August . What will be the temerature like durung day time ?
Dear Maggie, Based on the former data, the average temperature will be 18-27℃(64.4-80.6℉), sometimes it will be rainy. Lussie Lu Replied on 2013-04-16
Q:
Carine
Asked on 2013-03-30
Reply
I plan to visit Nanjing around 3/Aug. to 17/Aug. and intend to visit Inner Mongolia. Do you have ground tour from Nanjing to Inner Mongolia? What kind of clothes should I prepare to bring for the two places? Also can you recommend another place to visit up North not too far from Nanjing.
Hi Carine, we can arrange a private tour to Nanjing & Inner Mongolia for you. Besides these 2 cities, Xian, Luoyang, Datong, Pingyao, Beijing, etc. are also recommended. In August, summer clothes such as T-shirt and shorts would cope with the weather. A light coat is suggested when the temperature may drop down in the evening.
Whitney Liao Replied on 2013-04-02
Q:
Justin Tan
Asked on 2013-03-22
Reply
From early to mid-August, is the night sky clear in Mongolia to see stars/ meteor showers? Do you have any sky gazing tours? How to get to Mongolia? Is it ok to visit Mongolia with kids as young as 2 years old? Thanks.
Hi Justin,
The chance to see meteor showers is slim unless there is forecast on it.
If the weather condition is good, it is ok to do the sky gazing, but we do not have this kind of tour available for Mongolia.
It is ok to take the 2 years old for the tour, but it would be quite an issue for the parents as the tour always take over 7 days, and the weather is hot during august.
sammi
Sammi Dai Replied on 2013-03-22
Q:
Lau Bing Hong
Asked on 2012-11-14
Reply
Hai, Candice! I visited Guilin, Longshen,Zhaoqing,Lipu,Yangshuo,Hezhou an Guangzhou last month. The group of us who visited the above places plan to visit Inner Mongolia next year. From your article I gather that the best time to visit Inner Mongolia is between mid-August and late September. Will it be crowded then, with a lot of visitors? What sort of clothing we should be bring along? What sort of budget we should be prepared for?What are the places that I should include in my itinerary? I anticipate that we will spend about a week there. What are the food like in Inner Mongolia? Do we fly direct to the place or do we fly, maybe to Beijing, and then take another inland flight or do we take coaches to reach Inner Mongolia?
Hi Lau, This is Sammi from China Highlights. As for your questions: From your article I gather that the best time to visit Inner Mongolia is between mid-August and late September. Will it be crowded then, with a lot of visitors? The best time to visit is actually from July to September. There will be not very crowded for tourism except that there are happen to be local holidays. What sort of clothing we should be bring along? You will need to bring sweater and coat as well as Tshirt. In the morning, sweater or coat/jacket is needed. At noon time, T-shirt is ok. What sort of budget we should be prepared for? The cost for the tour would be decided based on your tour dates, number of group as well as the exact tour routes that you are choosing. Here are tours for your reference: http://www.chinahighlights.com/hohhot/tours.htm What are the places that I should include in my itinerary? The must see attractions are: Xilamuren grassland, Huitengxile grassland, Genghis Khan Mausoleum, etc. I anticipate that we will spend about a week there. What are the food like in Inner Mongolia?Do we fly direct to the place or do we fly, maybe to Beijing, and then take another inland flight or do we take coaches to reach Inner Mongolia? In Inner Mongolia, you will have a taste of typical Mongolian food and drinks, such as milk tea, toasted millet, boiled skim milk, cream, and tender finger mutton. When you are offered mare's milk wine, the beautiful Mongolian girls will sing the toast song and present you with a "Hada" - a piece of light blue silk to show blessing. You will need to fly to big cities from Beijing or Shanghai to Hohhot, the capital city of inner Mongolia. Thank you for choosing China Highlights Travel. We will do our best to serve you. Sammi Sammi Dai Replied on 2012-11-23