Shuhe Ancient Town
Summary
Shuhe Ancient Town is the earliest habitation of the Naxi ancestors. It is also an important and well-preserved post of the Ancient Tea Horse Route, an international trade route in Southwest China that uses the horse as its main vehicle.
Features
1. Shuhe Ancient Town is an important constituent part of Lijiang Ancient City, a world cultural heritage site in China.
2. The town shows multiple cultural landscapes, including unique folk customs, historical relics and beautiful natural scenery.
3. Visitors can experience the simple and unsophisticated Naxi customs in the town.
Overview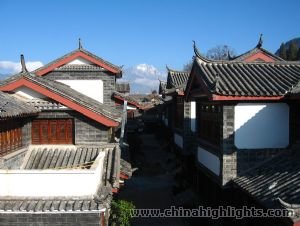 Old buildings in Shuhe Ancient Town, a peaceful village
Shuhe Ancient Town, also named Longquan Village (which literally means dragon spring village), is located in the north of Lijiang Ancient City. In Naxi language, Shuhe means "a village at the foot of a peak". As the earliest habitation for Naxi ancestors, Shuhe Ancient Town is regarded as a living specimen of the Naxi ancestors' transition from an agriculture civilization to a commercial culture. Similar to Lijiang Ancient City, Shuhe Ancient Town is surrounded by a murmuring river and interlaced with smooth flagging. It is a compact village hidden in the forest, and it lies near mountains and rivers. It is a more peaceful, smaller version of Lijiang Ancient City.
Qinglong Bridge has a history of more than 400 years; it is the landmark building in Shuhe Ancient Town. The entire bridge was built with stones, and is 25 meters (82 ft) long, 4.5 meters (15 ft) wide and 4 meters (13 ft) high. In early spring, the old bridge is decorated by verdant willows, which form a famous scenic spot in Shuhe.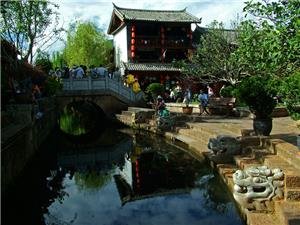 Sifang Street, a market in the center of Shuhe Village
Sifang Street, a market in the center of Shuhe village, covers an area of about 250 square meters (2,691 sq. ft). It is very lively during market days. Visitors can buy many leather products at the market. Surrounding the market are shops, all of which have archaic wooden facades. Travelers can buy various handicrafts here, such as unique ornaments and costumes reflecting ethnic styles.
Along the street about 100 meters (328 ft.) away is the fountainhead of a river surrounding the ancient town, a deep pool named Long Pool (Dragon Pool). From Long Pool, the overflowing water winds through the village and the bubbling sounds can be heard miles away. The locals regard this as a sacred spring, and built Beiquan Temple (North Spring Temple) here as a place to pray. Master leatherworking is enshrined in Sansheng Palace, which is the most unique part of the temple.
Travel Essentials
Location: About 4 kilometers northwest from Lijiang Ancient City.
How to get there
1. Daily shuttle buses depart from Lijiang Ancient City to Shuhe Ancient Town, a great convenience for travelers.
2. Visitor also can take a taxi there, which takes about 20 minutes, or they can bike, which takes about 1.5 hours.
Best time to there: The peak period for visiting Shuhe Ancient Town is from May to October. Actually, Shuhe is worth visiting during any season, so if you do not want to experience a crowded scene, avoiding that period might be a good option.
China Highlights can help you customize a tour to visit Shuhe Ancient Town, or just see our tours to visit this town.
Questions and Answers About Shuhe Ancient Town
Lilian Lai
2012-10-04
Show Answer
I''m planning to tour kunming region, arriving 10/13 and leaving 10/20. I would like to do as much out stuff as possible any suggestions?
Lai, Yunnan Province is very rich in travel resources, minority culture or ancient towns. So do you have an idea for where to go and what to see? Tentatively i forward the 7-day tour package to Kunming, Dali and Lijiang http://www.chinahighlights.com/tour/kunmingtour/km-4/. This is package tour is a private tour service, which means you will have your own private car and personal English speaking tour guide at each city, also i can tailor made the tour to meet your needs and interests, so just feel free to contact me.
Karen (karen@chinahighlights.net)
Karen Yang replied on 2012-10-05
April Offer $25 Coupon
Send your inquiry before Apr. 30, 2014, and we will email you a $25 coupon.
The coupon is valid till Dec. 31, 2014, for paying tour packages worth $250 or up.
The coupon cannot be used for paying flight tickets, train tickets, hotel rooms and day trips.
Travel Advice or Question? Ask us here

China Highlights