Ruins of St. Paul
The Ruins of St. Paul is the site of St. Paul Church. Construction of the Catholic church began in 1602. It was the greatest of Macau's churches, but it burned down in 1835, leaving only its very large and beautiful fa?ade and the front stairway. It has an interesting history.
The church was built in 1602 adjoining the Jesuit College of St. Paul that was the first Western college in the Far East. Missionaries such as Matteo Ricci and Adam Schall studied Chinese at the university before serving at the Ming Court in Beijing as astronomers and mathematicians. The church was made of wood, and it was brilliantly decorated and furnished. The facade of carved stone was built in 1620-27 by Japanese Christian craftsmen who were refugees after the religion was wiped out in Japan. It was built under the direction of Italian Jesuit Carlo Spinola.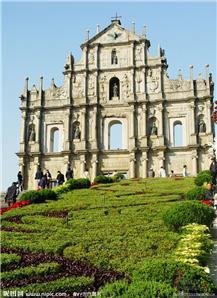 Ruins of St. Paul
The Jesuits were then expelled, and the college was used as an army barracks. In 1835, a fire destroyed the college and the body of the church. The surviving facade rises in 4 colonnaded tiers, and is covered with carvings and statues that illustrate the early days of the Catholic Church in Asia. There are statues of the Virgin and the Saints, symbols of the Garden of Eden and the crucifixion, and carvings of angels and the devil, a Chinese dragon and Japanese chrysanthemum, a Portuguese sailing ship, and inscriptions written in Chinese characters to warn people.
The facade seemed about to topple, but it was girded with steel, and at the back side of the ruins, a museum was built in 1995. There is a crypt that has the remains of Japanese and Vietnamese martyrs, and there is a museum of sacred art with paintings, sculptures and liturgical objects.
The facade is 27 meters tall, 23.5 meters wide and 2.7 meters thick. The top floor is a triangle lintel under a cross; in the middle of the lintel is a copper dove. The dove is surrounded by the sun, moon, and stars. There is a statue of the baby Jesus Christ with the tools that were used to nail him to the cross. The major figures portrayed in the lintel are the Virgin Mary, the Holy Father, some Holy Saints, and Jesus Christ. The middle two floors reflect missionary endeavor.
Questions and Answers About Ruins of St. Paul
dave
2013-07-22
Show Answer
We plan to go to Macau on august, we depart from Hongkong by ferry. Kindly inform us how to get to some major attraction from Macau pier? As we stay at holiday hotel on estrada de ropouso road, is it far from the pier? What kind of transportation can we use?thank you!
Dear Dave, If you will arrice at New Hong Kong-Macau pier, there are some tourist buses, you could take it to the attractions. In addition, you also can take a taxi, it is a easy way. I am not sure which hotel you will stay in as I did not find it on line, I suggest you ask the hotel if they provice a shuttle bus service, or you could take a taxi to get there directly. Lussie Lu replied on 2013-07-23
MY
2012-11-27
Show Answer
What would be the must eat food in Macau ?
Dear MY, We have some options listing on our website, please click here to realize the details: http://www.chinahighlights.com/macau/food-restaurant.htm Lussie Lu replied on 2012-11-29
Linda Oei
2012-10-09
Show Answer
I plan to visit Macau end of this month with an old lady on wheelchair.We will be staying at Hotel Royal Macau for 2 nites. Please advise places of interest where it is wheelchair accessable.what are the places we can walk from our hotel? Is it very far from our hotel to Taipa Village?
Hi Linda, Ruins of St Paul Cathedral, Monte Fort, Barra Temple, Macau Wine Museum are all can't missing. As Macau is a small city, almost all of the attractions are within walking distance. I suggest that you buy a map to guide you. Whitney Liao replied on 2012-10-10
From your hotel to Taipa Village is about 8km. Whitney Liao replied on 2012-10-10
Sam
2012-10-01
Show Answer
Hi so soli I forgot abt one thing I.e wat currency is most frequently used in Macau? Is it RMB or HK dollars? Thanks!
Hi Sam, people use Macau Pataca(MOP) in Macau, not RMB or HK dollars. Whitney Liao replied on 2012-10-07
April Offer $25 Coupon
Send your inquiry before Apr. 30, 2014, and we will email you a $25 coupon.
The coupon is valid till Dec. 31, 2014, for paying tour packages worth $250 or up.
The coupon cannot be used for paying flight tickets, train tickets, hotel rooms and day trips.
Travel Advice or Question? Ask us here

China Highlights
Macau Travel Guide