The Five Dynasties Map
This is a map of the land of the Five Dynasties period of ancient China (907 – 960). Though China at this time consisted of five separate dynasties, the territory was smaller than that of the Tang Dynasty (618 – 907).
Brief introduction: After Zhu Quanzhong (朱全忠) usurped the Tang Dynasty and founded the Later Liang Dynasty (907 – 923), there were sequentially four dynasties, namely: Later Tang (923 – 936), Later Jin (936 – 946), Later Han (947 – 950) and Later Zhou (951 – 960). Collectively, these five dynasties were called the Five Dynasties in Chinese history.Read more on China history.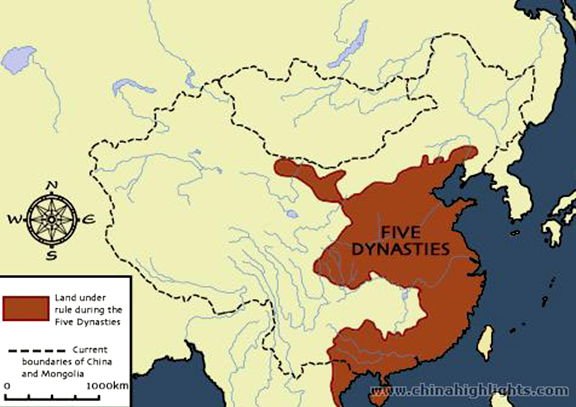 Five Dynasties Map. Click to enlarge!
Top Cities in China
China City Maps

China Highlights
Questions and Answers About The Five Dynasties Map
April Offer $25 Coupon
Send your inquiry before Apr. 30, 2014, and we will email you a $25 coupon.
The coupon is valid till Dec. 31, 2014, for paying tour packages worth $250 or up.
The coupon cannot be used for paying flight tickets, train tickets, hotel rooms and day trips.
Travel Advice or Question? Ask us here