The Bund of Shanghai
For a century the Bund has been one of the most recognizable architectural symbols and pride of Shanghai. Every morning people come here to do exercises and every evening they come to appreciate the view with their loved ones.
History
The word 'bund' derives from an Anglo-Indian word for an embankment along a muddy waterfront and that is what the Bund was originally.
When the first British company opened an office at the Bund in 1846, it became the epitome of elegance. Now many attractive new constructions have been erected in addition to the historical buildings.
Things to See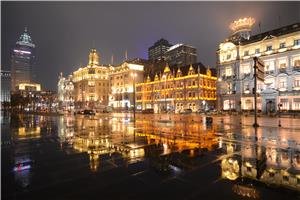 The Bund
The commemorative square at the junction of Nanjing Road has a fountain and a statue of Chen Yi, who in 1949 became the first mayor of Shanghai in the communist era.
The wharf for pleasure boat rides is also at the end of Nanjing Road. A boat ride on the Huangpu River will take visitors down to the estuary of the Yangtze River and back in just over three hours.
A spacious walkway for sightseeing runs atop a 771-metre long retaining wall on the Bund, paved with colorful tiles and dotted with flower beds and lighting. It is a good place for a leisurely stroll and a view of the Huangpu River.
Opposite the Customs Building is a waterfall electronic clock that shows time in various world cities, surrounded by Chinese wisterias, gingko trees, and azaleas. Buildings in Greek, Renaissance, and Baroque styles can also be seen along the west side of the Bund.
Skyscrapers such as the Oriental Pearl Tower hug the river, neon lights indicating the offices of top world brands.
Shanghai Bund Facts
Chinese: Shànghǎi Wàitān 上海外滩
Location: Extends from Jinling Road in the south to the Waibaidu Bridge over the Suzhou Creek in the north, on the western bank of the Huangpu River, a tributary of the Yangtze River
How to get to there: Bus 20, 22, 37, 42, 55, 65, 126, 212, or 401.
Main attractions: There are three main attractions on Shanghai Bund: 1. Group of sculptures: Light of Huangpu River, Sail, and Wind; 2. Chenyi Square with a stone statue of Chenyi, who was the first mayor of Shanghai; and 3. The Sightseeing Tunnel which is the first underwater tunnel for foot passengers in China.
Questions and Answers About The Bund of Shanghai
suresh menon
2013-10-04
Show Answer
Planning to visit Shanhai by mid november. Can you provide an English speaking guide?
Hi Suresh,It's no problem to provide an English speaking tour guide for you in Shanghai. It's cost USD75 per day, 8 hours of working time. Please let me know your time schedule in Shanghai. Michael Hu replied on 2013-10-05
cristina domingo
2012-10-26
Show Answer
My group of 6 will arrive in Shanghai on November 14 and will leave on the 17. We are attending a conference on November 15-16. We would like to squeeze in our schedule a visit to must-see places in Shanghai at least the top five (5) tourists spots perhaps.
Dear Sir or Madam, Here are some options for reference, for example, the Bund, Yuyuan Garden, Jade Buddha Temple, Oriental Pearl TV Tower, Shanghai Urban Planning Exhibition Hall, Shanghai World Financial Center. You could realize their information on our website directly. Please click: http://www.chinahighlights.com/shanghai/attraction/ Lussie Lu replied on 2012-10-27
Proinceasis O,Cuinn
2012-09-24
Show Answer
I arrive in Shangai on October 12th for 3 days...where are the best department stores to purchas photography equipment..I am afraid of fakes and also wish to purchas a gent,s watch...not too expensive..middle rnage
Hello Proinceasis, i think you can check your luck to Nanjing Road. Nanjing Road is the most famous and busiest shopping street in Shanghai. From time-honored traditional Chinese brand stores to international designer boutiques, Nanjing Road is a shopping paradise where you can find everything. There are also many hotels, restaurants, theaters and shopping malls. It's a fascinating glimpse of modern, commercial China.
Simon Huang replied on 2012-09-25
Pat Devine
2012-09-24
Show Answer
My wife and I are travelling to Shangai for a 4 day stop over on our way to Australia...we are 70 years old ...can you suggest a few 1 day or half day tours for us..not really interesyed in Museums but are open to suggestions.We arrive in Shangai on October 12th.
Dear Pat, Based on what I understand of your requirements, I've designed a 4-day Shanghai tour for you starting from Oct.12, 2012 to Oct.15, 2012 with a private English-speaking tour guide and van. Please check your mail box and feel free contact me if you have any question. Nancy Nancy Deng replied on 2012-09-25
SUE
2012-02-11
Show Answer
DOES ANYONE KNOW THE NAME OF THE BUILDING NEAR THE ORIENTAL PEARL TOWER, NOT VERY HIGH, GLASS SIDES WITH A TOWER ON TOP
Dear Sue, As your information is not enough, i am not sure which building you mean. If you can provide more details, i am glad to search it for you. Thank you. Lussie Lu replied on 2012-02-15
April Offer $25 Coupon
Send your inquiry before Apr. 30, 2014, and we will email you a $25 coupon.
The coupon is valid till Dec. 31, 2014, for paying tour packages worth $250 or up.
The coupon cannot be used for paying flight tickets, train tickets, hotel rooms and day trips.
Travel Advice or Question? Ask us here

China Highlights
Shanghai Travel Guide