Yuyuan Garden
Yuyuan Garden is located in the center of Shanghai's Old City, a few blocks south of the Bund. It has a total area of about two hectares (five acres) with more than 40 attractions.
Yuyuan Garden is believed to have been built in the Ming Dynasty, more than 400 years ago. The exquisite layout, beautiful scenery and the artistic style of the garden architecture have made the garden one of the highlights of Shanghai.
It was the private garden of the Pan family in the Ming Dynasty, and was first conceived in 1559. It was the largest and most prestigious of its era in Shanghai after it was completed.
Yuyuan Garden is so exquisite that it can be comparable to the Humble Administrator's Garden in Suzhou, Jiangsu Province.
It is also one of the Four National Cultural Markets, along with the Panjiayuan Market and Glass Street in Beijing, as well as the Confucian Temple in Nanjing.
Attractions
The garden covers a significant space and includes a few halls and other buildings of interest. Its cultural relics include the century-old furniture, calligraphic and painting works of famous artists, clay sculptures and brick carvings as well as some inscriptions and couplets.
One of the highlights of the garden is the Exquisite Jade Rock. It is a 5-ton, porous, beautifully-shaped, grotesque rock, which is said to have been carried from Taihu (Tai Lake) in Wuxi, Jiangsu province. The rock is characterized by its wrinkled appearance, slender shape, translucent nature and numerous holes eroded by water. An interesting legend goes that the rock was found some 1000 years ago, and it was originally one of Song Emperor Huizong's private collection before it found its way into Yu Garden.
History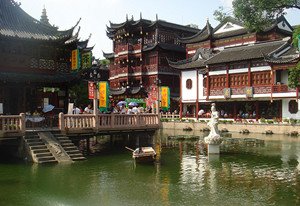 Yuyuan Garden
Yu means 'peaceful' in Chinese. Yuyuan Garden was first conceived by Pan Yunduan, an officer in the Ming Dynasty, for his parents to spend a quiet and happy life in their old age. In Jiajing's 38th year (1559), Pan Yunduan failed an imperial examination, and then the idea of building such a garden came to his mind. Before long, Pan Yunduan was transferred to Sichuan, so the construction was delayed for almost 20years untilhe returned to Shanghai in 1577. Tragically, only a few years after the garden was completed, his parents passed away.
Because Pan Yunduan spent a great amount of money on the construction of the garden, in his later life he had to sell some of his lands and antiques to maintain his daily expenses.
In the late period of the Ming Dynasty, the garden was inherited by Zhang Zhaolin - Pan Yunduan's granddaughter's husband.
Later, in the early Qing Dynasty, the garden had suffered the fate of severe owners and had even been separated by other people not relevant to his family.
During the 48th year of Kangxi's reign (1709) in the Qing Dynasty and Qinglong's 49th year(1784), the gentries in Shanghai expanded the garden in the east and west for public activities. The garden was over 70 mu(about 5 hectares) at that time.
However, during the Opium Wars, the garden was badly damaged. In 1961, after five years of repairs, Yuyuan Garden was re-opened to the public, though it was not as charming as the original one. Besides, it was partly destroyed in the Great Cultural Revolution (1966-1976).
During 1986-1993, the government made another effort to repair the garden,which is what we see today.
Activities in Yuyuan Garden
Yuyuan is the place where people hold a lot of activities, such as flower exhibitions, stone exhibitions, painting exhibitions, tea ceremonies and lantern exhibitions.
Yuyuan Market
It is right next to Yuyuan Garden. There are over ten shopping streets in this market. You can buy a number of souvenirs or sample local snacks.
Transportation
You can take Bus 11, 26, 64, 66, 920,926, 929 or 930 to get there.
Opening hours: 09:00-17:00
Questions and Answers About Yuyuan Garden
LITTLE T
2012-11-19
Show Answer
I wanna take a trip to shanghai and be like jackie chan and owen wilson in shanghaii knights.
Dear Sir or Madam, We have many Shanghai tour packages on the website and you could check it. Please feel free to let me know your exact travel plan, i am glad to design an itinerary for you. Shanghai tour: http://www.chinahighlights.com/shanghai/tours.htm Michael Hu replied on 2012-11-20
Drkarsoum
2012-09-24
Show Answer
I want to visit china speically shanghai Which near beautiful cities i can visit alsoHow far is it
Hi Drkarsoum, you can visit Suzhou which is about 110km, 0.5hr by bullet train. Or Hangzhou which is about180km, 1.5hrs by bullet train. Suzhou is famous for its gardens, while Hangzhou for the amazing natural scenery.
Whitney Liao replied on 2012-09-25
charles henry
2012-09-19
Show Answer
where should we stay in shanghai at the sifotel at pedestrian mall or the peninsula hotel we would like to visit the pearl tower
Dear Charles Henry, The peninsula hotel is near the pearl tower and it is opposit to the tower. You could take a taxi to get there. It takes about 10 minutes and it costs about CNY15/US$2.5 per car. Lussie Lu replied on 2012-09-20
yasser sharaf
2012-07-21
Show Answer
dear all,i will arrive to shangahai next tuesday and stay there for a business trip till sunday, so i will stay the week end in shangahai, what is the favorite places there i can visit ? and how to go there, i prefere puplic transportation as long as good. i will be in intercontinental hotel.thank you for your support.yasser
Hi Yasser, there are 3 intercontinental hotels in Shanghai, not sure which on you will be staying. The highlight attractions in Shanghai are Yuyuan Garden, the Bund, Shanghai Museum and Oriental Pearl TV Tower. It's suggested you visit these attractions by taxi. It will be convenient.
Wish you a nice journey!
Nora Ou replied on 2012-07-22
Denis
2012-06-22
Show Answer
How do you get there?
There are many public buses to yuyuan graden. Can you let me know where your hotel located? You can take a taxi as well if you hotel is in downtown area. Sammi Dai replied on 2012-06-23
April Offer $25 Coupon
Send your inquiry before Apr. 30, 2014, and we will email you a $25 coupon.
The coupon is valid till Dec. 31, 2014, for paying tour packages worth $250 or up.
The coupon cannot be used for paying flight tickets, train tickets, hotel rooms and day trips.
Travel Advice or Question? Ask us here

China Highlights
Shanghai Travel Guide