The Top 9 Ancient Towns Near Shanghai — Which Should I Go To?
Want a day trip from Shanghai? These ancient water towns are a nice choice. China Highlights has listed the best nine ancient water towns near Shanghai (ordered by the distance from central Shanghai).
They are: Qibao Ancient Town (19km), Zhujiajiao Ancient Town (49km), Qiandeng Ancient Town (46km), Fengjing Ancient Town (68km), Zhouzhuang Ancient Town (73km), Luzhi Ancient Town (76km), Xitang Ancient Town (81km), Tongli Ancient Town (98km), and Wuzhen Ancient Town (150km).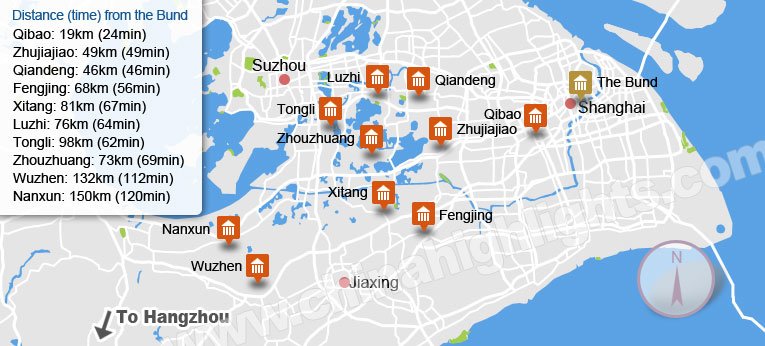 Shanghai Water Towns Map
The most beautiful seasons at these towns are spring and autumn, and the morning and the nightfall are the most charming times of the day. If you plan to have a visit, you can choose the approciate Shanghai day trip (also linked below) or contact us to have us tailor-make a tour for you.
1. Qibao Ancient Town: the Nearest Mini Water Town to Central Shanghai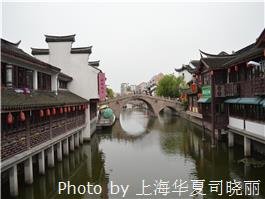 Summary: quite small, various local snacks, no boating, entrance free, accessible via subway
Qibao Ancient Town contains the most important two elements of an ancient water town: ancient style architecture and water scenery. There are various snacks sold on Qibao Old Street, all of which are priced clearly.
The distilled liquor is quite famous. Travelers can learn about the process of brewing distilled liquor in Qibao Winery.
Cricket fighting is an ancient entertainment in China. In Cricket Manor visitors can learn about the cricket fighting culture and watch a fight.
Thousands of miniature engravings (made by a father and daughter of the Zhou family) are exhibited in Zhou Family Miniature Engravings.
2. Zhujiajiao Ancient Town, an Ancient Town Hidden Near a Modern City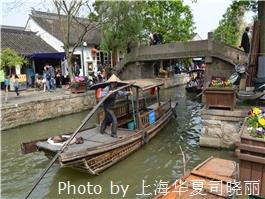 Summary: quaint little town, a little bit spoiled with trashy tourist shops
Zhujiajiao Ancient Town is a nice destination to escape the noisy modern city. It is only 48 kilometers from Shanghai urban area, covering an area of 1.3 square kilometers. The most famous attractions are Cimen Temple (慈门寺) and Zhuxi Garden (珠溪园).
Like the picture shown on the left, the graceful ancient town is well-decorated with water ways, 36 ancient bridges, traditional Chinese-style residences, and a natural lake — Dianshan Lake (11 times bigger than the West Lake, and visitors can boat on the lake).
Weekends are not recommended times to travel there, because of the crowded situation. Zhujiajiao Ancient Town is a well-developed water town, so it is unavoidable that some of the ancient style and peace are erased by commercialization.
Recommended: Shanghai to Zhujiajiao Ancient Town Day Trip and Shanghai to Zhujiajiao Ancient Town Half DayTrip
3. Qiandeng Ancient Town, a Tiny Water Town with Culture
Summary: less crowded, less commercialized, authentic ancient town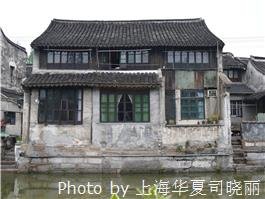 In Qiandeng Ancient Town the Ming-and-Qing-style residences along the banks create a nice ancient atmosphere. This tiny town will show you an authentic ancient water town. However, the commercial atmosphere is encroaching on this gradually.
Cultural experience is the most outstanding theme of this ancient town. With a history of more than two thousand years, visitors should linger longer to experience the old atmosphere.
Yawan Pavilion is a souvenir shop selling mini carvings (for example, a carving made of a peach stone), which are really exquisite.
4. Fengjing Ancient Town: the Birthplace of Jinshan's Farmer's Paintings
Summary: rich cultural content, less crowded, elegant night scenery, about a 1-hour drive from central Shanghai, less commercial
Most ancient water towns are bustling on weekends, but Fengjing Ancient Town will be better for a short trip from Shanghai during weekends. The less commercial atmosphere makes the town more peaceful than others.
The ancient town is laced by a waterway network, and lotus flowers are widely planted in the water areas, which make the town more elegant in late summer.
Stepping into this ancient town, you can retrace the old times with the ancient-style buildings, and visit Ding Cong Caricature Art Gallery, Lü Jiren Art Gallery, and the Mao Zedong Badge Hall.
The most popular three snacks are steamed dumplings filled with winter bamboo shoots and fresh pork (冬笋鲜肉烧卖), Zhuangyuan Cake (状元糕, a kind of cake made with sticky rice flour and sesame seeds), and zongzi (粽子, glutinous rice dumplings).
5. Zhouzhuang Water Town, Elegant but the Most Commercialized
Summary: China's number one ancient water town, is also most commercialized. It is however a most beautiful ancient town and especially so in the morning and at nightfall.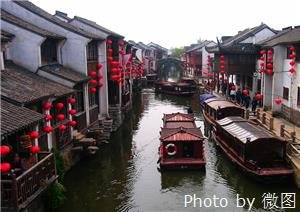 Zhouzhuang lies between Shanghai and Suzhou about 1 1/2 hours from Shanghai and 40 minutes drive from Suzhou. As the most famous ancient water town in China, it has a profound cultural background and well-preserved ancient residences, and is known for its elegant style.
Though many people say the water town is very commercialized the elegant water views are undisputed. Zhouzhuang has about 1,000 households living in the old dwellings built during the Ming and Qing dynasties and during the time of the first Republic of China.
Taking a ferry boat to travel around the town is the classic way to take it all in. It is very crowded on weekends so a week day visit is recommended.
Among the many old houses, the Former Residence of Shen Wansan (an extremely wealthy merchant from the early Ming Dynasty) is the most famous. It will introduce you to the legend of this genius of the business world .
Wansan Ti (万三蹄, a steamed pork dish with a light sweet flavor) is the most famous food.
Zhouzhuang is also famous for its folk art and crafts.
Photographers will prefer the peaceful early mornings, which means you probably need to stay at least one night.
6. Luzhi Ancient Town, Pretty Little Town with Less Commercialization
Summary: authentic ancient town, peaceful, canal rides with singing boatwomen, less commercialized
Luzhi Ancient Town is much nearer to Suzhou (only about 25 kilometers), than Shanghai. Surrounded by five lakes, Luzhi is an elegant water town.
In this one-square-kilometer town, there are 41 quaint ancient bridges, built in the Song, Yuan, Ming, and Qing Dynasties. So Luzhu Ancient Town is known as the museum of Chinese bridges. There are many ancient residences built in the Ming and Qing dynasties (not reconstructed as some other ancient towns).
The old maidenhair trees, with a history of more than one thousand years are another highlight in this ancient town.
7. Xitang Ancient Town, a Living Ancient Town
Summary: Picturesque ancient water town reflecting old China, bustling on the weekends, good for boating.
Xitang Ancient Town is about a 1 1/2 hours drive from Shanghai and is well-known for its numerous bridges, lanes, and "Langpeng" (waterside streets with shelters along the banks — Xitang is the only water town with this unique architecture).
Xitang is a quiet town with less commercial atmosphere; it is a nice place for photographs.
Boating: The ancient town has an area of about one square kilometer. Visitors can try fishing on a boat with the locals, and also can have meal on a boat at night.
There are 11 attractions in the ancient water town. The most unique are: Xue Family House (the Fastener Museum), Zhang Zheng Root Carving Art Gallery, and West Garden.
Eating: Xitang has plenty of local snacks. The most famous dish is steamed pork with rice flour with lotus leaves (荷叶粉蒸肉)
Recommended day trip to Xitang Ancient Town from Shanghai
8. Tongli Water Town, the Mini Oriental Venice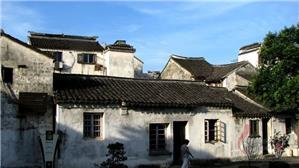 Summary: Quaint older-style small village showing as ancient China used to be.
Tongli Water Town is a classic ancient water town of the type found on the Yangtze River delta. Located about 30 minutes drive from Suzhou, is 1 1/2-hour's drive from Shanghai. Almost every residence in Tongli is built by a canal. Paths line the numerous canals which are crisscrossed by bridges, so you can walk and appreciate the canal scenery.
It is really a mini oriental Venice with the town threaded by a network of 15 canals which divide the town into 7 islets. More than 40 bridges link the islets together. The 33-hectare ancient town is surrounded by five lakes, this is a water town in the true sense of the word.
Recommended Shanghai to Tongli Water Town Day Trip
9. Wuzhen Water Town, Charming Through Commercial Restoration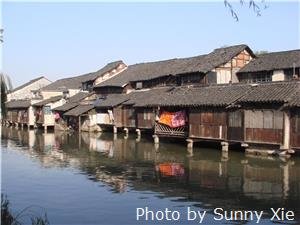 Summary: Beautiful town for photography, can be crowded, restored ancient town, like a traditional Chinese painting
Wuzhen Water Town, is about a one-hour drive from Hangzhou and a two-hour drive from Shanghai and is one of the most famous ancient water towns in China. It is embraced by the Beijing-Hangzhou Grand Canal with rivers and canals crisscrossing the whole town.
Wuzhen has a history of more than 1,000 years. Ancient residential houses, workshops and stores still stand on the banks of the rivers. Though the ancient town has been restored, authentic ancient elements are also easily found. These include the wooded decorative patterns on the windows and doors, and stone carvings.
Though some people complain about its commercial atmosphere, restored buildings, and the crowds, the charm and the elegance of this ancient water town is undeniable.
Have your camera ready as you cruise down the canals of the town. You also can walk on the narrow lanes flanked by wooden buildings or the river bank. Thanks to the good management of the town authorities, this ancient town is clean and tidy.
Recommended day trip Wuzhen Water Town from Shanghai
Questions and Answers About The Top 9 Ancient Towns Near Shanghai — Which Should I Go To?
moonira chidzuga
2013-01-10
Show Answer
Want to travell for business to shanghai for three weeks.how much visa cost.flight.accomodation for tw.
Hi Moonira, for visa, please consult the China Embassy in your country. For flights, below are some websites for you to check the international flights:
www.flychina.com
www.gttglobal.com
www.cheapflights.com
www.expedia.com
www.lowestfare.com
For hotels, please check here: http://www.chinahighlights.com/hotel/shanghai-hotels/
Whitney Liao replied on 2013-01-13
April Offer $25 Coupon
Send your inquiry before Apr. 30, 2014, and we will email you a $25 coupon.
The coupon is valid till Dec. 31, 2014, for paying tour packages worth $250 or up.
The coupon cannot be used for paying flight tickets, train tickets, hotel rooms and day trips.
Travel Advice or Question? Ask us here

China Highlights
Shanghai Travel Guide