Itinerary
Day 1
Arrival in Chongqing
Your will spot your private guide as you walking out the arrival hall. Your personal professional driver will direct drive you to your hotel. They will help you check in.
You will visit Ciqikou Ancient Town, a partly restored ancient town but remaining an authentic and busy community with well-preserved ancient dwellings, teahouses, and stalls selling interesting crafts and snacks.
Day 2
The Chongqing Zoo, Three Gorges Museum, and Eling Park Tour and Chongqing Departure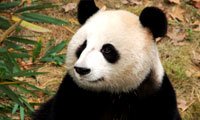 Today you will visit three highlights in Chongqing City.
The Eling Park is a graceful park for local people playing mahjong, doing exercise, playing music, and enjoying their leisure time. There you will appreciate the nice views over the Jialing River and the city and discover the interesting ancient buildings, including the former Australian Embassy building.
Besides seeing giant pandas and other pandas in the Giant Panda Room of Chongqing Zoo, you will also see some other rare animals, including golden hair monkeys and South China tigers.
The Three Gorges Museum will tell you the history of the Yangtze River, and the Three Gorges Dam with its rich exhibits. It also houses over 100,000 historical relics with hundreds of years' history, including stone implements in the stone age, paintings of the Han Dynasty (B.C. 202 — D.C. 220), porcelains of the Song Dynasty (960 — 1279), and some other famous Chinese painters' authentic works.
Approximately two hours before your boarding time, your private guide and driver will accompany you to the airport and help you deal with your luggage.