This 9-day private tour includes not only the route to Beijing, Xi'an and Shanghai which is called the golden triangle, but also has a smart combination with Pingyao by high-speed train.
In Beijing and Xi'an, immerse yourself into the glory history and stories of imperial family, while in Pingyao, touch the ordinary life of merchant in Ming and Qing Dynasty. It is the best preserved ancient city with people has residing in for generations. This is the China as you imagine: red lantern, elegant courtyard, ancient city wall built by gray bricks.
Beyond the gold triangle tour, you can travel the same destinations in three different styles. Which travel style meets your needs?
Besides Beijing, Xi'an and Shanghai, the tour also includes ancient Pingyao, a place is highly recommended by the Lonely Planet. It is a tour to have an in-depth view of China.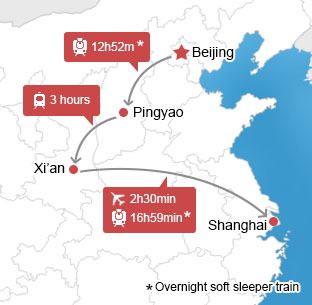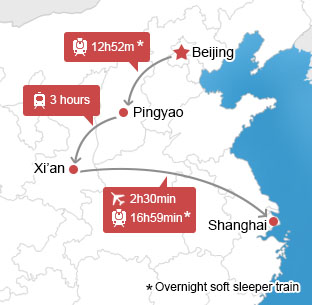 Comfort Trip
Discovery Trip
Essential Trip
Highlights for Comfort Style
Experience our exclusive in-depth Forbidden City trip with our expert guide in history.
Go over a less-crowded area of the Great Wall by combining effort-saving cable car rides and moderate hiking.
Stroll the unique contemporary Chinese galleries of the famous 798 Art District of Beijing.
Experience high-tech HSR and authentic ancient city Pingyao with over 2700 years history.
Gaze amazed, confronted by the Terracotta Warriors.
Savor the modern and traditional cityscapes of Shanghai.
Suggested Itinerary
Hotel:Crowne Plaza Hotel Beijing Chaoyang U-Town (Superior Room)(TripAdvisor Certificate of Excellence 2015)
Private Airport Transfer (Beijing)
Your local tour guide, driver and private car will be waiting for you upon arrival in Beijing. Your guide will assist you with your luggage at the airport and take you to your hotel.
Enjoying a Leisure Recovery
Your afternoon or evening is free for you to recovery and relax. Feel free to ask your guide what there is to do nearby, if you want to take a walk or discover parts of the area on your own.
Day 2
Tasty a Bit of Old Beijing: In-depth View of the Forbidden City with a Local Expert
Hotel:Crowne Plaza Hotel Beijing Chaoyang U-Town (Superior Room)
Breakfast & Lunch
A buffet breakfast & real fresh coffee will kick start your day. The expert escort you 5 hour in the emperors' house and show you some interesting places you would never find by yourself in the Forbidden City and guide you away from the noisy parts and crush of other tour groups. What you can see no longer only empty rooms in the Forbidden City but also pictures of emperors, concubines and eunuchs in the expert's ipad, stories brings it to life.
In the afternoon, the expert accompany you to visit the Tian'anmen Square that is very close to the Forbidden City and have a easy climbing to the Jinshan Hill in Jinshan Park to take a birds' eye view of the golden roofs, see it from a new angle.
Good to know
To ensure good timing, the local expert does the day tour once a day. So on this day, you have a small group tour with maximum of eight people. Interaction with the expert and group members add more fun. According to previous customers' feedback, people who love history and family with kids who are over 7 years old are like the tour.
Did you know …
That the Square can hold up to one million people!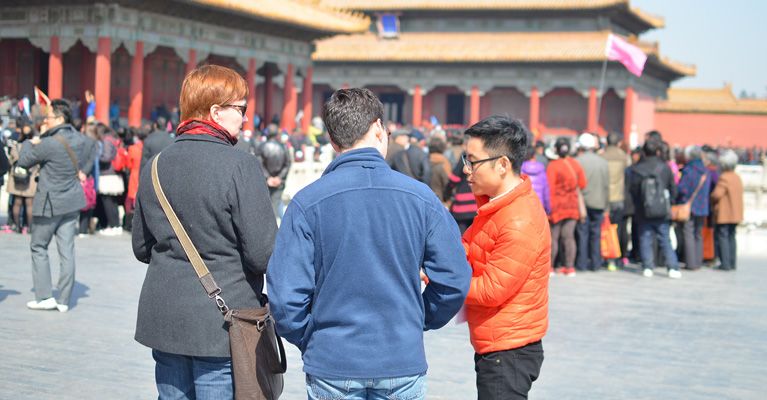 The Forbidden City
Day 3
More Highlights of Beijing
Hotel:Crowne Plaza Hotel Beijing Chaoyang U-Town (Superior Room)
Breakfast & Lunch
An early start and chance to exercise or stroll with locals among the 60,000 ancient trees in the Temple of Heaven's Grounds. Watch locals exercise, practice martial arts, play traditional instruments, and other activities that you may never see in your country.
The Temple of Heaven provided a place for emperors to pray to 'the most high God in heaven' for a good harvest. The Round Altar, Echo Wall and Imperial Vault of Heaven are the rated as key sights; we will cover these and more.
In the afternoon, we avoid crowd and move to Mutianyu, this less-crowded section of the Great Wall is about 2.5 hours' drive from downtown Beijing. A cable-car takes you to a good section (avoiding a very steep climb), where you can walk along the wall, through the watch towers and enjoy superb views as it snakes across the hills and mountains. You can return by cable car, walk down or walk along the wall for about an hour to descend by chairlift or toboggan. Wear good walking shoes and protection from the weather.
Good to Know:
If hiking is your thing, or three hours of hiking is your choice, you are also able to enjoy a hiking from Jinshanling to Simatai west, just tell your travel advisor which one you prefer.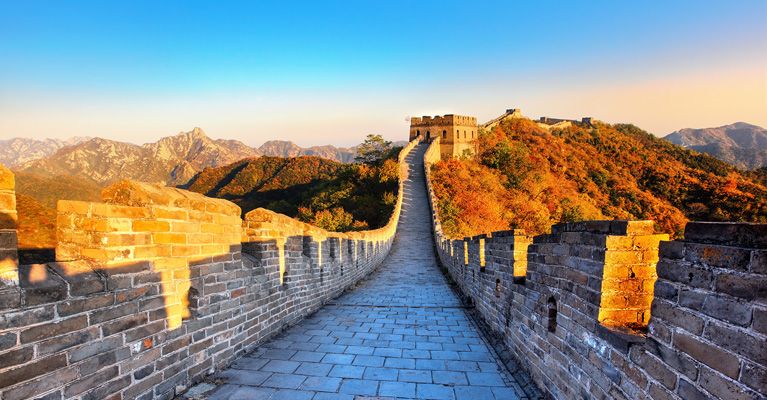 Mutianyu Section of the Great Wall
Day 4
Explore a Traditional and Modern China
Hotel:Crowne Plaza Hotel Beijing Chaoyang U-Town (Superior Room)
Breakfast & Lunch
Continue exploring highlights of Beijing. The Summer Palace is an enormous park with pavilions, vividly painted corridors, temples, among lakes and surrounded by hills. It was originally the imperial courts summer retreat, and still makes a nice place to escape the heat of the summer. Climb the hill or take a scroll in the gardens, this is a charming place to explore before taking a dragon styled boat tour on Kunming lake.
In the afternoon, take a look at traditional hutongs where present local culture. It is an opportunity to look into ordinary people's life. We will stop at a private Chinese baijiu museum that is hidden in hutong. Thousands of bottles strong liquid tell you story in different decades of China.
Let's change into the modern part, Mingle with Artists at 798 Art District. You will be addicted to a variety of Chinese galleries set in some abandoned factories at the 798 Art District, which is the largest and most popular place for Chinese artists.
Good to know
If you like Chinese Kung Fu, ask your guide to book night show tickets. The show tells a story about how a boy monk grows up to a Kung Fu master.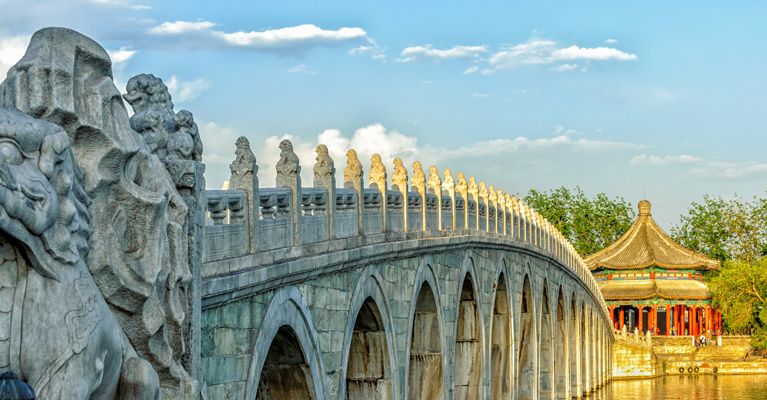 The Summer Palace
Hotel: Yunjincheng Folk Hotel (Rank No.2 of Hotels in Pingyao on Tripadvisor)
Breakfast & Lunch
HSR to Pingyao and Exploring History in Pingyao Ancient Town
Today you get opportunity to experience smooth China's high-speed railway. Depart from Beijing at 07:58 and arrival in Pingyao at 12:09. Your guide, driver and private car will take you to the local restaurant and taste local food and take a short break before visiting the ancient town.
As a tiny ancient city with a history of nearly 3,000 years, Pingyao is one of the four best-preserved ancient cities. Walk along the Ancient City Wall, built with rammed earth inside and brick and stone outside, the ancient city walls measure 10 meters high and 6162.7 meters long with 3-5 meters wide tops, and afterwards head to Mingqing Street. One of the earliest banks in China, The Rishengchang Draft Bank established in 1823 will give you some ideas about its development.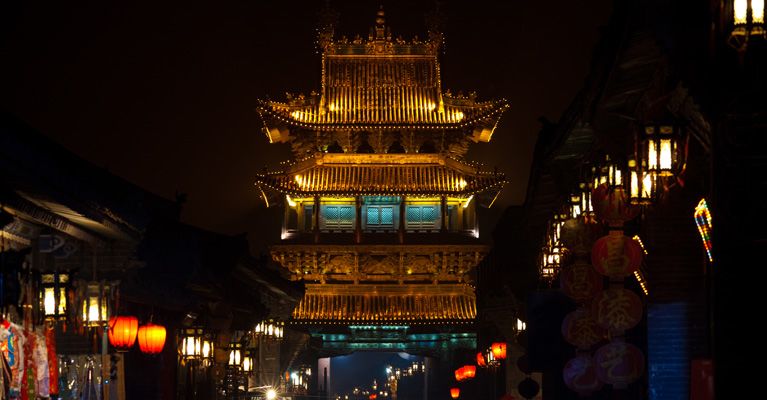 Pingyao Ancient Town
Day 6
Pingyao to Xi'an by HSR
Hotel: Wyndham Grand Xian South (Superior Room) (TripAdvisor Certificate of Excellence 2015)
Breakfast & Lunch
Visiting Wang Family Compound
Take your time to enjoy your breakfast, while your guide and driver will wait for you in the lobby. Today, you will see a representative of North China folk house in the Qing Dynasty-Wang Family Compound that is considered has much less tourists. The architecture has a magnificent scale with five alleys, five forts, and five ancestral temples. Besides, the courtyard layout of the five ancient forts were respectively compared to designs of five lucky animals of "dragon, phoenix, tortoise, kylin and tiger".
Your guide and driver escort you to the station to take the HSR to Xi'an in the late afternoon and arrive at Xi'an at about 7:30 pm.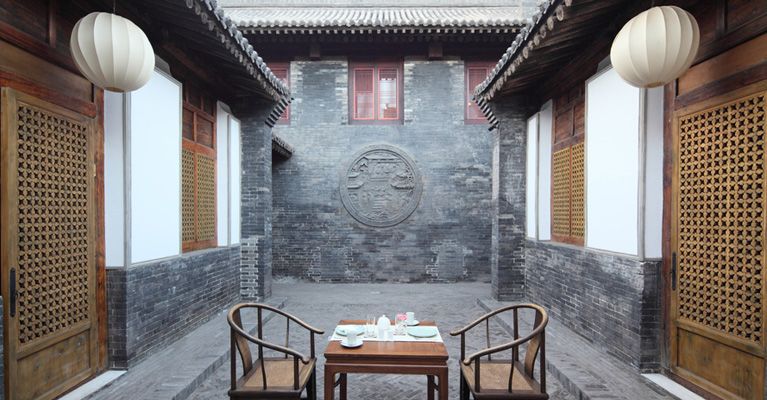 Wang Family Courtyard
Day 7
Visit Terracotta Warriors
Hotel: Wyndham Grand Xian South (Superior Room)
Breakfast & Lunch
Visit Xi'an's Treasure – the Terracotta Warriors
The Terracotta Warriors is definitely a unique highlight of Xi'an. This incredible army of more than 7000 soldiers, archers, horses and chariots are unique and buried underground for more than 2000 years. Learn more about this imperial army and the once ancient capital of China.
Have lunch at A Wa Shan Zhan Restaurant after your visit to the Terracotta Warriors.
View the City of Xi'an from the Big Goose Pagoda
Visit the Big Wild Goose Pagoda, built from bricks without cement. Climb up to the top of the pagoda for a bird's eye view of the city center. A great place to get a photo shot of the city.
Biking on the Ancient City Wall is one of highlights. Slow down your pace and enjoy the overview of the whole city.
Good to know
It is pleasant to have a stroll at the Muslin Quarter and the Bell Tower area at night or enjoy a Tang dynasty dancing and singing show.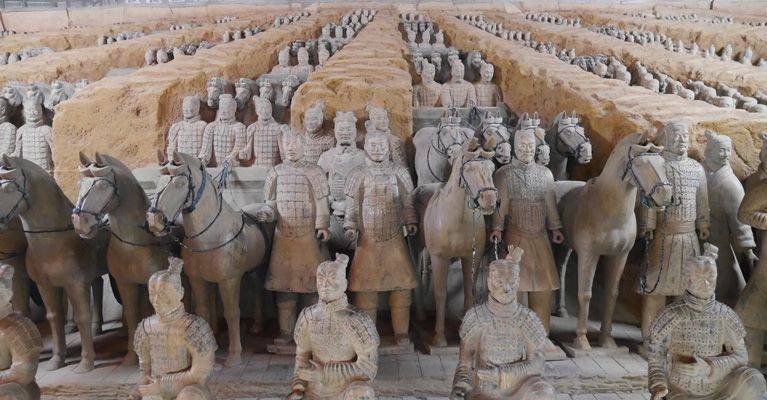 The Terracotta Army
Day 8
See a Traditional and Modern Shanghai
Hotel: Radisson Blu Hotel Shanghai New World (Superior Room) (TripAdvisor Certificate of Excellence 2015)
Breakfast & Lunch
Xi'an to Shanghai Transfer
Your flight departs Xi'an and arrives in Shanghai in the morning. A comfortable private car will take you to the airport at right time to avoid traffic jam.
See Shanghai's Classics – A blend of East and West
Shanghai's landmark - the Oriental Pearl TV Tower offers wonderful views of the Bund. It has a revolving teahouse, if you want to sit back and enjoy local tea culture. Explore old Shanghai among Shikumen - traditional classical local houses and visit a typical Jiangnan style garden - Yuyuan Garden built in 1559 during the Ming Dynasty. Taste some local Shanghainese food at Home's Restaurant.
Did you know …
Shanghai is the largest city in China by population, with around 24 million!
Good to know
Highly recommend Huangpu Evening Cruise or Era Acrobatics show.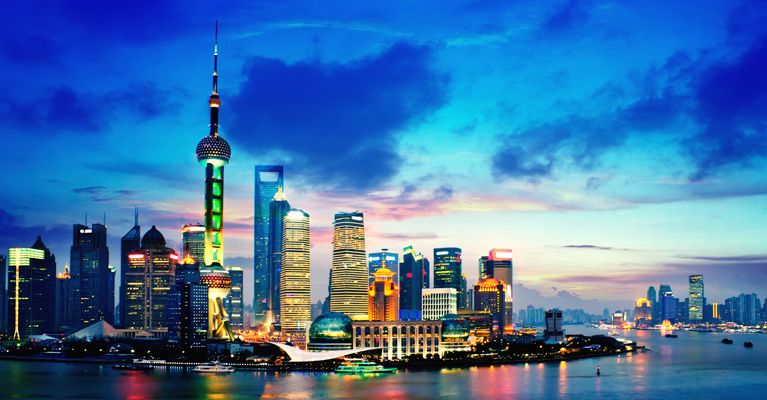 The Oriental Pearl TV Tower
Day 9
Departure from Shanghai
Breakfast
You have some free time to enjoy on your own before you leave this metropolis city. Your guide, a private car and driver will take you to the airport in good time for you to get on your flight home.
What's Included
Entrance to attractions listed in the itinerary
Meals mentioned in the itinerary
Private transfers between the airport or railway station, attractions, ports, and hotels
Private local English-speaking tour guide and driver service (except tips based on your willingness)
Hotel accommodation with breakfast and service fee
Specified flights, trains, and Cruise
Trip Notes
Extension based on the tour
Extend the tour:
Yangtze River Cruise: add 4–5 days (Chongqing to Yichang or vice versa)
Chengdu: usually add 2–4 days —visit a Panda research center, the Giant Buddha, Mt. Emei, Panda Keeper Program and Jiuzhaigou natural scenery. Choose your favorite.
Guilin: add 3-4 days —enjoy the Li River cruise, Longsheng terrace field, relax at Yangshuo
Suzhou and Hangzhou: add 2–3 days — visit scenic gardens, West Lake, and water towns
Hong Kong: add 2–3 days — visit Victoria Peak, Disneyland, and day tour Macau
Beijing, Shanghai, Guangzhou, and Hong Kong are China's major entry cities.
Optional Activities
It must be clearly understood that enjoying these extras is your own decision. They are not included in the itinerary or tour price, so you will need to pay separately. The ticket price depends on seating. Ask your guide to book tickets if you want to see any of the following.
Beijing — Legend of Kungfu Show
Xi'an — Tang Dynasty Cultural Show plus Dumpling Banquet
Pingyao —Synopsis of the Dance Drama Wild Jujubes
Shanghai — Chinese Acrobats Show
What's the difference between 3, 4, and 5 -star hotels?
We usually arrange centrally-located and Western-standard hotels. Five-star hotels are usually palatial with huge lobbies and comfortable rooms, their standards not quite matching the best of Paris or New York, but very close. Four-star hotels have quality facilities, but not as luxurious as five-star hotels. Three-star hotels meet the needs of most Westerners, but breakfasts have less choice.
We also recommend some courtyard hotels or Chinese-style hotels with local features and architecture. These hotels have a good ranking, or positive feedback from our customers, and TripAdvisor.
Usually hotels in big cities, small cities, and rural areas are a bit different, even if they have the same star level. We try to use the best available hotel in each place.
What are train conditions like in China?
A soft sleeper is recommended for overnight and long-distance travel. Each soft sleeper compartment is enclosed, and contains four bunks, two on each side. The bunks are wider and more comfortable than hard sleepers, with decent bedding. Soft sleeper compartments may vary between trains. You may have both over-head storage and under-bed storage, or just under-bed storage.
For short distance train travel, G and D high-speed trains are recommended. G trains are the fastest trains in China, with a speed of 250 km/h to 400 km/h, and their prices are highest.
Currency Exchange
As currency exchange rates in China fluctuate, we suggest you refer to the following website for daily exchange rates: www.xe.com. In 2017 the USD has been around 6.8 yuan (CNY or RMB), and the USD has been more stable around 7.75 HKD (Hong Kong Dollars). There are many ATM machines that accept both Visa and Master card, but these are mostly in cities or large towns. We also recommend bringing/exchanging Chinese currency cash. Major credit cards are accepted in most shops, but they may charge a 2–4% transaction fee.
Tipping
It is customary to tip service providers in the travel industry in Asia, depending on the service. Tipping is expected — though not compulsory — and shows an expression of satisfaction with the people who have assisted you on your tour. Recommendations for tipping drivers (3 USD per person per day as a guideline) and local guides (8 USD per person per day as a guideline) would depend on the quality and length of the service.
Food
Eating is an important part of your China experience. Generally breakfasts are included in the itinerary and offered by hotels. China Highlights recommend local Chinese restaurants that are popular with local people for lunch. You can order dishes with the help of your guide. We usually leave dinner for your own choice — Western food can be found in most large cities.
If you are vegetarian or you are looking for e.g. halal food, please feel free to inform your travel advisor, who can arrange a restaurant to fit your needs.
Vehicle
We use comfortable sedans or vans with air-conditioning. The comfort and safety of our customers is of utmost importance, so we ensure that all of the vehicles that we use are well maintained and always very clean. Our drivers take pride in their vehicles.
Useful Information for Traveling in China
International Flight Recommendation
Hainan Airlines, one of China Highlights strategic cooperators, offers the best-value international flights packages to our customers. Please inquire and get best price.
Why choose Hainan Airlines:
Authorized Reputation: Only carrier in China to be awarded the SKYTRAX Five-Star Airline for 6th consecutive year
Excellent Reviews: Rated 8/10 on Skytrax. (Air China: 5/10, American Airlines: 3/10, Air Canada: 5/10)
Environment Friendly: First China civil airline to receive 3rd-party certification from the Management System for Energy. Reduced 790,000 tons carbon dioxide emission in 2015, equivalent to the amount absorbed by 20 square kilometers of forest a year.
Flight Schedule for Reference (Visit here for more details about international flight booking):
Area
Departure City ⇆ Arrival City
Days
Tour Suggestion
North America
Boston (BOS)⇆Beijing (PEK)
1234567
Perfect to fit the schedule of
Top 10 Tours
(Arriving in Beijing, Departing from Shanghai)
Boston (BOS)⇆Shanghai (PVG)
246
Seattle (SEA) ⇆Beijing (PEK)
12467
Seattle (SEA)⇆Shanghai (PVG)
357
Toronto (YYZ)⇆ Beijing (PEK)
124567
Start and end the tour in Beijing?
No problem. We can arrange flight or high-speed rail to connect Shanghai and Beijing
Chicago (CHI)⇆ Beijing (PEK)
2467
Europe
Berlin (BER) ⇆ Beijing (PEK)
1357
Manchester (Man) ⇆ Beijing (PEK)
1356
Tel Aviv (TLV)⇆ Beijing (PEK)
247
Asia-Pacific
Sydney (SYD)⇆Xian (XIY)
36
Xian and Changsha (close to Zhangjiajie), new rising portal cities of China.
Sydney (SYD)⇆ Changsha (CSX)
15