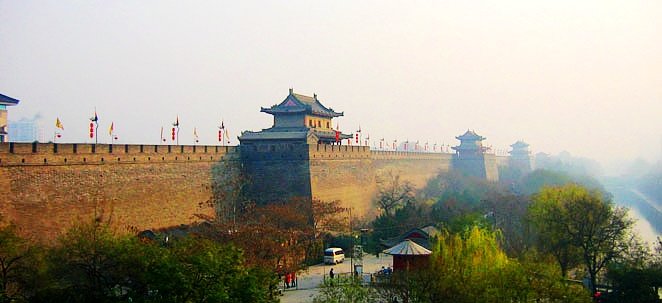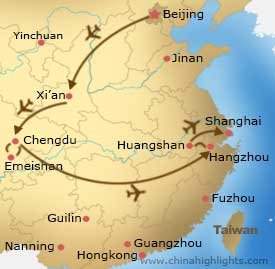 Itinerary
Your friendly guide will be waiting for you at the airport, ready to take you to the hotel.
Stay connected: A Free SIM Card Wi-Fi Rental
Day 2:
Beijing: Forbidden City, Temple of Heaven, Tiananmen Square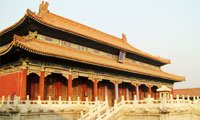 The most iconic sights of Beijing, Tiananmen Square and the Forbidden City, were both created to impress, and they do not fail to do so. The beautiful golden roofs and red pillars, transported thousands of miles for this very purpose, whisper of an empire so mighty that it could produce this kind of magnificent architecture.
The Temple of Heaven continues the same stunning design, but it was built to impress the heavens. Annual sacrifices for good harvest were performed here; a ceremony so delicate that no ordinary citizen was allowed even to see the procession.
Meals:Lunch
Day 3:
Beijing: Hutong Tour, Mutianyu Great Wall, Roast Duck Dinner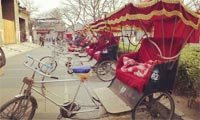 Beijing Hutongs are a traditional way of living as much as a style of building. The old areas are fast disappearing, but your guide will take you to meet a local family who has lived here for generations and for a rickshaw ride through the alleyways. It's a chance to learn about history, see life there today and capture some photos of these charming lanes.
After lunch you will drive in a private car to the Great Wall at Mutiany with stunning views and a cable car to the top. This section is much less crowded owing to the fact that was never visited by Chairman Mao, so domestic tourists are few.
No visit to Beijing would be complete without that famous roasted duck, and at Fangzhuang they have a special technique which has made them renowned.
Meals:Lunch, Dinner
Day 4:
Flight to Xi'an, Terracotta Army
In the morning your Beijing guide will take you to the airport for the short flight to Xi'an, where you will be met and taken to admire one of the greatest discoveries of the human history: the Terracotta Warriors and Horses. It is not only the sheer quantity that astounds, but the level of detail in each figure.
Meals:Lunch
Day 5:
Xi'an: Huashan Mountain
It takes a while to drive to Huashan Mountain, known for the amazing views and just as much the hanging plank walkways, at points clinging to the cliff-side seemingly with a few bolts. There is a cable car up, which is the route we have chosen for you. However, if you would like to 'walk the plank' just let your travel advisor now.
Meals:Lunch
Day 6:
Xi'an: Shaanxi History Museum, Xian City Wall with Bicycle, Big Wild Goose Pagoda, Flight to Chengdu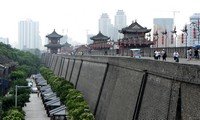 The Shaanxi History Museum is another window to the history of this ancient cradle of civilization; the artifacts are well presented and often have English explanations. Your guide will make sure you don't miss any of the interesting information.
Xi'an City Wall is amazing, more a road on top of a rampart than a wall. A bicycle ride along the city wall makes light work of seeing the whole ancient part of the city, before heading to see the Big Wild Goose Pagoda, a landmark of Xi'an and a major Buddhist site.
In the afternoon you will be taken to board the flight to Chengdu.
Meals:Lunch
Day 7:
Chengdu: Pandas, Wu Hou Temple, Jinli Old Street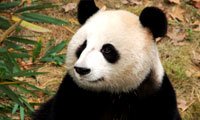 The Panda Breeding and Research Center is home to other endangered species too, but a visit to the panda nursery is the highlight for many visitors. If you are interested in holding a baby panda, ask your travel advisor about the donation program and how to make a booking.

Wu Hou Temple is dedicated to the Marquis of Wu immortalized in a classic "The Romance of the Three Kingdoms". The surrounding gardens and the beautifully decorated halls are delightful. Jinli Old Street has been fully restored in Qing Dynasty style, and has a variety of interesting shops; even a Starbucks. This is an ideal place to explore, relax and take photos.
Meals:Lunch
Day 8:
Drive to Emeishan, Baoguo Monastery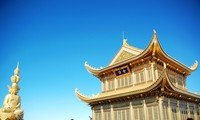 In the morning your driver and guide will take you to one of the most breathtaking mountains in China, Mount Emei, for a one-night stay. A cable car takes you up to admire the famous "sea of clouds" phenomenon. Baoguo Monastery at the foot of the mountain is from the 16th century and very popular among Buddhist pilgrims coming to this sacred site.
Meals:Lunch
Day 9:
Drive to Leshan, Leshan Giant Buddha, River Cruise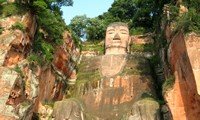 Leshan Giant Buddha was carved to a cliff by three river's meeting point, and is best appreciated from a short boat cruise on the river.
In the afternoon you will continue back to Chengdu.
Meals:Lunch
Day 10:
Flight to Hangzhou, Lingyin Temple, Six Harmonies Pagoda
After a morning flight to Hangzhou, according to an ancient saying "heaven on earth", your guide will accompany you to Lingyin Temple and nearby Feilai Feng (Flying Peak) Buddhist grotto. Six Harmonies Pagoda, or Liuhe Pagoda, is a fine example of thousand year old wood and brick structures.
Meals:Lunch
Day 11:
Hangzhou: West Lake, Express Bus to Huangshan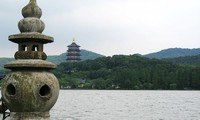 The West Lake has inspired poets and painters throughout centuries with its beauty; there are ten famous viewpoints where it is at its best. One of them is the Three Pools Mirroring the Moon, on the Fairy Island in the middle of the lake. Our guides know the best spots to take photos, just let them know in advance if you're a keen shutter bug.
In the afternoon your guide will take you to board the express bus, which takes you to Huanghsan.
Meals:Lunch
Day 12:
Huangshan: Yellow Mountains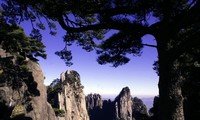 Huangshan has inspired numerous art forms with its breathtaking views and the "cloud sea" that more than half the year makes it an island amid mysterious mist; a whole school of painting style has been name after it. A cable car takes you up through magnificent scenery. Some of the stone steps here are said to be 1,500 years old.
Good to Know:
Movie Avatar's famous floating mountains were inspired by the cragged peaks of Huangshan.
Meals:Lunch
Day 13:
Huangshan: Hongcun Village, Tunxi Ancient Street (Fly to Shanghai)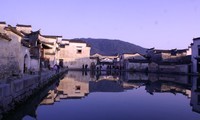 Hongcun Village is said to be most like the image visitors have in their minds when they think of old ancient Chinese villages. Tunxi Ancient Street is great for strolling and looking at the handicrafts, and Moon Lake with its reflection of the surrounding old dwellings is especially enchanting.
In the afternoon you will be taken to the airport for you flight to Shanghai.

Good to Know:
The village was a film set for scenes in the famous film "Crouching Tiger and Hidden Dragon".

Meals:Lunch
Day 14:
Shanghai: Shanghai Museum, Yuyuan Garden, Oriental Pearl TV Tower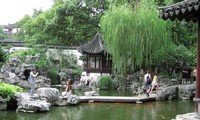 Shanghai Museum is one of the best in the country; especially the exhibits of ethnic minorities' handicrafts and metalworking skills are stunning and beautifully presented. Yuyuan Garden in the old quarter is a classic example of Ming Dynasty architecture as well as a verdant garden. The Yuyuan Market nearby is a stark contrast with its bustling streets of vendors.
Oriental Pearl TV Tower ends the day with its fabulous views of the cityscape from the 360 degree glass viewing platform. The Shanghai History Museum on the first floor tells the story of this magnificent city; if you would like to visit it, just tell your travel advisor.

Good to Know:
Oriental Pearl TV Tower has a revolving restaurant on the top; if you are interested in booking a table for dinner, ask your travel advisor.

Meals:Lunch
If your flight leaves a little later and you would like to fit in some shopping in this "Paris of the Orient", tell your guide and we can organize your transport to the airport for a suitable time.
Just let us know your travel style!
Guide vs. Free-time ratio / Hotel Style & Interests / Dates / People
We will then adapt this tour and create a unique quote based on your individual needs.

Free Quote