Pandora is far, but Zhangjiajie is near. Movie Avatar makes the floating Hallelujah Mountain famous, so Zhangjiajie becomes popular among westerners in recent years. A book named River Town published in 2012, written by American writer Peter Hessler records life changes in a town on the Yangtze River, which reflects China's development in the passed 20 years.
This 15 days private tour brings these two places close to you and shows you the essence of China in Beijing, Xi'an and Shanghai, Enjoy the beauty of China with stunning natural views.
You can travel the same destinations in three different styles. Which travel style meet your needs?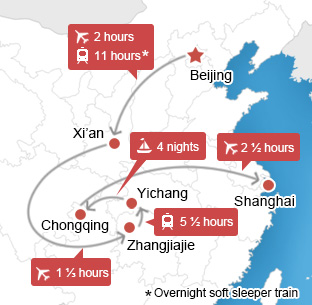 Comfort Trip
Discovery Trip
Essential Trip
Highlights for Comfort Style
Be amazed at the Great Wall of China, a UNESCO World Heritage Site that is viewable from outer space
Experience over 8,000 majestic and well-preserved sculptures of the Terracotta Army
Soak up the beauty of pillar-like formations and mysterious Avatar's Hallelujah Mountains
Feel your heart almost jump up at Suspended Glass Walkway —a mile high!
Observe the three gorges and the big dam from the relaxing Yangtze River Cruise
Full Itinerary
Covers all highlights of China and some natural scenery, this comfort style tour choose the most efficient transportation and 5-star accommodation to ensure you a stress-free tour in 15 days.
Hotel: Crowne Plaza Hotel Beijing Chaoyang U-Town (Superior Room)
Whenever your flight lands your tour guide will be waiting for you at the arrival hall of the airport, greeting you with a smile and name plate. Transfer to your hotel by private van and driver.
Day 2
Beijing: Tian'anmen Square, the Forbidden City and the Hutongs
Hotel: Crowne Plaza Hotel Beijing Chaoyang U-Town (Superior Room)
Meals Provided: Breakfast & Lunch
You will visit iconic sights of the city: Tian'anmen Square and the Forbidden City.
Tian'anmen Square at the heart of Beijing is the largest city square in the world, the witness of many major historical events. Walking northward from the square you will enter the Forbidden City, the imperial palace where treasures are hidden and history happened.
Have lunch at a popular local restaurant, where your guide will help you order dishes to ensure an authentic Chinese flavor.
In the afternoon hop on a rickshaw to explore the charming hutongs ('lanes') — traditional Beijing neighborhood areas.

The Forbidden City
Day 3
The Great Wall and Temple of Heaven
Hotel: Crowne Plaza Hotel Beijing Chaoyang U-Town (Superior Room)
Meals Provided: Breakfast & Lunch
This less-crowded Mutianyu section of the Great Wall offers superb views, as it snakes across mountains. After driving for about 2½ hours from Beijing city center, you will take a shuttle bus to the foot of the mountains. Cable cars are available to take you to a good section (avoiding climbing on steep steps), where you can walk along the wall and enjoy the view. You can descend by cable car, or walk along the wall for about an hour to descend by chairlift.
After lunch at a nearby restaurant, drive back to the city and visit the Temple of Heaven, where ancient emperors held grand ceremonies to pray for good harvests. You will see local people enjoying leisure time inside the park, singing, dancing, and playing chess or musical instruments.

The Mutianyu Section of the Great Wall
Day 4
The Summer Palace; Flight to Xi'an
Hotel: Wyndham Grand Xian South (Superior Room) (TripAdvisor Certificate of Excellence 2015)
Meals Provided: Breakfast & Lunch
In the morning walk through the Summer Palace, an enormous park with pavilions, vividly-painted corridors, temples, and lakes surrounded by hills.
After lunch, transfer to the airport for your flight to Xi'an. Upon arrival in Xi'an, meet your guide at the arrival hall and go to your hotel by private van and driver.
Day 5
The Terracotta Warriors; Evening Flight to Zhangjiajie
Hotel: Pullman Zhangjiajie (Superior Room) (Rank No. 1 in Zhangjiajie on TripAdvisor)
Meals Provided: Breakfast & Lunch
Drive about one hour to the outskirts of Xi'an and admire the formidable underground army of Terracotta Warriors, which has been guarding 'First Emperor' Qin for over 2,000 years. Back in the city, walk on the ancient city wall, which divides the city into its inner and outer parts. Riding a bike on the massive wall is recommended.
Dinner is according to your own arrangement. Feel free to ask your tour guide for some insider recommendations. Transfer to the airport for your evening flight to Zhangjiajie. Upon arrival, meet your guide at the arrival hall for your transfer to a Zhangjiajie city hotel.
Good to Know:
To avoid waiting in long queues, your Zhangjiajie guide might suggest you get up early or alter your attraction schedule. Please kindly understand and cooperate.

The Terracotta Army
Day 6
Zhangjiajie National Park: Tianzi Mountain and Yuanjiajie
Hotel: Pullman Zhangjiajie (Superior Room)
Meals Provided: Breakfast & Lunch
Breakfast at a 4-star hotel at Zhangjiajie is very basic, so our guide will prepare bread, coffee, and fruit for you.
Tianzi Mountain and Yuanjiajie are the most classic and popular sights of Zhangjiajie.
Take the cable car up Tianzi Mountain, and see through the glass below large areas of grotesque sandstone peaks thrusting up from the ground.
Have a simple lunch on the mountain.
If you prefer, we can arrange to have lunch at a McDonald's on the mountain, and have a break in the air-conditioned building.
The namesake and inspiration of Avatar's Hallelujah Mountain is located in Yuanjiajie Scenic Area, which you will visit in the afternoon after taking a shuttle bus from Tianzi Mountain.
Alternative: For getting back to the foot of the mountain, besides taking the cable car, there is also an option of taking Bailong Elevator, a glass elevator built on the side of a cliff, taking only 2 minutes. If you are interested, tell your tour guide in advance so that he/she can arrange to avoid long queues, which might take you 2 hours.

Zhangjiajie National Park
Day 7
Yangjiajie in Zhangjiajie's National Park
Hotel: Pullman Zhangjiajie (Superior Room)
Meals Provided: Breakfast & Lunch
Yangjiajie Scenic Area is a relatively recently developed area in Zhangjiajie National Forest Park. With less people and pristine natural beauty, it takes a bit of an adventure to climb up and down the steep and sometimes narrow steps for the superb view. You will need to climb for about one hour, besides taking a cable car, to get up and down.
After visiting the National Park, let's head to Baofeng Lake to enjoy crystal clear water.
Alternative: If you do not want to walk so much, we recommend Gold Whip Stream for a pleasant stroll along the stream, surrounded by grotesque rocks. You might see some monkeys there. Please don't touch or scare them for safety reasons, but giving them food is ok.

Yangjiajie of the National Park
Day 8
Tianmen Mountain and Yellow Dragon Cave
Hotel:Zhangjiajie Sunshine Hotel (Superior Room)
Meals Provided: Breakfast & Lunch
Tianmen literally means 'Heaven's Gate', and Tianmen Mountain does match its name. With an altitude of 1,518 meters (4,980 feet), its scenery is often locked in mist in the morning. Besides its beautiful scenery, it will make your heart beat fast as you walk across its glass walkway, suspended 1,430 meters up; ride the world's longest cable car from city to mountain top; and take a vehicle down the curvy mountain road of '99 Bends'.
Tianmen Cave, a 30-meter-high, doorway-like hole in the mountain, can be reached by climbing 999 steps, if you'd like the challenge.
You will get back to the foot of the mountain at around 2 pm in the afternoon. After a late lunch enjoying local specialty mushroom hotpot.
Then we move to Yellow Dragon Cave stretches a total length of 7.5 kilometers with four layers. It's home to an impressive collections of stalactites and stalagmites, illuminated in a variety of colored lights.
Good to Know: Show Opportunity: Tianmen Foxy Fairy is an outdoor musical telling an old Chinese love story, with Tianmen Mountain and its deep valleys as the backdrop. It has received good reviews on TripAdvisor. The show is on every night. If you are interested, please ask your guide to book tickets for you, at extra cost.

The Tianmen Mountian
Day 9
Zhangjiajie to Yichang by Train; Board Your Yangtze River Cruise
Hotel: Century Ledgend (Deluxe Cabin)
Meals Provided: Breakfast
Transfer to the train station for your Yichang-bound train (K1474, departing at 09:15 and arriving at 14:18). To ensure the most comfort for your China train experience, we book soft-sleeper carriages, where 4 people share a cabin.
Upon arrival at Yichang Train Station, meet your local guide for your port transfer, and board your Yangtze River Cruise, which embarks at 21:00.
Day 10
Yangtze River Cruise
Hotel: Century Ledgend (Deluxe Cabin)
Meals Provided: Breakfast, Lunch and Dinner
Tai chi exercise led by a teacher is offered in the early morning every day.
Sail through the first gorge — Xiling Gorge, and pass through the five-step ship lock and have a shore excursion to the world-famous Three Gorges Dam site. In the evening, a welcoming banquet is held, hosted by the captain. There's no dress code for the Yangtze River cruise; wearing comfortable clothing for traveling is completely fine.

Xiling Gorge
Day 11
Yangtze River Cruise
Hotel: Century Ledgend (Deluxe Cabin)
Meals Provided: Breakfast, Lunch and Dinner
Take a shore excursion to visit Shennong Stream in small wooden boats, and see the mountain and water scenery more intimately. The cruise proceeds through Wu Gorge and Qutang Gorge.
You have the option of visiting White Emperor City (CNY280 per person extra), the source of inspiration for many ancient Chinese poets. Enjoy some interesting performances presented by the ship crew in the evening.

Shennong Stream
Day 12
Yangtze River Cruise
Hotel: Century Ledgend (Deluxe Cabin)
Meals Provided: Breakfast, Lunch and Dinner
You will have a shore excursion to Shibaozhai, a craggy hill by the Yangtze with a red pavilion and a walkway to the temple at the top of the hill. The Captain's Farewell Banquet is held in the evening.

Shibaozhai
Day 13
Arrive in Chongqing; Flight to Shanghai
Hotel: Radisson Blu Hotel Shanghai New World (Superior Room) (TripAdvisor Certificate of Excellence 2015)
Meals Provided: Breakfast
The cruise will dock at Chongqing port at around 9 am. Your local tour guide will pick you up from the port for your airport transfer and flight to Shanghai. Upon landing in Shanghai, your Shanghai tour guide will meet you at the arrival hall for your hotel transfer and a good rest.
Day 14
Shanghai City Highlights
Hotel: Radisson Blu Hotel Shanghai New World (Superior Room)
Meals Provided: Breakfast & Lunch
Shanghai's charm of mixed cultures will be unveiled during your visit to the essential highlights of the city — the classical landscape garden of Yu Yuan; the Oriental Pearl TV Tower with a history museum on the lower floor; and the Bund, where architecture of various Western styles are gathered.
Lunch is at a famous Old Shanghai Restaurant, where authentic Shanghai flavor is served in an old-fashioned dining environment.

The Bund
Day 15
Shanghai Departure
Meals Provided: Breakfast
Your tour guide, driver, and van will pick you up from your hotel for you to the airport transfer and flight. The guide will accompany and assist you as far as the security check, and then wave goodbye.
What's Included
Entrance to attractions listed in the itinerary
Meals mentioned in the itinerary
Private transfers between the airport or railway station, attractions, ports, and hotels
Private local English-speaking tour guide and driver service (except tips based on your willingness)
Hotel accommodation with breakfast and service fee
Specified flights, trains, and Cruise
Trip Notes
Extension based on the tour
Extend the tour:
Guilin: add 3-4 days — Li River Cruise, Yangshuo countryside, Longji Terrace Field
Chengdu: add 2–3 days — visit a Panda Research Center, the Giant Buddha, and Mt. Emei
Suzhou and Hangzhou: add 2–4 days — visit scenic gardens, West Lake, and water towns
Hong Kong: add 2–3 days — visit Victoria Peak, Disneyland, and day-tour Macau
Zhangjiajie Glass Bridge
The Zhangjiajie Grand Canyon Glass Bridge is reopened on September 28th, 2016! The other attractions in the Grand Canyon Area are still closed, so people can only visit the glass bridge at presen. If you are interested in the bridge, feel free to ask your travel advisor to add it.
About Accommodation in Zhangjiajie
Star-rated hotels in Zhangjiajie might not be up to the standard of those in big cities like Beijing and Shanghai. The hotels we use in the tour are carefully selected based on criteria like hotel environment, location, service, and previous customer feedback.
There are some hostels in the national park, with very basic facilities. If you would like to stay in a local guesthouse, we can arrange it. In this way you can save time on transportation, avoid tourist groups, and also cut the cost.
About Food in Zhangjiajie
Restaurant and cuisine choices are very limited in the national park. We will find the best available, but it is also suggested that you bring some snacks. Local villagers sell water and food like fruits and corn on the mountains, which are good to try while you climb the steps.
Breakfast at a 4-star hotel at Zhangjiajie is very basic, so our guide will prepare bread, coffee, and fruit for you.
What's the difference between 3, 4, and 5 -star hotels?
We usually arrange centrally-located and Western-standard hotels. Five-star hotels are usually palatial with huge lobbies and comfortable rooms, their standards not quite matching the best of Paris or New York, but very close. Four-star hotels have quality facilities, but not as luxurious as five-star hotels. Three-star hotels meet the needs of most Westerners, but breakfasts have less choice.
We also recommend some courtyard hotels or Chinese-style hotels with local features and architecture. These hotels have a good ranking, or positive feedback from our customers, and TripAdvisor.
Usually hotels in big cities, small cities, and rural areas are a bit different, even if they have the same star level. We try to use the best available hotel in each place.
What are train conditions like in China?
A soft sleeper is recommended for overnight and long-distance travel. Each soft sleeper compartment is enclosed, and contains four bunks, two on each side. The bunks are wider and more comfortable than hard sleepers, with decent bedding. Soft sleeper compartments may vary between trains. You may have both over-head storage and under-bed storage, or just under-bed storage.
For short distance train travel, G and D high-speed trains are recommended. G trains are the fastest trains in China, with a speed of 250 km/h to 400 km/h, and their prices are highest.
Currency Exchange
As currency exchange rates in China fluctuate, we suggest you refer to the following website for daily exchange rates: www.xe.com. In 2015 the yuan (NCY or RMB) has been around 6.2 USD (6.1–6.3 USD), and the HKD (Hong Kong Dollar) has been more stable around 7.75 USD (7.74–7.77 USD). There are many ATM machines that accept both Visa and Master card, but these are limited to cities. We also recommend the use of cash and travelers checks in USD currency. Major credit cards are accepted in most shops, but they may charge a 2–4% transaction fee.
Tipping
It is customary to tip service providers in the travel industry in Asia, depending on the service. Tipping is expected — though not compulsory — and shows an expression of satisfaction with the people who have assisted you on your tour. Recommendations for tipping drivers (3 USD per person per day as a guideline) and local guides (8 USD per person per day as a guideline) would depend on the quality and length of the service.
Food
Eating is an important part of your China experience. Generally breakfasts are included in the itinerary and offered by hotels. China Highlights recommend local Chinese restaurants that are popular with local people for lunch. You can order dishes with the help of your guide. We usually leave dinner for your own choice — Western food can be found in most large cities.
If you are vegetarian or you are looking for e.g. halal food, please feel free to inform your travel advisor, who can arrange a restaurant to fit your needs.
Vehicle
We use comfortable sedans or vans with air-conditioning. The comfort and safety of our customers is of utmost importance, so we ensure that all of the vehicles that we use are well maintained and always very clean. Our drivers take pride in their vehicles.