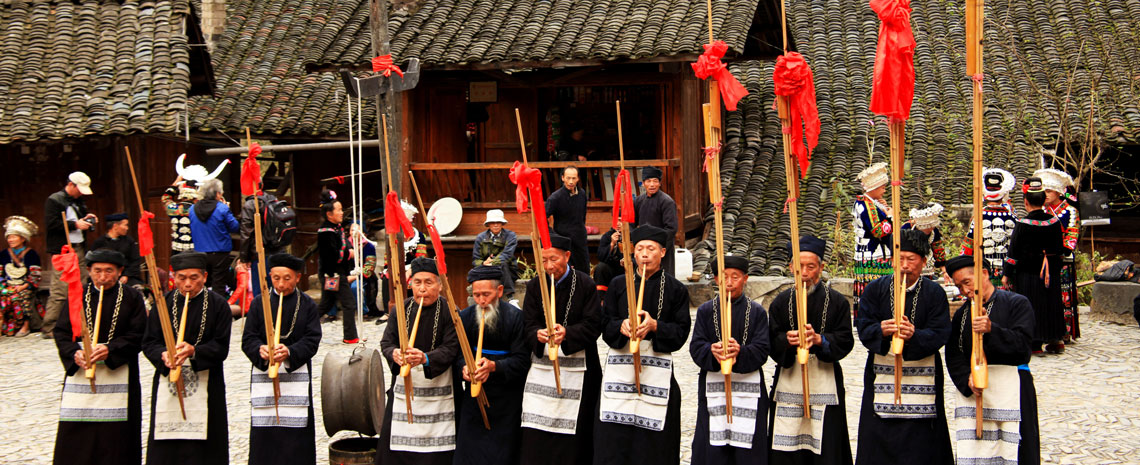 Guizhou Miao Minority & Huangguoshu Waterfall Tour
Guiyang is home to many colorful ethnic minority groups as well as having unique cultural relics and a beautiful natural scenery making Guiyang an ideal place to escape from the concrete jungle. This tour includes many minority villages and the opportunity to experience the different ethnic customs, while also see the breath taking scenery of Huangguoshu Waterfalls.
Highlights
Have a feast of Miao culture in several Miao villages like Datang Short Skirt Miao Village
Get a chance to see a rare and traditional way of making paper from tree
Enjoy Guiyang's typical opera-Ground Opera in Tianlong Tunpu
Stand in front of the magnificent Huangguoshu Waterfall
Explore more Miao people's life and culture in Kali
What's Included
Entrance to the attractions listed in the itinerary
Private English-speaking guide and driver service throughout the tour
Meals mentioned in the itinerary
Private transfers between the airport, attractions, and hotels
Private local English-speaking tour guide and driver service (except for voluntary tips)
Hotel accommodation with breakfast, free Wi-Fi and service fee
Suggested Itinerary
The sweet smiles of your tour guide will relief your stress and fatigue of your long time flight. You will be transferred to the hotel in a private car. And the guide will help you check in.
Day 2
View the magnificent Huangguoshu Waterfall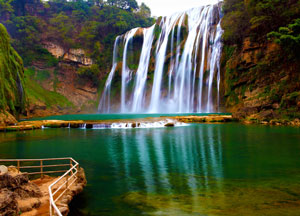 Huangguoshu Waterfall
Guiyang is home to Chinese ethnic groups, where you can find many interesting minority cultures and traditions. Enjoy the typical opera, Ground Opera, in Tianlong Tunpu. You can know some battle stories, like Wars between Chu and Han, the Romance of the Three Kingdoms, the History of the Sui and Tang Dynasties. The actors wear fancy wooden masks carved of wood, and dress in cloth shoes, unadorned robes, with banners on their backs and weapons in their hands. Discover batik art works by learning to make batik, by using a triangle copper tool in a traditional way.
Huangguoshu Waterfall is one of the largest and most magnificent waterfall groups in China, which is located in the southwest of Guiyang. Standing near the waterfall, you can be overwhelmed. Featured the perfect combination of stones, trees and water, Tianxing Bridge Scenic Area is a natural wonder evolving from the growing stone forests in water.
Day 3
Kaili–Have a Feast of Miao Minority Culture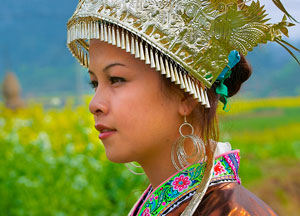 Miao Girl
Visit Shiqiao Miao village to see its traditional way of making paper from the bark of mulberry tree. This method of making paper has a history of more than one thousand years, local people still keep it and extend to make color paper using different plants.
A welcome ceremony is held when guests come to the village. The local villagers dress in their traditional Miao dress and line up on the both sides at the entrance of the village. One of the most important aspects of the ceremony is that you have to finish three cup of rice wine when the toasts are made by the girl in the ceremony. This signifies that a friend from afar is always warmly welcome. Not finishing means that you may be barred from the village.
Day 4
Explore More Miao Cultural Life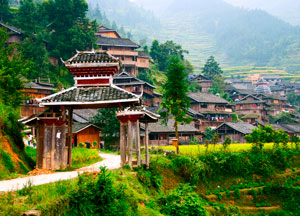 Miao Village
On this day, you will visit the Ethnic Minorities Museum in Kaili which introduces you to the cultures and customs in Guizhou province, and prepares you for further exploration. You will see handicrafts, written documents, displays, paintings, and folk art and learn more about the local ethnic people and life.
Later, you will have a chance to see Datang Short skirt Miao village which is at the foot of Leigong Mountain. The main attractions of Datang Village include local customs, Miao women's short skirts, and their waterproof granaries. In the afternoon, move back to Guiyang city center and stay a hotel in Guiyang.
Day 5
Departure
As you tour concludes today, you will be transferred from Kaili to Guiyang. Your private driver will escort you to the airport on time the guide. If you don't depart Guiyang, you can ask your travel advisor for more advices touring around Guiyang.
Trip Notes
1. About Huangguoshu Water Wall
Rainy season of the waterfall is June and July. And dry season is March to May with smaller waterfall.
2. Best time to visit
August to October is the best time to visit Guizhou.
3. Road Conditions
Some areas that you will visit are very remote so be prepared for twisty mountain roads and some which are rough. Most journeys in a car are around 2 hours between the spots.
4. Hote l& Restaurant
Hotel: The facilities and service standard at hotels in Guizhou will not be the same standard of larger cities. Air conditioning is available in some better hotels. Only Chinese breakfasts may available in some towns. There are only basic Chinese toilets during the tours.
Local restaurants offer Chinese food with a basic environment.
5. What to pack
The temperature can differ greatly between day and night in some places so warm clothes are required even in summer.
Bring shoes suitable for walking. And mosquito-repellent is also necessary when you touring village areas.
6. Booking Procedure:
Step 1: Submit your name, email address and traveling dates for the tour. The price may vary according to the location of your hotel.
Step 2: Choose to make payment via PayPal and your request will be listed as our top priority. We guarantee a 100% refund if you are not satisfied.
Step 3: Receive a reply within 24 hours. The tour will be tailor-made to meet your requirements and the booking confirmed.
Step 4: Enjoy the tour!
7. Payment Methods:
We now offer three payment methods: PayPal, credit card authorization via fax, and wire transfer. PayPal is recommended for its safety and efficiency. You can pay with USA dollars, Australian dollars, European dollars, and British pounds directly with your credit card or debit card if you do not have a PayPal account.
8. Cancellation Policy:
In the event of cancellation, we will refund any payment made to China Highlights (unless any cancellation fee is applicable) within 14 days of our receipt of your written cancellation request. Visit here for more details.
9. Travel Insurance:
Travel insurance is not included. We carefully selected some insurance providers from your region that give you the best value for money. Click here to go to the travel insurance page.