Itinerary
The sweet smiles of your tour guide will relief your stress and fatigue of your long time flight. You will be transferred to the hotel in a private car. And the guide will help you check in.
Day 2
Guiyang and Anshun – Tianlong Tunpu, Ground Opera, Batik Museum, Huangguoshu Waterfall, Tianxing Bridge Scenic Area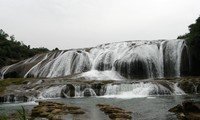 Guiyang is home to Chinese ethnic groups, where you can find many interesting minority cultures and traditions. Enjoy the typical opera, Ground Opera, in Tianlong Tunpu. You can know some battle stories, like Wars between Chu and Han, the Romance of the Three Kingdoms, the History of the Sui and Tang Dynasties. The actors wear fancy wooden masks carved of wood, and dress in cloth shoes, unadorned robes, with banners on their backs and weapons in their hands. Discover batik art works by learning to make batik, by using a triangle copper tool in a traditional way.
Huangguoshu Waterfall is one of the largest and most magnificent waterfall groups in China, which is located in the southwest of Guiyang. Standing near the waterfall, you can be overwhelmed. Featured the perfect combination of stones, trees and water, Tianxing Bridge Scenic Area is a natural wonder evolving from the growing stone forests in water.
Day 3
Kaili – In Shiqiao Miao village our guide and driver will escort you from Guiyang to KaiLi, Qingman Miao Village, Qingman Miao Village with Welcome Ceremony
Visit Shiqiao Miao village to see its traditional way of making paper from the bark of mulberry tree. This method of making paper has a history of more than one thousand years, local people still keep it and extend to make color paper using different plants.
A welcome ceremony is held when guests come to the village. The local villagers dress in their traditional Miao dress and line up on the both sides at the entrance of the village. One of the most important aspects of the ceremony is that you have to finish three cup of rice wine when the toasts are made by the girl in the ceremony. This signifies that a friend from afar is always warmly welcome. Not finishing means that you may be barred from the village.
Day 4
Zhenyuan - Green Dragon Cave, Zhengyuan Acient Town, Wuyang River with boating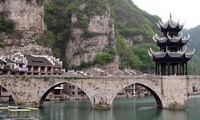 Built in Ming Dynasty with a history of 500 years, enduring many times of damage and repair, this ancient complex now occupies an area of 21,000 square kilometers, and is divided into six parts, such as the cave, Zichan Academy, Longevity Palace. Black Dragon Cave is the combination of Buddhism, Daoism and Confucianism. Zhenyuan Ancient Town is located by the riverbanks of Wuyang River. Many old buildings, folk houses and piers which are hundreds of years old are well preserved. After dinner, appreciate the limestone mountain scenery on Wuyang River.
Day 5
Kaili - Shidong Ancient Town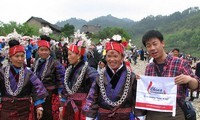 Shidong is a very small town in Taijiang County. It is famous for natural scenery, ethnic Miao customs and their delicate silver and embroidery craftsmanship. Discover the ancient town to find the most traditional Miao cultures!
As you tour concludes today, you will be transferred from Kaili to Guiyang. Your private driver will escort you to the airport on time the guide. If you don't depart Guiyang, you can ask your travel advisor for more advices touring around Guiyang.