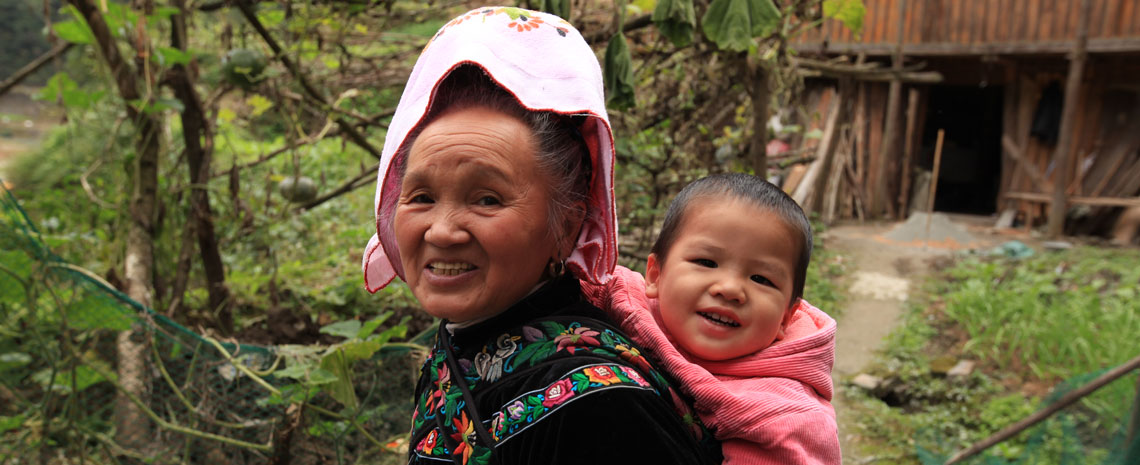 10 Days Guizhou & Guilin Culture Discovery Tour
From: $2,251
Photography
Nature
Minority
Culture
During this trip, you will have a chance to deeply discovery Miao people's culture and life, also learn more about Dong, Zhuang and Yao people's unique culture. Explore and get a close touch with local people. Visit some highlights such as Huangguoshu Water Fall in Guiyang, Longji Terraced Fields and Karst landscape in Guilin.
Highlights
See a rare and Miao's traditional way of making paper from tree
Become a cultural experts by visiting several Miao village like Datang Short Skirt Miao Village
View Dong people's unique life and culture in Zhangxing Dong Village
Head to Longsheng Zhuang Village and Terraced fields
Appreciate Guilin's beautiful karst landscape on the Li River Cruise
Cycling among Yangzhou's peaceful countryside
What's Included
Entrance to the attractions listed in the itinerary
Private English-speaking guide and driver service throughout the tour
Meals mentioned in the itinerary
Private transfers between the airport, attractions, and hotels
Private local English-speaking tour guide and driver service (except for voluntary tips)
Hotel accommodation with breakfast, free Wi-Fi and service fee
Suggested Itinerary
Your private guide and driver will be ready to wait for you when you arrive at Guiyang, the capital city of Guizhou Province. Deal with your hotel check-in with your guide's help.
Day 2
View the magnificent Huangguoshu Waterfall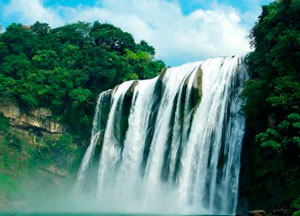 Huangguoshu Waterfall
Enjoy your breakfast in the hotel without hurry. After the breakfast, you will start to head for Huangguoshu Waterfall with a 2.5h journey. The Huangguoshu Waterfall in Anshun is the largest waterfall in Asia. Your guide will take you to walk around and see the best angles of the waterfall.
In the afternoon, you will appreciate local opera-Ground Opera in Tunbao Village. Local people dress up and wear masks to show you their unique and traditional culture. You will also learn more about some battle stories happened in Guizhou such as Wars between Chu and Han and some history of the Sui and Tang Dynasties.
Day 3
Explore Miao people's Unique Culture in Kaili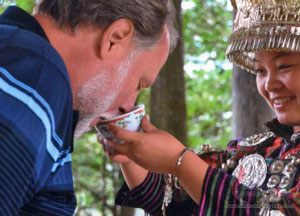 Welcome Ceremony
Head to Shiqiao Miao Village to view a rare and traditional way to make paper from the bark of mulberry tree. The process of making paper was invited and well-preserved for more than a thousand years. Local people even extend to make color paper with this traditional way. It's very rare in the whole China.
A warm welcome with a Miao traditional welcome ceremony before you get into their village. You will have to drink three cups of local rice wine when the toasts are made by a Miao girl from the respect. It's the local special way to welcome friends from afar. Explore more Miao culture with a help of your guide.
Day 4
Datang Short Skirt Miao Village and Jidao Long Skirt Miao Village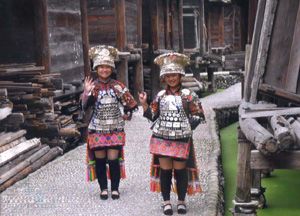 Miao Village
In Kaili Ethnic Minority Museum, you will see more ethnic handicrafts, paintings and folk arts.etc. Learn more about local Miao and Dong culture in the Qiandongnan (Southeast of Guizhou Province.)
See more different regions of Miao villages such as Datang Short Miao Village and Jidao Long Skirt Miao Village. Have a comparison of the two villages and find out difference of the clothes and other things. Appreciate traditional Drum Towers in Chejiang.
Day 5
Dong Ethnic Cultural Exploration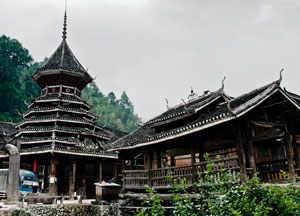 Zhaoxing Dong Village
On this day, you will see Basha Miao Village and Zhaoxing Dong Village. Basha Miao Village is original and well-preserve with a more than one thousand years. Local people still live with their own way with less-touched by the outside world. Still live in the wooden houses and keeps their own unique belief.
You will arrive at your first Dong village-Zhaoxing Dong Village, one of the largest Dong villages in China. See some drum towers and their wind-and-rain bridges. Stay in a hotel in the village.
Day 6
Visit Tang'an Dong Village and Sanjiang Chengyang Dong Village
Chengyang Wind-and-rain Bridge
In the morning, you will continue to see more Dong people's life in Tang'an Dong Village. Have a grand view of terraced paddy fields decorated with the village. Later, you will be taken to Sanjiang with a 3.5h journey.
Enjoy the Chengyang Wind and Rain Bridge in Sanjiang and Dong villages. The bridge is the largest Dong wind and rain bridge at present with a one hundred history. There are 8 Dong villages scattering in the Chengyang scenic spot. Local Dong people get married between the Jan.1st to Jan 15 on Chinese lunar calendar. Stay a hotel in Sanjiang.
Day 7
Head to Longsheng Zhuang Village and Terraced Fields
Longji Terraced Fields
You will to driven to Longsheng Terraced Fields and enjoy a magnificent view of the rice terraced fields. The rice terraces are built into the hillsides, and look like great chains or ribbons as they wind round the contours in tiered bands. The terraces look like ribbons as they wind from the foot to the top of some hills. Zhuang and Yao minority villages dot the area, and feature traditional architecture where no nails are used in construction.
Arrive at Guilin and stay in hotel in the city center.
Day 8
Enjoy Karst Landscape and Li River Cruise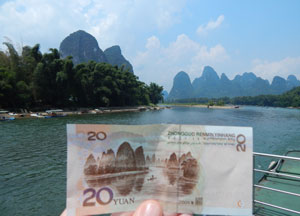 Li River Cruise
Take a 4h Li River Cruise down to Yangshuo. This trip is a must-do thing in Guilin. You will see the beautiful Li River surrounded by continuous beautiful karst hills. Have a chance to see some local farmer working in the fields and water buffalos eating grass on the side of the river. You will see the picturesque Chinese original countryside life. The lunch is ready on the cruise and arrive at Yangshuo in the afternoon.
Free to explore Yangshuo by yourself after your hotel check-in. The West Street is famous as a foreign street and has a vivid night life.
Day 9
Cycling among Guilin's Countryside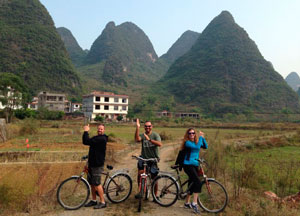 Yangshuo Cycling
Enjoy a no-hurry breakfast in the hotel. Later, start your countryside discovery among Yangshuo's beautiful countryside on a bike. Get away from a busy city life and addict into a quiet and peaceful countryside exploration. Ride the bike with your pace and enjoy the karst hills and beautiful scenery. You can explore Yangshuo by yourself after the bike tour. Stay another night in Yangshuo.
Day 10
Guilin Departure
You will be taken to the Guilin airport from Yangshuo directly. The journey will be 2.5h hours. Your private guide will help you and see you off at the secure gate. Have a good journey back home.
Trip Notes
1. About Huangguoshu Water Wall
Rainy season of the waterfall is June and July. And dry season is March to May with smaller waterfall.
2. Best time to visit
August to October is the best time to visit Guizhou.
3. Road Conditions
Some areas that you will visit are very remote so be prepared for twisty mountain roads and some which are rough. Most journeys in a car are around 2 hours between the spots.
4. Hote l& Restaurant
Hotel: The facilities and service standard at hotels in Guizhou will not be the same standard of larger cities. Air conditioning is available in some better hotels. Only Chinese breakfasts may available in some towns. There are only basic Chinese toilets during the tours.
Local restaurants offer Chinese food with a basic environment.
5. What to pack
The temperature can differ greatly between day and night in some places so warm clothes are required even in summer.
Bring shoes suitable for walking. And mosquito-repellent is also necessary when you touring village areas.
6. Booking Procedure:
Step 1: Submit your name, email address and traveling dates for the tour. The price may vary according to the location of your hotel.
Step 2: Choose to make payment via PayPal and your request will be listed as our top priority. We guarantee a 100% refund if you are not satisfied.
Step 3: Receive a reply within 24 hours. The tour will be tailor-made to meet your requirements and the booking confirmed.
Step 4: Enjoy the tour!
7. Payment Methods:
We now offer three payment methods: PayPal, credit card authorization via fax, and wire transfer. PayPal is recommended for its safety and efficiency. You can pay with USA dollars, Australian dollars, European dollars, and British pounds directly with your credit card or debit card if you do not have a PayPal account.
8. Cancellation Policy:
In the event of cancellation, we will refund any payment made to China Highlights (unless any cancellation fee is applicable) within 14 days of our receipt of your written cancellation request. Visit here for more details.
9. Travel Insurance:
Travel insurance is not included. We carefully selected some insurance providers from your region that give you the best value for money. Click here to go to the travel insurance page.