Itinerary
Your private tour guide, car and driver will be waiting for you at the airport. Transfer to your hotel, the tour guide will help you with check-in and make sure everything is ok at the hotel.
Day 2:
Ice and Snow World, Sun Island, Siberian Tiger Park and Central Street Tour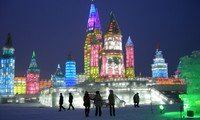 Both Sun Island and Ice and Snow World are not far from each other, and both are major sites of Harbin International Ice and Snow Festival. During the festival, artists from around China and the world gather here to create a fairy ice and snow world with numerous sculptures decorated with light.
Siberian Tigers are one of the most endangered species in the world. Take a bus with wire-mesh protection through Siberian Tiger Park to see at close quarters about 100 purebred Siberian tigers, who roam freely inside the park.
Stroll leisurely along the 'architectural art gallery' – Central Street. Buildings of the most influential western architectural style can be found here, and it also provides a good opportunity for shopping and dining.
As you have come to the end of your vacation, your driver and guide will meet you at your hotel and take you to the airport. The tour guide will accompany from check-in till security gate. We trust that that you have enjoyed you time in Harbin and we look forward to serving you again.