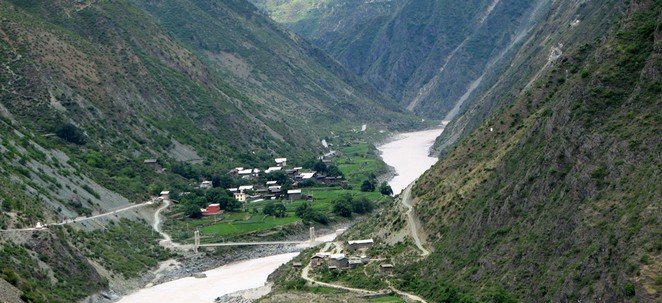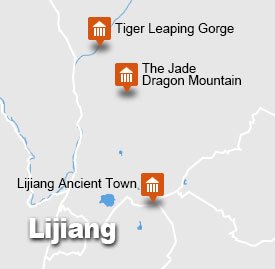 Itinerary
Day 1:
Lijiang Arrival and Ancient Town Sightseeing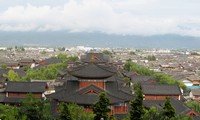 After your flight lands at Lijiang Airport, meet your tour guide at the arrival hall, and transfer by private car and driver to your hotel. Check in and have a short rest before begin exploring the ancient town.

Overlook Lijiang ancient town from Wangu Tower, the landmark building of Lijiang. This pure wood building was built at 33 meters tall on the top of Lion Hill.

Lijiang ancient town was built in the late 13th century, and is considered one of the best preserved ancient towns in China. Known for its unique ethnic culture, water system and architectural style, Lijiang is quite busy in the afternoon and evening, but oozes tranquility at early morning.
Day 2:
Jade Dragon Snow Mountain and Baisha Village Tour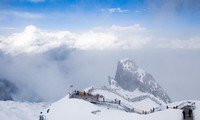 Your tour guide will meet you at your hotel lobby and drive around 30 minutes to Jade Dragon Snow Mountain, the holy mountain for Naxi people. You will take a cable car up the mountain. With the highest peak at over 4000 meters, the snow mountain presents variant weather and scenes at different heights.

Precede to Baisha Village to see the valuable murals over 1000 years ago, protected inside palaces and temples. Baisha Murals combine different religious and artistic forms of Tibetan Buddhism, Taoism and Confucianism. Pay a visit to a famous local clinic on the way, and see how traditional Chinese doctors diagnose patients and perhaps get to know about some local herbs.
Day 3:
Tiber Leaping Gorge Tour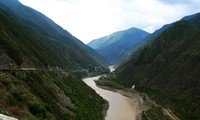 Today you will be driven 2 hours from Lijiang to visit Tiger Leaping Gorge, one of the deepest and marvelous gorges in the world. The rapid water from melting snow from mountains makes the river turbulent at bends. Surrounded by rivers and mountains and with an altitude of 1850 meters above sea level, the First Bent of the Yangtze has picturesque scenery.

Surrounded by rivers and mountains, the First Bay of the Yangtze has picturesque scenery. Three rivers join together here and take a sudden turn. Besides, it is an important ferry that joints the inland and the old road for the trade of tea and horses in Tibet.
As you have come the end of your trip, your tour guide and driver will meet you at your hotel and assist with check-out and handle your luggage. Transfer and accompany you to the correct check-in desk and say goodbye at the security gate. We're confident you would have enjoyed your trip and hope to serve you again.