Itinerary
Your private guide will meet you and pick you up at the airport and transfer you to your hotel with a driver and as always with our tours, a commercially licensed and insured comfortable vehicle. The rest of the day after check-in is free for your exploring the city. Feel free to ask your guide for recommendations.
Day 2:
The Gulangyu Island and the South Putuo Temple Tour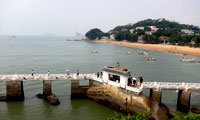 Your Xiamen discovery starts with a visit of the South Putuo Temple, a temple first built in the Tang Dynasty (618—907). It is famous for its collection of Buddhist cultural relics, such as a Burmese jade carving of the Buddha, some important Buddhist texts. Climbing up to the Wulao Peak, you can enjoy the bird's eye-view of Xiamen University and Xiamen Port.
During your way to the Gulangyu Island, you will stop off to visit the Hulishan Fortress, the architecture mainly integrated the style in Ming and Qing Dynasty built in 1891. The Hulishan Fortress is famous for having both the biggest and smallest cannons in the world. And there are many ancient military facilities and weapon, such as the emplacement, the barracks, the castle, the trench, double-edged swords, and firelocks.
Have a leisurely strolling around the Gulangyu Island to appreciate the European-styled buildings built by the colonists in the early 20th century. Soak in the small shops to pick up an interesting souvenir like a hand-drawing map or a handicraft. The Piano Museum by the coast is quite worthy of a visit.
Day 3:
The Hongkeng Earthen Buildings Tour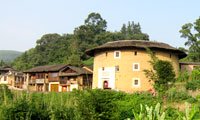 Transfer to the Hongkeng Earthen Buildings in Yongding County, escorted by your guide and driver. It takes about three hours.
The Hongkeng Earthen Buildings is the most concentrated of all earthen house clusters. There you can see about 100 earthen buildings shaped round or square. Your guide will unlock the reason why the Hakka people built their apartment buildings like a large fortress. You will also unfold the history of immigration of the Hakka people. It is interesting to know that due to their unique shape like an emerging mushroom, or of a flying saucer, these buildings were even believed by western countries to be China's nuclear reactors in the Cold War (1947–1991).
Your guide and driver will pick you up at your hotel and transfer you to your departure station. They will help you to deal with your luggage and see you off at the station.