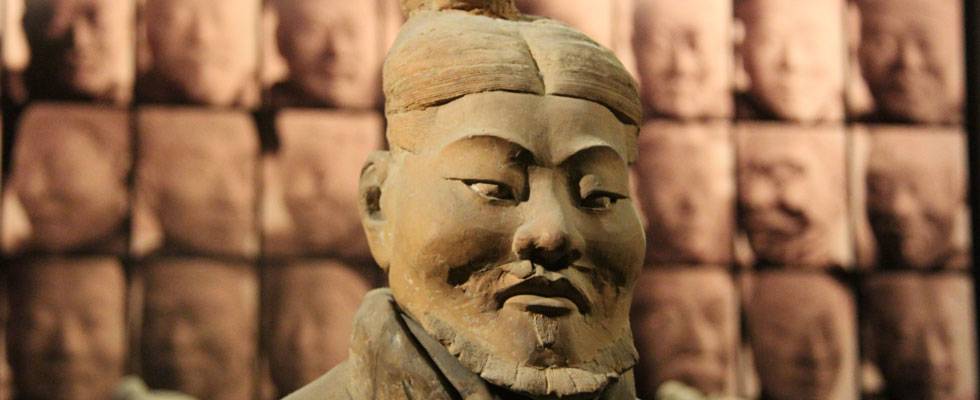 Essence of Xi'an Private Tour
This is a time-smart private tour with all the highlights of Xi'an that combines the world-famous Terracotta Army with more of Xi'an's best sights in 2 days. You will experience the essence of the ancient capital city at your own pace with flexibility. Your private guide and driver offer service according to your interests.
Highlights
Be amazed by the Terracotta Warriors and Horses
Enjoy cycling on the Ancient City Wall to hear history's echo
Explore Chinese Buddhism and ancient architecture at the Big Goose Pagoda
Learn about Chinese history from treasures displayed in the museum
Price Per Person
| Nov.1 - Mar.31 | 5-star | 4-star |
| --- | --- | --- |
| 2-5 People | $289 | $269 |
| 6-9 People | $199 | $199 |
| Apr.1 - Oct.31 | 5-star | 4-star |
| 2-5 People | $319 | $289 |
| 6-9 People | $249 | $199 |
Note:
1. Babies and toddlers (under 2 years of age) go free. Price of Child (aged 2 to 11) is half of adult (aged 12+).
What's Included
Entrance to scenic spots listed in the itinerary
Private English-speaking guide and driver service throughout the tour
Lunches mentioned in the itinerary
Hotel accommodation with breakfast
Private transfers between the airport/train/bus station, attractions, and hotels
Suggested Itinerary
Day 1
First Impression of Xi'an
After landing in Xi'an, your guide and driver will pick you up from the airport on time and with smiling faces. Get ready for the two days ahead; your guide and driver will make every minute count.
Xi'an is an ancient capital city and people believe that there are still lots of antiques to be discovered underground. Start learning about China's history from some of the most precious historical items displayed at Shaanxi History Museum. From large bronze wares to exquisite golden carvings, it is a feast for your eyes.
After lunch at a local restaurant, take a cycling trip on the Ancient City Wall to hear history's echo. The walls, ramparts, gates, and watchtowers form one of the oldest and most complete city defenses still in existence. Enjoy the bird's-eye view of the city.
Accommodation in Xi'an: 4-star: Grand Noble Hotel Xi'an/ 5-star: Wyndham Grand Xian South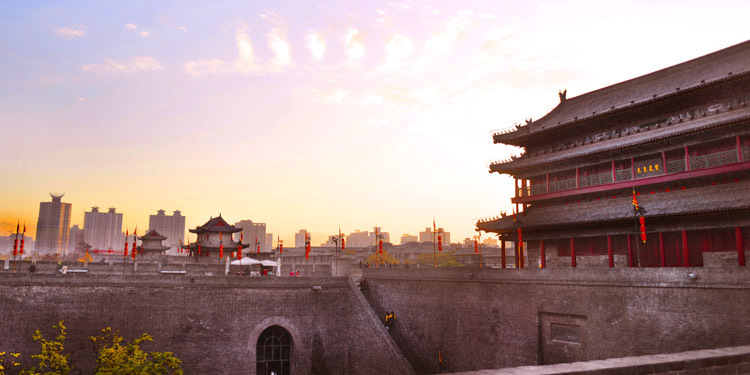 How to Avoid long queues at Shaanxi History Museum? It is free for visitors to enter the museum, but people need to get the free ticket at the entrance, and that requires queuing in line.
You are recommended to visit the Exhibition Hall for Mural Paintings of the Tang Dynasty that is called the Uffizi Gallery of China. It is a feature exhibition of the museum with much fewer visitors; you can visit the hall first without waiting, and then see other halls. The ticket price to see the frescoes is 300 yuan (about 50 USD) per person, which is not included in the tour. If you are interested in it, please feel free to ask your travel advisor to add it or buy tickets on-site. About 40 minutes needed in the hall.
Suggestion for the evening: have a stroll in the Muslim Quarter and taste local snacks, or watch a Tang Dynasty performance — a song and dance show that remakes the prime time of the Tang Dynasty, one of China's most prosperous eras.
Day 2
Must-Sees in Xi'an and Departure
You will discover the eighth miracle of the world: the Terracotta Warriors and Horses, which is the only reason that some people visit Xi'an.
Discovered accidentally in 1974, this incredible army of over 7,000 soldiers, archers, horses, and chariots in full battle array has guarded Emperor Qin's tomb since 210 BC. Each figure is unique, and the painstaking repairs and excavations continue in three pits, which are protected inside huge hangars. It takes 1½ hours to drive there from Xi'an.
Our ticket also includes Emperor Qin Shi Huang's Mausoleum Site Park with the Museum of Terracotta Acrobats, Museum of Terracotta Civil Officials, Museum of Stone Armor, and Museum of Bronze Chariots and Horses.
In the afternoon, head to see the Chinese-style architecture combined with dozens of Buddhist historic statues and murals at Big Wild Goose Pagoda, which is also the symbol of Xi'an City.
The rest of the day will be free to spend at your leisure. A Xi'an tour guide will see you off at the airport or railway station when it's time to say goodbye. Enjoy 5,000 years of Chinese history in 2 days.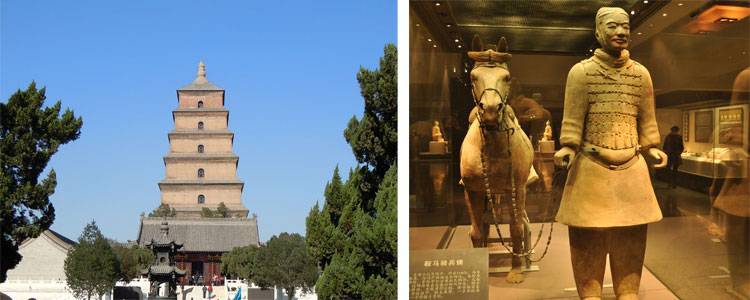 To avoid crowds at the Terracotta Warriors and Horses site, we suggest that customers have a big breakfast and visit an attraction in the morning, then arrive there at about 12pm. You can continue to explore it with fewer crowds because lots of people have lunch during that period.
Then you can choose to have a picnic lunch at Emperor Qin Shi Huang's Mausoleum Site Park, which is the neighbor of the Terracotta Warriors, or drive for about 30 minutes to a local restaurant to have a late lunch on the way to the downtown area of the city.
But if you want to catch a flight or train in the afternoon, we suggest you visit the Terracotta Warriors in the early morning or on the first day.
Trip Notes
Optional Activity
Tang Dynasty Cultural Show with or without Dumpling Banquet is the most popular show in Xi'an.
It must be clearly understood that enjoying these extra is your own decision. They are not included in the itinerary or tour price, so you will need to pay separately. The ticket price depends on seating. Ask your guide to book tickets if you want to see the show.
Snacks in Xi'an
Xi'an is a paradise of wheaten food. It is a fun to forage snacks at local food street. Usually we recommend Muslim Quarters that serve more Muslim food and Yongxingfang Food Street where gathers traditional food of Shaanxi Province and it is nearby East Gate of the City Wall.
These snacks are recommended:
Shaanxi Sandwich (La Zhi Rou Jia Mo),
Cold Noodles (Liang Pi)
Dumpling Stuffed with Hot Gravy at Jia Brothers' Restaurant (Jia San Guan Tang Bao)
Bread Soaked in Mutton Soup (Yang Rou Pao Mo)
Various Noodles
Booking Procedure
Step 1: Submit your name, email address, and traveling dates for the tour. The price may vary according to the location of your hotel.
Step 2: Choose to make a payment via PayPal and your request will be listed as our top priority. We guarantee a 100% refund if you are not satisfied.
Step 3: Receive a reply within 24 hours. The tour will be tailor-made to meet your requirements and the booking confirmed.
Step 4: Enjoy the tour!
Payment Methods
If you would like to book and pay directly, PayPal is recommended for its safety and efficiency. If you do not have a PayPal account or prefer send us an inquiry, we also offer other payment methods: credit card authorization via fax, and wire transfer. You can pay with US dollars, Australian dollars, Euros, or British pounds directly with your credit card or debit card.
Cancellation Policy
In the event of cancellation, we will refund any payment made to China Highlights (unless any cancellation fee is applicable) within 14 days of our receipt of your written cancellation request. Visit here for more details.
Travel Insurance
Travel insurance is not included. We have carefully selected some insurance providers from your region who will offer you the best value for money. Click here to go to the travel insurance page.