Itinerary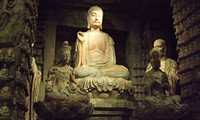 Check in upon arrival. Today we will make every minute count. First learn some history and see some of China's most precious historical items at Shaanxi History Museum.
After lunch, take a cycling trip on the ancient City Wall to hear the history's echo. The walls, ramparts, gates and watchtowers form one of the oldest and most complete city defenses still around.
You could add (at extra cost):
In the afternoon

: attend dumpling making class - learn to make dumplings and taste the fruits of your labor

In the evening

: Watch Tang Dynasty Show - a song and dance show that re-makes the prime time of the Tang Dynasty, one of China's most prosperous eras
Note: We leave dinners open to ensure your full flexibility. Feel free to ask your tour guide for recommendation.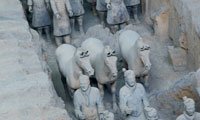 Today is going to be splendid as we will tour the famous Xi'an tourist attraction: the Terracotta Warriors & Horses and Big Wild Goose Pagoda.
We will arrange battery tourist cart to take you to the pits, and with your tour guide's narration you will appreciate the marvelous Terracotta warriors in full battle array of Emperor Qin's tomb. Then go to visit the Chinese-style architecture combined with dozens of Buddhist historic statues and murals at Big Wild Goose Pagoda, which is also the symbol of Xi'an city.
The rest of today will be free at leisure. Xi'an tour guide will see you off at the airport when it's time to say goodbye. Thanks for taking this Xi'an tour with us!