Itinerary
Your private tour guide will meet you at the airport on time and get ready to pick you up to the airport. After check-in with the help of the guide, you can have a rest or explore Kunming by yourself.
Day 2
Kunming - The Stone Forest, the Dragon Gate on Xishan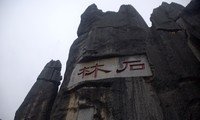 This fantastic natural phenomenon is located 90 km southeast of Kunming. The various shapes of karst landscape were formed due to millions of years' movement of Earth. The Stone Forest area is the home of the Sani people, their folk customs has become one spectacular scene, the colorful embroidery and minority dances combine with the natural sceneries, which will surely make a deep impression.
Located 37km west of the down town Kunming, the Dragon Gate in Western Hill is close to the Dianchi Lake. This group of grottoes, sculptures, corridors and pavilions were hacked from the cliff between 1781 and 1835 by a Taoist monk and his co-workers. Take a little train touring around the Dragon Gate can get closer to see the scenery.
Take a Chair Lift to visit the West Hill for a bird's eye view of Kunming City and Dianchi Lake. Located near Yangzong Lake, Kunming Hand Workshop sell the embroidery clothes, wall carpet and some ethnic style embroidery.
Day 3
Jianshui - Jianshui Confucian Temple, Zhu Family Garden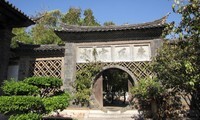 Built more than 700 hundred years ago, Jianshui Confucius Temple is one of the biggest Confucian temples in China. It was built to commemorate Confucius, a great Chinese philosopher who lived from 551 to 479BC. Grand ceremonies are held twice a year, at Chinese New Year and on September 28, Confucius' birthday.
Located in Jianxin Street, the private garden of the Zhu family has a total area of 20,000 square meters. Built in late Qing Dynasty by Zhu Chaoying and his brother, the building is a typical local residence with distinctive features. The planned yards and gardens and well, the furnished rooms and halls and the structure of the architecture make this a very special place.
Day 4
Yuanyang - Zhang Family Garden, The Chaoyang Tower
The Zhang Family Garden is a fascinating collection of traditional Chinese Folk dwellings and temples. Fine works of wood and stone carving can be found all over the village.
Built more than 600 years ago, Chaoyang Tower is an important symbol of Jianshui County and once served as the east gate tower of the county. The tower is 24 meters tall with a big bronze bell on the east side. It was classified as a historical and cultural site under provincial protection in 1993.
Day 5
Yuanyang - Yuanyang Terrace Field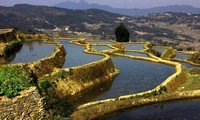 Yuanyang Terrace Field is located in Honghe County, in southern Yunan Province. The first tribe to settle this area and construct terraces for farming purposes was the Hani ethnic group. This incredible piece of engineering was not discovered until 1980s and now listed as one of China World Heritage Site Candidates. Enjoy a spectacular view from scenic mountain terraces at Duoyishu Village. To Climb to Tiger Mouth Pass overlooking an extensive view of terraces. Experience the folk culture at Qingkou Hani Ethnic Village. The highlight is visiting at sunrise and sunset when the light reflects off of the pools of water, creating a magnificent color show.
Day 6
Yuanyang - Yuanyang Terrace Field
This day is left out for you to explore Yuanyang Terrace fields and take amazing photos. And then your private driver will escort you from Yuanyang to Kunming.
As your tour ends today, you will be transferred to the airport in good time. The guide will help you with all the formalities. China Highlights hope to serve you again.