The Kingdom of Dali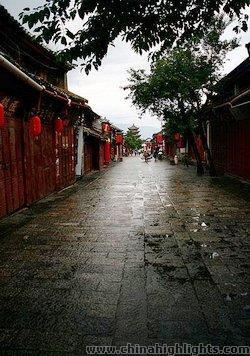 Dali Ancient Town, Yunnan Province
The Kingdom of Dali (937–1253) was a Bai-nationality-dominated ethnic kingdom covering areas of present-day Yunnan Province, Guizhou Province, southwestern Sichuan Province, northern Burma, and minority areas of Laos and Vietnam.
It was founded by Duan Siping in 937 and conquered by the Mongol Empire in 1253. The kingdom venerated Buddhism. There are not many historical relics of the Kingdom of Dali. It's said that the Ming Emperor Zhu Yuanzhang gave the order to burn historical articles of the Kingdom of Dali.
History
Former Dali (937–1094)
The Kingdom of Dali inherited the Kingdom of Nanzhao. The Kingdom of Nanzhao was overthrown in 902 and replaced by two kingdoms one after another. After Duan Siping's crusade against Yang Ganzhen and victory, he was enthroned in 937 and founded the Kingdom of Dali.
Dazhongguo(1094–1096)
In the 4th king period, Gao Shengtai gradually took power. In 1094, he deposed the Duan king and make himself king. He changed the title of the kingdom to Dazhongguo. Due to the tribes' opposition, Gao Shengtai asked his son Gao Taiming to return the throne to the Duan family when he was approaching his end. Gao Taiming made Duan Zhengchun king. But the Gao family still had the real power until the kingdom's end.
Latter Dali (1096-1253)
In 1253 Mongol Empire troops ended the Kingdom of Dali. The Dali king surrendered and he was appointed as hereditary vassal. Most of the officials of Dali were appointed as "Tusi" (national minority hereditary headmen).
Dali's economy enjoyed great development stemming from the Kingdom of Nanzhao, which introduced advanced science and culture to Yunnan. Dali traded with Burma, Vietnam, Malaya, India, and Persia.
Han culture was promoted in the Kingdom of Dali. The Bai written language was adopted due to the influence of Han culture. Bai characters were written in the same form as Chinese characters, but read according to the Bai language.
Buddhism was introduced in the Nanzhao kingdom and prevailed in the Dali kingdom. The moral principles of Buddhism and Confucian doctrine became rolled into one. Many of Dali's kings abdicated the throne and became monks.

China Highlights