Chinese New Year Food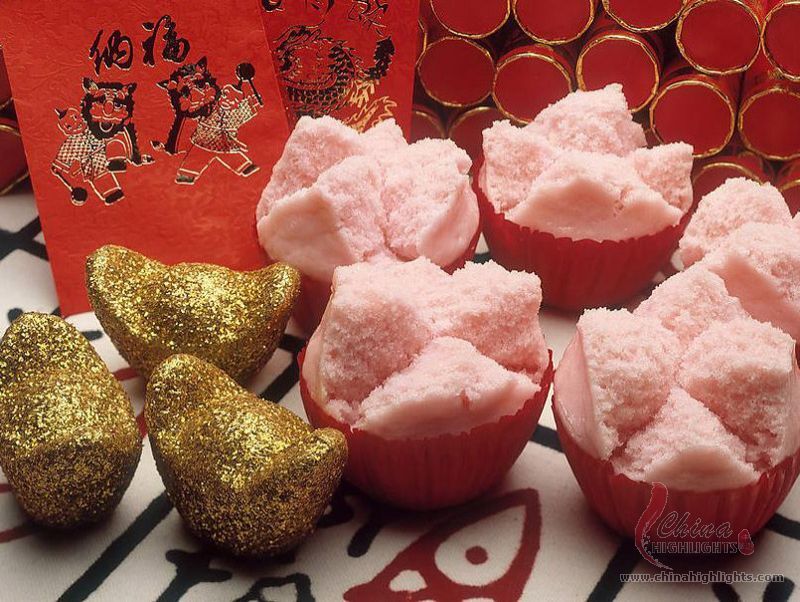 Chinese New Year Foods are very important to Chinese people. All family members come together to eat at this time. Chinese New Year foods are not only delicious but it is traditional to eat certain foods over this festival. Chinese Dumplings, Fish, Spring Rolls, Nian Gao are usually seen as delicious and eaten at this time. Our China Food Tours offer some great dining experiences as well as not-to-missed sites of china.
Fish 鱼 /yoo/
In Chinese, Fish sounds like "save more". Chinese People always like save more money at the end of year because they think if they save more, they can make more in the next year.
Lucky Sayings for Eating Fish
年年有余 (/nyen-nyen yo-yoo/): May you always get more than you wish for
鱼跃龙门 (/yoo-youair long-mnn/): A fish leaping over the dragon gate — implying successful passing a competitive examination
Chinese Dumplings 饺子 /jyaoww-dzrr/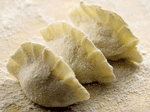 With a long history of more than 1,800 years, dumplings are a traditional food widely popular in China, especially in North China such as in Zhengzhou, Chengde, Dalian, Harbin, etc. Dumplings generally consist of minced meat and finely-chopped vegetables wrapped into a thin and elastic piece of dough skin. Popular fillings are mince pork, diced shrimp, fish, ground chicken, beef, and vegetables. They can be cooked by boiling, steaming, frying or baking. Dumplings are the symbol of Chinese food, and a traditional dish eaten on Chinese New Year's Eve.
Chinese Dumplings look like silver ingots. Legend has it that the more dumplings you eat during New Year celebration, more money you can make in the New Year. Almost all Chinese people can make dumplings, first mix the dough, second make the dough into wrappers by a rolling pin, third fill the wrappers with pork, beef, vegetable, fish or anything else can be used as stuffing.
Lucky Saying for Eating Dumplings
招财进宝 (/jaoww-tseye jnn-baoww/): Bringing in wealth and treasure — felicitous wish of making money; amass fortunes
Spring Roll 春卷 /chwnn jwen/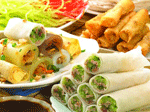 Spring rolls are a Cantonese dim sum dish of cylindrical shape. The filling of spring rolls could be vegetables or meat, and the taste could be either sweet or savory. After fillings are wrapped in spring roll wrappers, the next step is frying. Then the spring rolls are given their golden yellow color. It is a dish especially popular in Jiangxi, Jiangsu, Shanghai, Fujian, Guangzhou, Shenzhen, Hong Kong, etc. They get their name because they are traditionally eaten during Chinese New Year Celebration.
Lucky Saying for Eating Spring Roll
黄金万两 (hwung-jin wan-lyang/): A ton of gold (because the fried spring rolls are all with golden color, which makes them looking like gold bars, the symbolism of treasure)

Nian Gao (Glutinous Rice Cake)年糕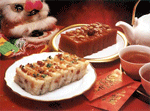 In Chinese, Nian Gao sounds like "getting higher year by year". In Chinese people's mind, the higher you are, the more prosperous your business is. Main ingredients of Nian Gao are sticky rice, sugar, Chestnuts, Chinese date and lotus leaves.
Lucky Saying for Eating Nian Gao
年年高 (nyen-nyen gaoww): Getting higher year by year, can imply children's height, business, study, work, etc
Related Links
Send Free Chinese New Year Cards
More free Chinese New Year Cards

China Highlights
Planning a trip? Ask us here 800-2682918 (USA & CA)
86-773-2831999 (Int'l)
Q:
Sophie
Asked on 2013-04-08
Reply
I am a fifth grader doing a project on Chinese food. I want to know if you now anything on what Chinese people eat in real life. I have to get research on all the Chinese food that the Chinese people eat. Please let e now very quickly otherwise it will not be useful. Thanks.
Dear Sophie, We are a travel agnecy in China, specializing in designing a tailor made for clients and don't research Chinese food. We listed some of the information on our website for your reference. I hope it's useful for you. Please click: http://www.chinahighlights.com/travelguide/chinese-food/chinese-food-type.htm Lussie Lu Replied on 2013-04-08
Q:
rene
Asked on 2012-12-07
Reply
hi im doing i school project on china in the United States Of America too, and i went to a page that had my lucky numbers and stuff but i cant find it now can you please help me?
Dear Sir or Madam, You could use your birthday date to check your lucky number on this website. Please click:http://www.chinahighlights.com/travelguide/chinese-zodiac/ Lussie Lu Replied on 2012-12-10
Q:
Will
Asked on 2012-11-16
Reply
Hi im doing a chinese culture project in the United States Of America and im doing a powerpoint on it so I may needs some help
It is great to know that our information is useful for your Chinese culture project,if you need anything else but we don't have those information on our website, please add your inquiries, we will give you the information what you want.
wish you have a nice day.
Lily Guo Replied on 2012-11-18
Q:
Kristina
Asked on 2012-10-29
Reply
My girl scout group wants to make a dinner for Chinese New Years, and we were wondering if there are any dishes that are very important to serve?
Q:
bob
Asked on 2012-10-16
Reply
how do u mak dumpilings
The first step is to mix the flour with water. When the dough is ready, we can begin to make dumpling wrappers. We use a rolling pole to roll the dough into small, thin and round pieces so that they will be easy to cook. When the wrappers are done, it' s time to prepare the filling. Usually, we use meat such as beef or mutton, and some vegetables such as cabbage or carrots for filling. You may actually choose whatever you like to put into it. We must chop those things into small pieces. Then put some salt, oil and other condiments into it and stir it evenly. When all these preparations are done, we can start making dumplings. First put a spoonful of filling in the center of the wrapper. Then stick the two opposite sides together and then the rest. Don' t just cover the filling with the wrappers. The best shape of dumplings is that of a ship, because when they are boiling in the pan, they look like ships sailing in the sea. The smell can make your mouth water. Leon Long Replied on 2012-10-16