Danxia Landforms of China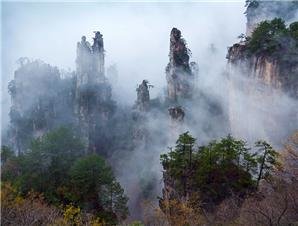 Zhangjiajie National Forest Park
Danxia Landform of China, or China Danxia, is the general name of a unique type of landform characterized by red-colored sandstones and steep cliffs. Danxia landform is mainly distributed in several provinces in southeast and southwest China, including Guangdong, Fujian, Guizhou, Hunan, Yunnan, Jiangxi, Guizhou and Sichuan. There are some distributions in western America, central Europe and Australia as well.
Danxia literally means "vermilion sunglow" in Chinese, which can tell some characters of this landform. Danxia Landform was named after Mount Danxia in Guangdong Province, a typical and famous example of such landform. Danxia Landform was formed from red-colored sandstones and conglomerates of the Cretaceous Period (about 120 million to 65 million years ago), and steep cliffs caused by exogenous (including erosion and weathering) and endogenous (including lifting) forces. "Young" Danxia landforms have deep and narrow valleys, and when they get "older", valleys widen, and isolated peaks, towers and ridges are formed. Another feature of Danxia Landform is the development of numerous isolated and shallow caves of various sizes and shapes. The rugged landscapes are rich in forests, flora and fauna species, including about 400 being considered rare or threatened.
Danxia Landform is often confused with Karst Topography. However, there is an obvious difference for geography amateurs to tell them apart: Danxia Landform was developed from red-colored conglomerates, so they take on a red color, while Karst Topography was developed from limestones so they take on a cream color; in addition, caves of Karst Topography often form deep and interconnecting networks, while those of Danxia Landform are usually shallow and isolated. For example, Zhangjiajie in Hunan Province is an area of typical Danxia Landform, while Stone Forest in Yunnan Province is of typical Karst Topography.
In August 2010, six Danxia landform areas in South China, with a general name of "China Danxia", were inscribed onto the UNESCO World Heritage List. The six inscribed Danxia landform areas are: Mount Danxia in Guangdong Province, Mount Lang in Hunan Province, Mount Longhu in Jiangxi Province, Mount Jianglang in Zhejiang Province, Chishui in Guizhou Province and Taining in Fujian Province.

Mount Danxia in Guangdong


Mount Jianglang in Zhejiang


Chishui Danxia in Guizhou


Mount Lang in Hunan


Mount Longhu in Jiangxi


Taining Danxia in Fujian


China Highlights
Questions and Answers About Danxia Landforms of China
April Offer $25 Coupon
Send your inquiry before Apr. 30, 2014, and we will email you a $25 coupon.
The coupon is valid till Dec. 31, 2014, for paying tour packages worth $250 or up.
The coupon cannot be used for paying flight tickets, train tickets, hotel rooms and day trips.
Travel Advice or Question? Ask us here