China Airlines Baggage Allowance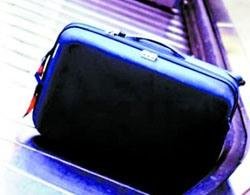 Carry-on Baggage
The maximum Carry-on baggage allowance for each economy class passenger is 5kg. First class passengers can have 2 pieces of carry on luggage. All other passengers can carry on only one piece. The size may not exceed 20x40x55cm. Carry on baggage in excess of the limit is subject to an excess baggage fee and must be carried as checked baggage.
Check-in Baggage
Adults and children are entitled to a free checked baggage allowance of 40kg, for first class, 30kg, for business class, and 20kg, for economy class while traveling on domestic airlines in China. The size limit for each piece is 40x60x100cm or 15.7x23.6x 39.4 inches. No free baggage allowance is granted to infants. Groups traveling together are able to combine their baggage allowance if they check in together.
For the excess baggage, it in general will be charged on the basis of 1.5% of the applicable one-way Economy class fare per kilogram.
Prohibited Items
The following items are prohibited and cannot be carried in checked or carry on luggage:- Flammable, explosive, corrosive, poisonous, radioactive, polymerizable and magnetized materials. Passengers are forbidden to carry arms, sharp or lethal weapons during flight. Security inspection Passengers and their baggage (including checked and carry on baggage) are subject to the security inspection before boarding the aircraft. N.B. Bottles; including bottle of alcohol purchased at the airport may not be allowed to be carried as cabin luggage.
Here are more information on Chinese domestic airlines baggage allowance including China Eastern Airlines, Air China, China Southern Airlines, Hainan Airlines and more.
If you want to search for China domestic flights deals, just click here.

China Highlights
Planning a trip? Ask us here 800-2682918 (USA & CA)
86-773-2831999 (Int'l)
Q:
Khin Swe Win
Asked on 2013-11-02
Reply
I am already in China and wish to retun to my home country without difficulties. Please I will like to know the luggage regulation form Beijing to Burma-Mingaladon, airport by Air China. What is the luggage limit from Changsha to Beijing
Check in weight is 20kg/per
Lily Guo Replied on 2013-11-03
Q:
peace ivy ananga
Asked on 2013-11-02
Reply
In China for a training program with other colleagues. Want to check on weight limits to our luggage on flight back to our home countries from Changsha to Beijing. This is due to the fact that we may carry our training materials. Thank you
Check in weight is 20KG/ per.carry on weight must be less than 10KG/per
Lily Guo Replied on 2013-11-03
Q:
Joy
Asked on 2013-10-06
Reply
I am going to China, kindly asks if anyone knows up to how much can a traveler allowed to hand carrying a cash either in RMB or USD ?, pls. reply to me soon..
General you need not take Chinese currency to China since you can easily exchange you US$ into Chinese RMB in hotels and banks. However if you would like to have local currency upon your arrival in China, it is okay that you may take a volume of Chinese currency less than 20,000 RMB without declaration at the customs. You are required to declare your import of Chinese currency exceeding 20,000 RMB.
Simon Huang Replied on 2013-10-06
Q:
Chassie rivera
Asked on 2013-10-06
Reply
I am going to China, kindly asks if anyone knows up to how much can a traveler allowed to hand carrying a cash either in RMB or USD ? reply me soon.
Hi Chassie Rivera,
Greetings from Cecilia at China Highlights Travel.
According to the PRC custom regulations, each people entry/exit China can carry no more than RMB20000 or US$5000.
Kind regards,
Cecilia
Cecilia Peng Replied on 2013-10-07
Q:
Bijina Rajbhandari
Asked on 2013-09-20
Reply
I am travelling with Air china. Do they allow guitar as hand carry. It is an acoustic guitar. Reply me soon.
Because of the large size, most airlines require it to be checked-in. Specificly, it is suggested that you contact Air China and provide your detailed flight journey information as the rule for the domestic and international is different.
Ruby Zhao Replied on 2013-09-20