China High-Speed Rail Lines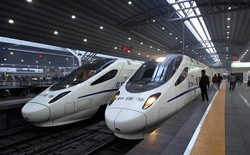 Bullet train was first introduced into China in 2008, and since then, China's rail witnessed a boom of this fast way of transportation across the country. At the end of 2009, China's first high-speed rail line-Wuguang High-Speed Rail Line was put into use to link Guangzhou and Wuhan. The operation of the high rail line marks another stage of China's rail system. Currently there are five major high-speed rail lines: Beijing-Shanghai, Beijing-Tianjin, Shanghai-Nanjing, Shanghai-Hangzhou, and Guangzhou-Wuhan.
See why book a train trip with China Highlights?
D Category Train
D category train is the first kind of bullet train. It has a speed of over 200 km/h. This kind of trains mainly use on the popular rail lines connecting major cities, such as trains Beijing/Shanghai, Beijing/Zhengzhou, Beijing/Xi'an, Guangzhou/Shenzhen, Shanghai/Hangzhou, Shanghai/Nanjing,.Trains only stop at a few major stops along the way.
G Category Trains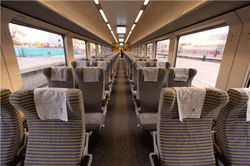 G trains refer to trains running on the high-speed rail line. This category train has a speed of over 300 kilometers per hour. G trains operate in the following routes:
Facilities Onboard
There are no sleeper cars in G train (D trains on long route may have sleeper cars). It has two kinds of seat: first-class seat and second class seat (all are soft seats). There are two seats on each side of the aisle in the first class seat car, and three seats on one side and two seats on the other in the second class car. There are restaurant car and bar in the train.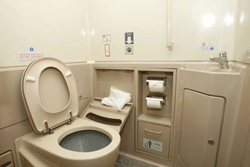 The car is fully air-conditioned, and the floor is coved with carpet. The seat is adjustable. There are flush toilets and toilet paper. Both hot and cold water is available in the washing room. Special toilets for the handicapped and people with kids are available.
All the waiters and waitresses on the train can be compared to that of the flight, young and good-looking. See what does a Chinese train look like?
Baggage Allowance
Carry-on Baggage
The maximum carry-on baggage allowance for each passenger is 20 kg. The size may not exceed 60*35*35. Carry-on baggage in excess of the limit is subject to an excess baggage fee and must be carried as checked baggage. See China train baggage allowance
How to Buy Train Tickets
Tickets for bullet trains begin to sell 10 days in advance. You can buy the ticket at railway stations or book it through a travel agency or book online. There are ticket dispenser at major railway stations such as railway stations in Beijing, Shanghai and Guangzhou. Book in advance is needed during peak travel periods such as weekends, Chinese New Year and National Holiday. From June 1, 2011, passengers need to present their valid ID (passport) to buy bullet train tickets (including tickets of C trains, D trains, and G trains). See details on how to buy train tickets in China?
Related Links